Benowa State High School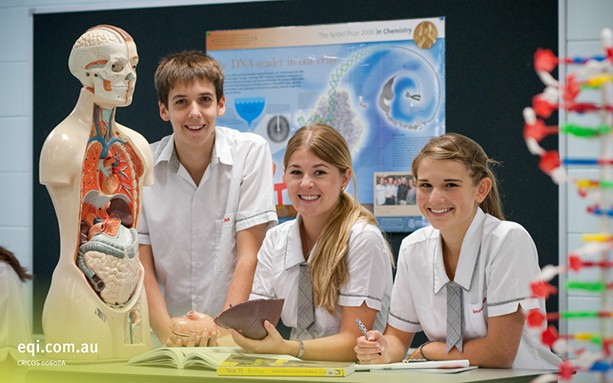 Benowa State High School Overview
Set amidst a typical Australian leafy suburb, the school is set on 18 hectares of gently sloping school grounds and is an
accredited member of the Council of International Schools (CIS). Benowa State High School encourages excellence, applauds achievement and celebrates diversity on many levels.
3 reasons to choose Benowa State High School
Sustained high level of academic achievement
Diverse range of specialist programs, including French Immersion, Music Excellence, Sports Excellence and a Steiner Stream
An award winning music school
About Us
Benowa State High School aims for academic, vocational, sporting and cultural excellence at the national and international level.
International Student Support Services
Guidance & Counselling
School Nurse Support
Homestay programs
International Student Coordinator support
International Student Program
Senior Schooling
Study Abroad & Student Exchange Programs
Study Tours
Enrolment
International students may be admitted based on academic performance and English language proficiency requirements.
Curriculum and Facilities
French Immersion program
ESL and Study support classes
Journalism and Tourism studies
Marine Studies
Dramatic Arts and theatre
Photography and Dance
English, Science and Maths options
Social Sciences, Business Studies and IT options
Tailored timetables
Benowa State High School has a wide range of facilities including sporting fields, tennis, basketball and Volleyball courts, and a fully equipped training centre.
Specialist subject area facilities include a dance studio, recording studio, photographic darkroom, fully equipped art facilities, computer laboratories as well as six science laboratories.
Unique Aspects and Achievements:
Consistently developing top ranking Year 12 students.
Recognised School of Achievement in the Arts
Advanced debating and public speaking programs
Sports Excellence Programs
High Distinctions in National Language Competitions
High Distinctions in National Mathematics and Science Competitions
Application
Learn more about Benowa State High and contact our staff now for free information and service.
SPECIAL PROGRAMS
French Immersion programme
Sports and Music Excellence programmes
Steiner Stream
Marine Studies
EXTRA-CURRICULAR ACTIVITIES
Choirs, orchestras and bands
Debating & mooting, school newspaper
International newsletter
Reef and snow trips
languages
SCHOOL FACILITIES
Maritime training centre
Dance and recording studios
Library link to university libraries
Computer and science laboratories
Business education centre
Sports fields and courts
tertiary pathways
University of Melbourne
TAFE
AWARDS
Gold Coast  Music Eisteddfod most outstanding High School
Journalism Excellence Awards