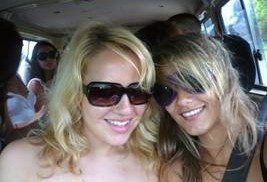 Overview
Many little girls growing up dream of one day becoming a hair dresser, actually most big girls have dreams like this to. After all it is an ever expanding industry which there will always be a high demand for skilled and qualified workers. It is a career which offers opportunities for advancement, a creative outlet and self employment opportunities (Who can honestly say they have never thought of owning their own business?).
With so many opportunities it is know wonder there is now a demand for Hairdressing Schools. Brisbane Hairdressing School will show students all they need to know to become a successful hairdresser.
Location
The Brisbane Hairdressing School has two convenient locations one in the Brisbane CBD and the second in the heart of the Gold Coast. Brisbane is the capital of Queensland, Australia's sunshine state, as with all cities it offers public transport, ample parking, entertainment, eateries and great night life as well as conveniently located accommodation.
The Gold Coast is a more laid back city located south of Brisbane and just before the New South Wales and Queensland border, the Gold Coast is known for its theme parks, great entertainment and spectacular beaches. Queensland has a sub tropical climate and is a hit with all Australian tourists, a fantastic place to study and live. There is a saying in Australia which is true to Queensland 'Beautiful one day, Perfect the next'.
Campus
A leading accredited school with professional qualified teachers. This school is up to date with all advancements in hairdressing technology and techniques which are readily available to teach to their students. Not only does the school teach aspiring hairdressers it also has it's own salon so students can have their own hands on experience ensuring they are fully capable of working in the industry.
The Brisbane Hairdressing School has over thirty of their own salons all over Brisbane, ideal for those looking for work experience and for the lucky few work placement after completion of their studies. With student services available to all students as well as a helpful job placement service for those who have completed their studies, this school has a very supportive environment.
Courses
Courses are available Part and Full time. It is desirable that you have successful completion of Australian Year 10 as well as sound knowledge of the English language. If you are new to the English language it is required that you undertake a General English course before commencement of study.
Courses available for study include:
Certificate II in Hairdressing
Certificate III in Hairdressing - Pivot Point Package
Certificate III in Hairdressing - Standard Package
Diploma of Hairdressing Salon Management
Diploma of Hairdressing with Certificate III in Hairdressing
Diploma of Hairdressing Salon Management - Distance Education
Short Courses:
Refresher Courses and Advanced Hairdressing Seminars are available
Application
For further information, to apply for a course or for enrollment dates please contact the friendly staff at AA Education who will be happy to assist you further.