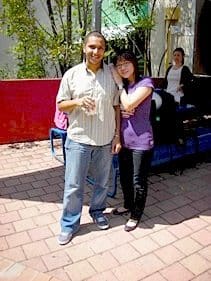 Cambridge International College Melbourne
CIC is located in the centre of Melbourne and is close to universities, shopping, restaurants and public transport.
Qualified and experienced teachers will work with you to achieve your goals in the area you wish to study.
Learn English in Melbourne where people are friendly and the climate is good.
Prepare for TOEIC, IELTS, FCE, CAE and BEC exams.
Study Multimedia or International Business.

Courses
CIC offers courses in English, International Business and Multimedia.
English

General Purposes English
Advanced General English
Academic English
Exam Preparation Program: BEC; FCE; CAE; IELTS; TOEIC
Professional Courses:
Business
Computer Studies
Hairdressing
Community Welfare
International Business
Gain the knowledge and skills to be technically proficient in a variety of aspects of exporting, importing, shipping, transport and customs. The broad range of business subjects offered are of great value as a general grounding for any student interested in a career in, or further study in Business.
Multimedia
The skills attained are suitable for employment across the industries of multimedia design and productions and across the arts, entertainment, e-commerce and media industries.
FEES
Fees for courses and other charges are quoted in Australian dollars. A reliable currency convertor is recommended, try this one.
Description Price + Enrolment Fee A$ 120
English
Weekly prices for the following full time programs A$ 270 per week
1-10 wks
A$ 260 per week
11-20 wks
A$ 250 per week
21-30 wks
A$ 240 per week
31-40 wks
A$ 230 per week
40+ wks
East West Package A$ 2,750
International Business
Certificate IV in International Business (International Trade) (20051Vic) $AU 6,000 (1 year)
Diploma of International Business (International Trade) (20053Vic) $AU 9,000 (1.5 years)
Advanced Diploma of International Business (International Business) (20055Vic) $AU 12,000 (2 years)
Multimedia
Certificate III in Multimedia (CUF30601) $AU 3,750 (6 months)
Certificate IV in Multimedia (CUF40801) $AU 7,500 (1 year)
Diploma in Multimedia (CUF50701) $AU 11,250 (1.5 years)
Advanced Diploma in Multimedia (CUF60501) $AU 15,000 (2 years)
Materials Fees International Business $AU 250 per year
Approximate book fee(refundable upon return of books) $AU 300 per year
Multimedia $AU 300 per year
English $AU 5 per week
Registration Fee $AU 60
Exam Fee $AU 120
Excursions (English courses)
Contact us for the cost of course excursions
Other Charges
Overseas Student Health Cover
(for student visa applicants only)
$AU 78 (3 months)
$AU 156 (6 months)
$AU 234 (9 months)
$AU 312 (12 months
Homestay Booking Fee AU$160
Homestay Fee AU$200 per week
Airport Meeting (One way)
**Arriving between 00:00 & 07:00 Melbourne time GMT+10.00
AU$100
AU$120**
Student Support Package $AU 350
Cost of Living
Melbourne is a reasonably priced city with good quality affordable living and plenty of accommodation.
Your living costs will depend upon your lifestyle. However, DHA suggests that students will need a minimum of $AU 21,000 per year (not including tuition) to cover living expenses.
Share Accommodation costsTransport costsFood ($AU)
* Milk 1 litre $1.50
* Bread 1 loaf $2.00
* Apples 1 kg $2.00
* Potatoes 1 kg $1.50
* Steak 1 kg $13.00
* Eggs 1 dozen $3.00
* Corn Flakes 310g $2.50
* Fruit Juice 2 litres $3.00
Personal Effects/Services ($AU)
* Shoes 1 pair $70.00
* Jeans 1 pair $80.00
* Toothpaste 140g $2.50
* Shampoo 500ml $4.00
* T-shirt $20.00
* Hairdresser $20.00 (male), $50.00 (female)
* Newspaper $1.50
* Cinema ticket $11.00+
Cambridge International College Australia offers the Diploma of Youth Work
Diploma of Youth Work CRICOS Code 058299G (Melbourne)
Description of the Qualification
The Diploma of Youth Work is designed to prepare trainees to work at a professional level in the human services industry, specifically the Youth Services field. This involves working with teenagers in areas such as community organisations, traditional community church organisations, self help organisations, local government and statutory services. During the course trainees will be taught to develop an understanding of Indigenous culture and history, ethnic cultures, community cultures and to work with local communities in the provision of specific youth services.
The course is offered as an addition to the Diploma of Community Welfare Work with a minimum number of subjects to complete due to credits from the Diploma of Community Welfare Work. On successful completion of this program trainees will be qualified to apply for a position as a case manager, early intervention coordinator, program manager, community worker, youth worker and juvenile justice worker.
Duration
Trainees who wish to complement their Diploma of Community Welfare Work and increase their employment options have the opportunity to undertake the Diploma of Youth Work. The course includes a number of the same curriculum units as studied in the Diploma of Community Welfare Work; therefore trainees would only have to study for a further 2, nine week terms, (18 weeks total) to complete the Diploma of Youth Work. The study mode is full time. Trainees have the option to study in a daytime or evening schedule subject to availability.
Career Opportunities
This course opens opportunities to work as a Youth Worker
Entry Requirements
The entry requirements for this course are successful completion of the Diploma of Community Welfare Work. Please see entry requirements of the Diploma of Community Welfare Work.
Pathway Programs
Cambridge International College provides pathways into further education with various universities in Melbourne. Trainees who are interested in pursuing the qualification at a university level will gain a minimum 1 year advanced standing in the Bachelor of Social Work (CRICOS 023711A) at Victoria University (VU) if they successfully complete the Diploma of Community Welfare Work and the Diploma of Youth Work.
On completion of the Diploma of Community Welfare Work and Diploma of Youth Work the trainee will be eligible to apply for a second year of advanced standing in the Bachelor of Social Work. Trainees who have completed the Diploma of Community Welfare Work and the Diploma of Youth Work and are interested in furthering their studies with a focus on the business side of the industry may gain advanced standing (4 credits) at Holmesglen Institute of TAFE in their Bachelor of Business (Administration) (CRICOS BXAD06).
Application
Apply here - or receive further information about studying in Australia.