Corinda State High School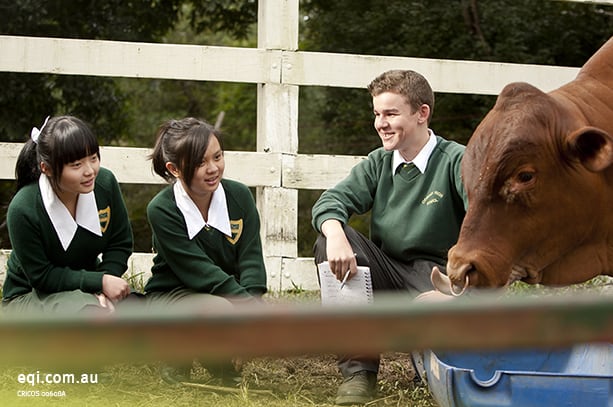 Corinda State High School is a co-educational, multicultural school with an International focus catering for academic and vocational learners in years 8 to 12. Our school vision is "Great Learners, Great Citizens, Great Futures" and our school has a long standing reputation as one with high expectations and a focus on academic excellence.
The school community is very proud of its long history of achievements gained by our students and we continue to promote the ideal of 'embracing change' while 'honouring tradition'.
We have developed a school culture based on traditional values of respect, responsibility and a strong work ethic. Our expectations are high and our students have proven that they can continue to raise the bar as we continue to challenge them to strive for excellence.
3 reasons to choose Corinda State High School
Strong academic focus
High expectations
Central location, safe environment and a caring and friendly community
SPECIAL PROGRAMS
Innovative Agricultural Science Program with a working farm
Strong focus and recognised success in Maths / Science programs
Excellence in Arts (dance, drama and the arts)
Business & IT programs provide multiple pathways
Innovative Prevocational programs in hospitality and industrial arts
QANTM Multimedia Certification III
EXTRA -CURRICULAR ACTIVITIES
Debating Competitions
Environment Committee
Chefs of the Future (hospitality) Competition
Human Powered Vehicle (HPV) Competition
Duke of Edinburgh Awards Scheme
All students study ballroom dancing as part of Physical Education
SCHOOL FACILITIES
Agricultural learning centre and working farm
Dance and drama studios
Photography darkroom
Indoor Gymnasium and sports centre
Information Management Centre
Industrial Arts Facilities
Catering Kitchens
Fully equipped presentation facilities & multimedia rooms
Newly constructed state of the art Science facility
Healthy Choices self serve canteen tertiary pathways
University to study undergraduate degree subjects (Year 11)
Links with Queensland conservatorium of Music and Queensland College of Art
AWARDS
Digital Design Challenge
Byte Awards
Selection of works in the Ministers Awards for Excellence in Art
Awards at Fanfare, Brisbane Bands Festival, Melbourne Bands Festival
Success in competitions such as Robocup, Future Problem Solving competitions, Ambiwerra Fashion Platter Awards, Australian Schools English, Chemistry, Mathematics and Technology competitions.
Other highlights
As a school community we look forward to the development of our science disciplines with an emphasis on urban sciences, including environmental science, agriculture and horticulture, climate change and food science. Links have already started to develop with key organizations to assist in embedding research based learning and technology as key components of our curriculum.
Our goal to become a centre for excellence in community leadership will see the development of a whole school student leadership program which will empower young people to be leaders within their communities and beyond.