Elanora State High School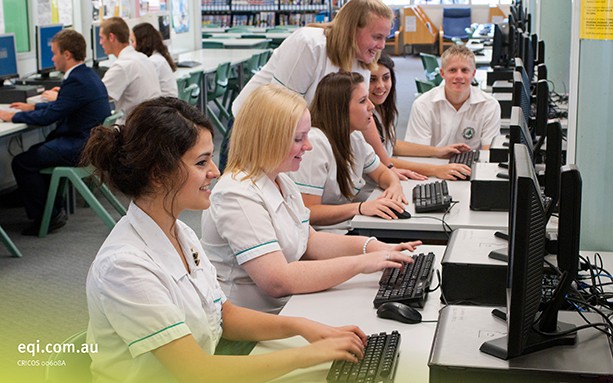 Elanora State High School overview
Elanora State High School is a young, modern school situated on the southern end of the Gold Coast just three kilometres west of pristine surf beaches. The school is nestled between local suburban areas and the foothills of the hinterland.
Elanora State High School operates a vertical unitized curriculum with students in mixed year level classes according to interest and ability rather than grouped by age. Elanora SHS is a school with a difference. We have national award winning programs in dance, business, surfing and leadership.
3 reasons to choose Elanora State High School
Proven commitment to academic, cultural and sporting excellence
Individualised and innovative curriculum
Safe and supportive school environment
Curriculum and Facilities:
Leadership and Business programs
Marine and Aquatic studies
Legal Studies
Fashion Design, Dance and Drama
Surf Lifesaving and Surfing Excellence
Hospitality and Tourism
Information Processing and Technology
English, Science and Maths strands
Social Sciences, Business Studies and IT options
Elanora State High School offers a fully equipped Resource Centre and library including Internet and e-mail and a Performing Arts Centre available for all students. Sports are well catered for with a large indoor gymnasium, volleyball and tennis courts and various sports fields. Boating and aquatic activities are provided close to the school.
Specialised subject facilities include a comprehensive business education centre, music practise rooms, science and computer laboratories and photographic and video editing facilities. Add to this a working restaurant and facilities for the design and construction of things as diverse as furniture, fishing rods, plastic accessories and surfboards.
Unique Aspects and Achievements:
Nationally recognised Business programs
Acclaimed Leadership programs
Individualised innovative curriculum
Academic excellence in Economics and Languages
Outstanding Dance and Surfing Achievements
National Finalists (6 times) Australian Business Week Program
Consistently developing top ranking Year 12 students
Application
Learn more about Elanora State High and contact our staff now for free information and service. 
SPECIAL PROGRAMS
Certificate III in Hospitality Operations
Leadership and Business Programs
Marine and Aquatic Studies
Australian Air Force Cadets
Optiminds Challenge
EXTRA-CURRICULAR ACTIVITIES
Rock Eisteddfod
Japan Tour
Canberra Tour
Debating
Public Speaking, Mooting Competitions
Performing Arts Camp
Band Camp
Duke of Edinburgh Award Scheme
Maths Challenge
Ski Trip
languages
SCHOOL FACILITIES
Resource Centre
Computer and Science Laboratories
Business Education Centre
Performing Arts Centre
Boating and Marine Facilities
Large indoor gymnasium
Volleyball and tennis courts
Music practice rooms
Photographic editing studios.
Restaurant
tertiary pathways
Bond University - Pathways programs, Scholarships
Gold Coast TAFE - Direct Entry Awards
AWARDS
Six times National Finalists - Australian Business Week Program
Four times Qld Rock Eisteddfod Finalist
Australian Business Week Online Champion
National Award winning surfing and dance programs
other highlights
Flexible timetable in Senior School
Personalised ESL support
Maths and Science tutoring
Extensive Student Welfare Network
Peer Mediation