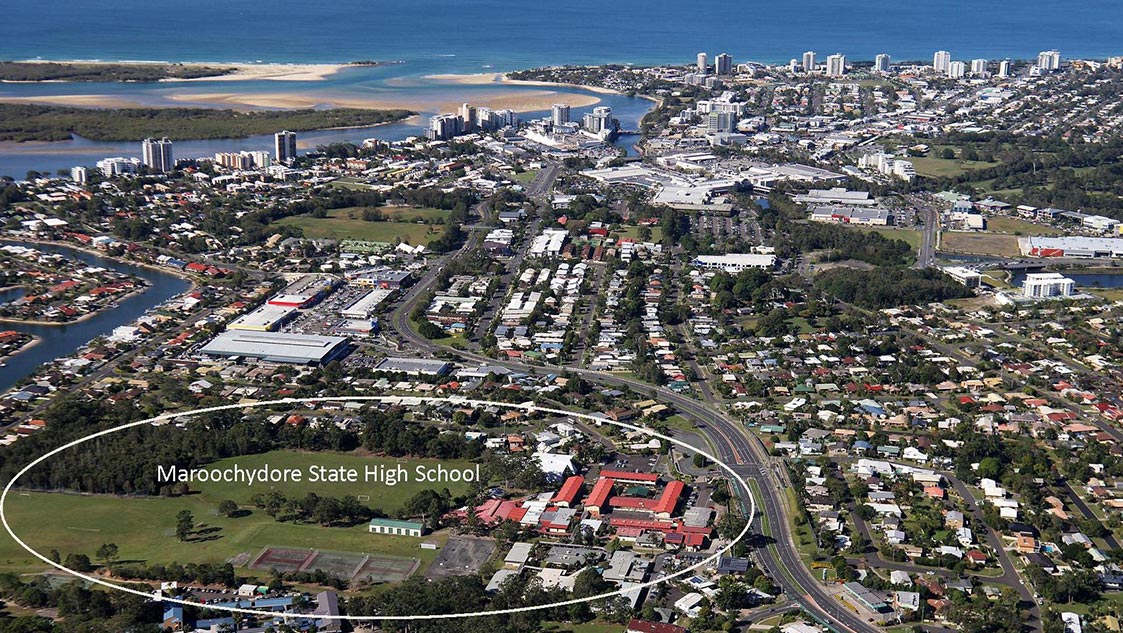 Maroochydore State High School
Located in the heart of the Sunshine Coast, with a backdrop of beautiful beaches, Maroochydore State High School is a vibrant and dynamic school that is recognized as a leader in secondary education on the Sunshine Coast. Situated just over an hour drive north of Brisbane and in the centre of the Sunshine Coast, Maroochydore State High School is one of the largest high schools on the Sunshine Coast and offers a broad range of academic and vocational subjects to students from Year 7 to Year 12. The new Maroochydore CBD is only 2 kilometres away and Maroochydore Beach is an easy bike ride from school.
Founded on strong traditional values, Maroochydore State High School has an innovative, dynamic and modern curriculum where students achieve excellent outcomes and safety, respect and learning permeate every aspect of school life. Students are supported and challenged to realise their potential through an exciting range of subjects and innovative programs that provide something for everyone.
Maroochydore High offers specialised programs in a wide range of curriculum areas. Some of the speciality subjects are Biotechnology and Marine Science, Chef training in Hospitality and Tourism, Japanese and a number of sports including Cricket, Surfing and Rugby League. Our school is well resourced, with our greatest resource being our teachers. The staff of Maroochydore High are experienced, highly qualified and dedicated to improving your learning. Our staff are very friendly and we work closely with you and your host families to provide a safe learning environment. The local community supports our school and is involved in many activities. Another advantage to enjoy is that our school is centrally located on the Sunshine Coast. We are close to major swimming and surfing beaches, shopping centres, the University and the Maroochydore Airport.
3 reasons to choose Maroochydore State High School
Great programs, great people; great relationships = a great place to learn
A safe place to learn and safe place to grow
​Next door to Maroochydore beach on Queensland's beautiful Sunshine Coast
Maroochydore State High School Information
Year established: 1964
Number of students: 1250
Website: www.maroochydoreshs.eq.edu.au
Address: 160 Maroochydore Road Maroochydore QLD 4558
SPECIAL PROGRAMS
Young Scientists Program
English as an Additional Language or Dialect (EAL/D) support
Biotechnology excellence program
Commercial cooking excellence programy
Centre for Creative Industries
Gateway School Queensland College of Wine Tourism
Beacon Foundation Career Preparation program
Marine Studies
Surfing Program
Film, Television and New Media
Instrumental Music
Student leadership and care programs
Driver education and Year 12 Docu drama
Hospitality, Restaurant and Bar Service Courses
School based traineeships and work experience program
EXTRA-CURRICULAR ACTIVITIES
Sydney, Fraser Island and Great Barrier Reef trips for international students
Debating
Opti Minds Gifted and Talented Program
Science Fair
Culture Fest
Concert band, stage band, rock bands and choir
School camp – marine studies
Heron Island
Musical, concerts and discos
Cheerleading
National Academic Competitions
Student Council
Private surfing lessons
Year 12 Formal and Graduation
Whale watching and Brisbane culture tour​ and NRL football game​
Languages
SCHOOL FACILITIES
New modern, sophisticated science laboratories
State-of-the-art IT and manual art facilities
Multiple computer rooms
Performing arts complex
Sports stadium and function hall
Rugby ovals
Basketball and tennis courts
Modern cafeteria
Tertiary pathways
University of Sunshine Coast - Headstart Program (dual enrolment)
AWARDS
Regional Award -Showcase Awards for Excellence in Schools
Queensland Schoolboy Cricket Champions
OTHER HIGHLIGHTS
Broad range of academic, vocational, personal interest, specialist subjects
Leading Queensland school in the implementation of biotechnology in science
50 junior and 10 senior sports teams
 Application
Contact our team to get free assistance.
The information and data in this webpage is subject to change without notice. All information is to the best of our knowledge.