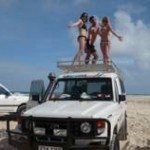 Riverland
In this region of the South State, you find the Murray River Snaking its way beautifully through. The Riverland region is also known for its plenty citrus and stone fruits. It is also home to the Gluepot reserve which is a bird sanctuary. The sanctuary has under its protection eighteen bird species that are nationally threatened. The reserve covers a huge area of fifty four hectares which is sparsely populated with the black oak woodland and scrubland.
The centre piece of this town is the historical village. This village goes back to the 1980s. At this point in time the Loxton Township was just being developed. Today up to forty five buildings that are fully furnished are still there.
The mangers of this village have ensured that the original plan and look of the historical village is maintained so when you visit you are immediately transported to a time in the past. Also there are many exhibitions of ancient machinery and techniques as practiced in the 1980s. You will watch as sheep are sheared and the old bakeries baking bread the old fashioned way.
Some of the buildings have the exhibit pictures of the flooding of River Murray which took place in the 1965. Feelings of despair and destruction left behind by the flood are captured in the pictures making one appreciated the fact that they have not had to live though that experience.
After the viewing of these pictures you can help lift the gloom by going water skiing. The River Murray is just perfect for this sporting activity. Usually one skis behind a jet boat. After being instructed in a thing or two on skiing, all you have to do is to get your swim suit on, put on a life jacket and hold on to the handle at the end of the rope that has been attached to the jet boat and enjoy thoroughly.