Narrabeen Sports High School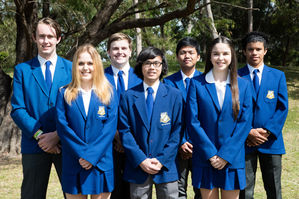 Narrabeen Sports High School Introduction
In the midst of Sydney's beautiful Northern Beaches area, Narrabeen Sports High School is a comprehensive school that values, recognises, and strives for excellence in academic, cultural, and sporting pursuits. We are committed to a caring, supportive, educational environment that provides opportunities for all students to maximise their potential. Although we offer a special sports program for talented athletes, we are first and foremost a coeducational, comprehensive high school community that seeks always to provide our students with the opportunities to acquire the knowledge, understanding, skills, and values necessary for leading productive and rewarding lives in the wider community.
English as a Second Language (ESL) Programs
In addition to providing parallel English classes in some years, Narrabeen Sports High also offers the ESL Higher School Certifi cate course and the senior Fundamentals of English course, which are both designed specifically for students from non- English speaking backgrounds
Languages Taught
Special Programs
Extension classes in Years 7 and 8
Targeted sports program
Junior sports development program
Interschool and knockout sporting competitions
Debating and public speaking
Rock Eisteddfod
Drama, dance, music, and training band
Chess club
Religious education classes
Camps program
Year group special projects and fundraising for charities
Participation in science, mathematics, English, computing, and foreign language competitions
School leadership program through the Student Representative Council, prefect body, peer support training program, and anti-bullying program
Mathematics coaching centre
Work experience programs
Student Support Services and Programs
The school is committed to providing a safe and supportive learning environment for all students
School Counsellor, Learning Support Team, Year Advisers and Welfare Coordinator assist International Student Coordinator to support our international students
Special Facilities
Multipurpose 500-seat hall
Gymnasium
Learning centre and a well-resourced library
Five networked computer rooms
State-of-the-art indoor sports centre
Extensive outdoor sports fi elds
International-standard tennis courts
Fitness laboratory
Dance room
Visual, digital arts, and photographic studios
Access to the facilities at the nearby Sydney Academy of Sport
HSC Results and Year 12 University/TAFE Placements In 2005:
Outstanding HSC results in ESL English, Business Studies, Visual Arts, PDHPE, Languages, Music, Hospitality, Design and Technology and Information Technology
70% of students continue their studies at university or TAFE
Tertiary offers included Engineering, Journalism, the Sciences, Computer Technologies, Business, Arts, Environmental Planning, and Music
Scholarships with NSW and Macquarie Universities
Features of Local Area
Narrabeen Sports High School is located within the Pittwater Councilarea on the Northern Beaches
Public and private buses provide easy access to the city, Manly, Warringah Shire and northern beaches suburbs
The school is adjacent to Narrabeen Lake, local beaches, and shopping centres, and is situated in spacious grounds incorporating recreational areas and sporting fields
Contact our team for free to study at Australian schools.