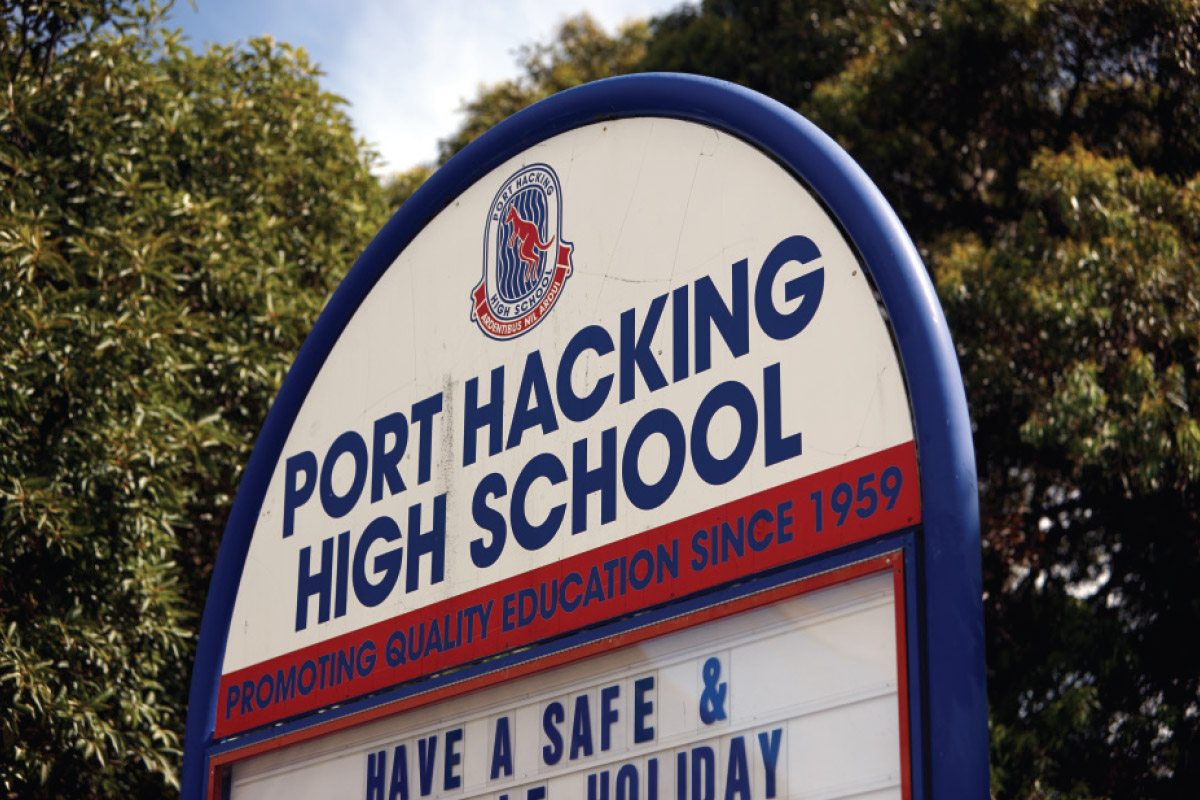 Port Hacking High School
Port Hacking High School General School Introduction
Port Hacking High School has a proud history as the original coeducational high school in the Sutherland Shire.
Situated in an 8 hectare garden setting in Miranda, the school has a magnificent campus. The school has a strong focus in Performing pursuit of academic excellence. Students have achieved consistently outstanding results in the HSC.
We offer high standards of teaching, a structured and caring atmosphere and a huge variety of learning experiences. We set high standards of dress and behaviour.
We teach and nurture qualities such as self motivation, discipline and respect for others so that our students graduate as well rounded, confident and responsible young adults.
English as a Second Language (ESL) Programs
Special programs function across the school, at all levels, by experienced and caring staff. Additional ESL support is given to international students
2 Unit English (ESL) offered
Fundamentals of English offered in Year 11
Languages Taught
French, Japanese, German
Access to Open High School and Saturday School for other languages
Special Programs
Drama and dance ensembles and productions
Junior and senior choirs, concert, stage and jazz bands, musical productions
Music technology centre
Student Representative Council
Interschool sports competitions
Combined High Schools sport competitions
Australian Schools Academic Competitions, including English, Mathematics, Science, Geography and Computer Skills
Interschool Debating and Public Speaking Competitions
International student activities, including excursions and cultural exchanges
Student Support Services and Programs
Head teacher welfare
Learning support team
School counsellor
Careers adviser
Peer support
Peer tutoring
Year 11 and Year 12 essay writing and study skills workshops
Specialised reading programs
Special Facilities
Fully-equipped auditorium with tiered seating and orchestra pit
Full-size gymnasium and change rooms
Four computer laboratories with internet/email access
Drama, music and dance studios
State-of-the-art Library
Visual Arts Centre with graphics, photography and dark room facilities
Science and technology laboratories incorporating Industrial Arts and Home Economics areas
Multipurpose sports facilities, including three playing fi elds, tennis courts and basketball courts
Separate landscaped courtyard for senior students
HSC Results and Year 12 University/TAFE Placements:
 
52% of HSC students scored in the top 30% of the state
45 HSC courses offered, 50 vocational courses offered
Students seeking university and TAFE placement were well above stateaverage
Features of Local Area
Port Hacking High School is located 20km south of Sydney CBD and 6km inland from Cronulla in the heart of the Sutherland Shire
The school was named after the Port Hacking river and bay system which issituated nearby
Located nearby are Botany Bay and the Royal National Park
The school is located adjacent to Westfield Miranda, a major shopping centre, and close to public transport
Other Information
The school has an excellent reputation in the community. Parents and students value their place at Port Hacking High School because of our success in raising standards of achievement for all students in all areas of school life
Students excel in all fields of endeavour and they are regularly placed in the top ranks of the HSC
Our sports and performing arts programs attract talented students from all over Sydney
Virtually all our graduates find places in tertiary institutions, traineeships or full-time employment
Contact our team for free to study at Australian schools.