Australian Catholic University with Go to Australia - the Registered Australian Education Agency for International Students in Australia: Free Student Counseling for the Australian Catholic University, Free Application Services for International Students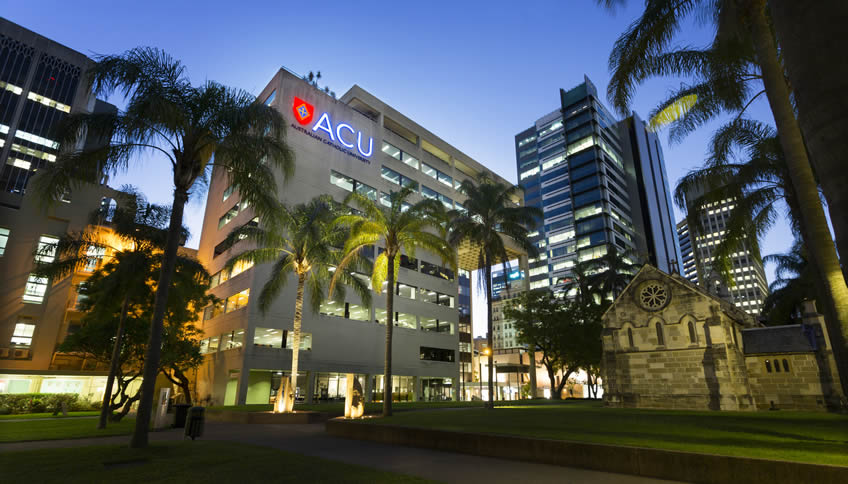 Why choose ACU National
ACU National believes in making a difference in the world today
The university is a leader in the fields of health sciences and education
ACU National offers programs such as social and environmental sciences, business & IT, theology & philosophy and the liberal arts The university seeks to empower its students with a sense of social responsibility.
ACU National seeks to create an environment where knowledge is constructed and critiqued by the students themselves
Students at ACU National take pride in the all-round academic excellence agenda of the university
All six campuses are centres of excellence in teaching and research with state-of-the-art facilities
ACU national is open to all and does not uphold any particular belief or background
The university has a national presence with six campuses and has international connections and offshore offerings
Graduates from ACU National enjoy high employment rates
All courses have a practical emphasis
CRICOS Provider Code: 00004G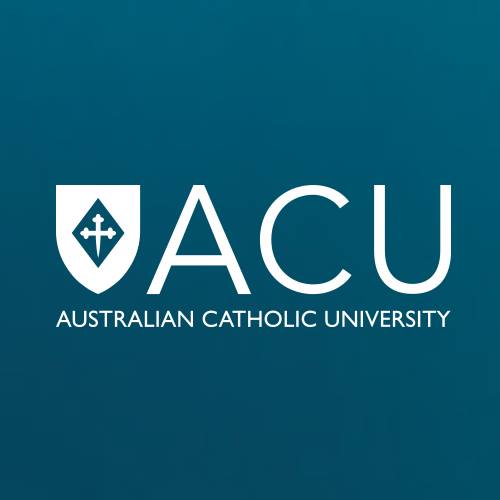 Australian Catholic University
Welcome to Australian Catholic University
The Australian Catholic University invites you to join them across several campuses throughout Australia.
ACU delivers courses of an international standard and international student welfare is a top priority. ACU courses are much sought after by international students and graduates enjoy high employment rates.
Overview
The Australian Catholic University is dedicated to the pursuit of excellence with a matching emphasis on justice, equity and human dignity. The University excels in teaching, research and service to the community, both Australian and global, and stresses the ethical, social and spiritual dimensions of its fields of endeavour.
It aims to produce graduates who are capable, ethical, critical in their thinking, alert to the deeper dimensions of human existence and committed to the well being of others. These values are reflected in its own practices, especially in the care and support provided to its students.
Location
The University is decentralised in its layout with campuses in Sydney (2), Melbourne, Ballarat, Brisbane and Canberra. These campuses are close to the centre of their cities of location and all the facilities necessary for daily life are close at hand.
Small campuses mean more personalised attention for each student because of the excellent teacher-student ratios and a more relaxed, casual and friendly atmosphere creates ideal conditions for study. The diverse locations give students the opportunity to discover different facets of the Australian way of life in a variety of settings and communities.
Courses
The ACU offers courses in the following subject areas at Diploma, Degree and
Postgraduate levels:
Arts & Humanities
Business & Management
Education, Educational Leadership
Environmental Science
Exercise Science
Information Systems
Music
Nursing
Psychology
Religious Education
Social Sciences & Social Work
Theology & Philosophy.
Subjects in these areas are usually 12 weeks (one semester) long.
International students need to be enrolled in at least three subjects per semester.
English Courses
For those students who need to develop their English skills, the University offers General English in Melbourne and North Sydney, IELTS Test Preparation in Brisbane, North Sydney and Melbourne and English for Academic Purposes (Direct Entry) at Brisbane, North Sydney and Melbourne.
Entry Requirements
English Language skills, educational background and country of origin are all taken into account. An IELTS score of at least 5.5 for Diploma courses, at least 6 for Undergraduate programmes and at least 6.5 for Post Graduate studies are requirements, along with any academic prerequisites. These may vary depending upon the course of study chosen.

Enrolment dates
Application deadlines for the ACU are:   
31 October (for first semester the following year)
30 April (for second semester the same year).
Student activities
Each campus has its own student recreational facilities and students quite often organise social activities among themselves. The campuses are close to the centre of the city in which they are located so that shops and theatres, cafes, hotels and restaurants are readily available.
The cities themselves are usually not to far from natural attractions such as Brisbane and the Gold Coast, Sydney with its harbour and beaches and Melbourne with its parks and gardens. Each location offers its own unique attractions.

International Study Options
ACU National has a wide variety of study programs for international students on offer:
Undergraduate & postgraduate degree programs
University Preparation Programs - English language programs/Diploma Pathways program
Technical & vocational studies
Study Abroad Programs
Overseas Study Programs
About ACU National
Choice of six campuses in Sydney, Brisbane, Canberra, Melbourne and Ballarat
A public university funded by the Australian government
A leader in the use of technology in education
High staff-to-student ratio
A university that encourage tolerance and respect
English language requirements
International students are required to demonstrate sufficient English language
proficiency to undertake the above programs.

English language programs
ACU National runs two English language units in Sydney and Melbourne for international students who are unable to meet the English language requirements as specified above.
These programs do not guarantee entry into other ACU National programs.
English language programs can be combined with any ACU National?
Award or Study Abroad courses.
Australian Catholic University Campuses
Melbourne campus
Close to the Melbourne CBD
State of the art facilities
Close to public transport
North Sydney campus
Located in the heart of Sydney
Short walk from North Sydney station
Strathfield campus
Gracious and landscaped views
Canberra campus
Close to Canberra CBD
Close to public transport
Campus linked with International Student Network
Ballarat campus
Historical surroundings
Close to the city centre
Close to public services & amenities
Living in Australia
Australia is a large country with a relatively small population. It has a clean environment and a pleasant climate with a cosmopolitan flavour.
Brisbane
Brisbane has acquired a name for being a friendly city. It has a pleasant climate and the city sits on the south east coast of Queensland offering easy access to the Gold and Sunshine coasts.
Australian Catholic University - Brisbane Campus
Brisbane campus
Located in the northern suburb of Brisbane
Easily accessible by public transport
State-of-the-art facilities
Student accommodation available on campus
ACU-facilities
Teaching facilities
All teaching facilities are state-of-the-art with computer assisted learning techniques.
Library
Reciprocal borrowing arrangements with other university libraries are available.
On-line and database search functions are also available at these libraries.
Computer facilities
Computers are available as learning aids as well as for data and word processing functions.
Recreational facilities
All campuses have student common rooms and outdoor recreational areas.
Commercial facilities
The campuses are within short reach of most major shops and banks. Some have their own banks and cafeterias.
Entertainment
Such activities are normally organised by the student themselves or there are on-campus celebrations.
Travel concessions
International students should note that state government travel concessions are not
available to ACU National students.
Learn English in Australia
Studying English at the Australian Catholic University
Australia is a big country with a small population. Most of the people live on the east coast in cities such as Melbourne and Sydney. Australia has four seasons - spring, summer, autumn and winter. It is a multicultural country with a high degree of tolerance for people of other cultures.
A Multi-campus Institution ACU National has six campuses and offers a great deal of variety and choice.
Why study English at ACU
Learn English with highly qualified teaching staff
Study English at elementary, intermediate & advanced levels
Graduate with an ACU Certificate
State of the art student facilities
Opportunities for interaction with local students
Further study options & counselling available

English language campuses
English language units are located in Brisbane, Melbourne & Sydney.

English language courses
ACU offers international students specialised English language courses that may vary from campus to campus.

General English
This course aims to develop the linguistic abilities in the four key areas of speaking,  reading, listening and writing. It is offered at three levels - elementary, intermediate  & advanced.

Group Study Tour Programs
The aims of the course are the same as for General English courses; the only difference being that this course is tailored for tourists visiting Australia.

English for academic purposes (EAP)
This course prepares students for university entry through basic study skills such as note taking, writing and researching for assignments.
Course commencement dates
ACU English courses revolve around a 5-week cycle with exit points.

Course duration
The minimum course length is 4 weeks but it normally takes around 10 weeks to progress from one level to another.

Certification
The certificate issued at the end of each course states the type of study and level attained.

Lecturers
English language lecturers at ACU are trained professionals with many years of experience in their field of specialisation.

Diploma Pathways Program
International students unable to meet the university entrance requirements can choose to undertake the Diploma Pathways Program with subjects credited into the corresponding university course upon entry.

The program is offered in the following areas:
Business Studies
Information Systems
Liberal Studies
Environmental Science
Social Science
Visual Arts & Design
Nursing (Diploma & Advanced Diploma)
Exercise Science
Australian Catholic University Study Abroad Program
Study Abroad Program
This program is for international students intending to study for one or two semesters at ACU.
The study options are as follows:
Option 1 - Scheduled Units
Each unit lasts one semester and international students are required to take at least three units per semester in order to fulfil their visa requirements.
Option 2 - Summer/Winter Schools
These programs are normally organised during the Australian semester breaks and may include experiential learning.
Activities may include field trips, performances/recitals and group camping.
Option 3 - Internship/Field Experience
This option is mainly available to social workers and associated professions.
Mixed Program
International students also have the option to take a semester of scheduled units at the beginning or end of summer or winter school.
The subjects on offer include:
Aboriginal Studies
Business
Asian Studies
Australian Studies
English
Education
Environmental Science
History
Italian
Japanese
Literature
Science
Visual and Performing Arts
Women's Studies
International students should note that some subjects may have prerequisites and this must be met.
International Student Exchange Program
Incoming students
International students from partner institutions with which ACU National has a written agreement can enrol at the university, provided they meet certain criteria.
They are:
The program must match the program being undertaken at the home institution
There must be an offer of a place
All necessary pre-requisites must be met
All Australian immigration procedures must be fully adhered to
Applying for exchange study
All applications must be submitted to the International Education Office for their
approval.
Orientation Program
ACU National organises an airport reception service where overseas students get to meet local students
.
Course variations
Courses may vary from campus to campus and sometimes within the course itself.
Exchange application checklist
All home institution requirements met
ACU National application form submitted and all requirements met
All documentation to be forwarded to the Exchange & Study Abroad Coordinator
Australian Catholic University Study Abroad Student Guide
Studying in Australia
Australia is a big country with a relatively small population.

Meeting at Airport
International students can make arrangements to be greeted at Melbourne, Sydney, Brisbane or Canberra campuses.

Orientation
Orientation Week for international students is normally held two weeks before start of semester one and one week before the start of semester two.
Attendance at these sessions is very important for international students as information and campus tours will be organised for their general welfare and so that they become familiar with their new environment.

Study Skills & English Tutorials
International students also benefit from ongoing academic support as well as one-to-one tuition.

Student Visas
All international students require student visas and they are not allowed to study on a part-time basis.

Admission requirements
At least a year of study towards a Bachelors award
Good spoken and written English
OSHC cover maintained for the duration of study in Australia
Tutition Fees, Fees and Living Costs
Australian Catholic University Tuition Fee
ACU National tuition fees are reasonable and comparable to other Australian universities.Tuition fees for international students are fixed for the length of thecourse provided the course is completed in due time. The fees also cover other services including:
Airport reception (for degree students only)
Accommodation assistance (for degree students only)
Orientation Programs
Access to student services and facilities
Study skills assistance
Membership of Student Representative Council/Student Union
Other study related expenses may include course materials and uniforms for nursing students. International students should check the course prescriptions for their preferred course.
Refund Policy 
Total refunds
If the university withdraws the offer of a place to an international student
Illness or disability
Death of a close family member
Political, social or natural events beyond the student's control
Inability to obtain a student visa
A student has failed to meet the award progression rules
Partial refunds
If a stude
nt, after accepting an offer of a place, later declines the offer, he/she is entitled to a partial refund.
International students should note that this requires documentary evidence and total refunds can only be given in exceptional circumstances as outlined above.
Fees & Living Cost
Fees & Living costs
Study Abroad students normally pay around A$6,820 per semester plus OSHC.
International students require at least A$12,000 per year to cover this plus the living expenses.
Accommodation
On-campus, private and home stay accommodation are the options available to international students. ACU National will assist students in finding suitable accommodation so far as possible.
Clothing
Warm clothes are advisable for cities such as Ballarat, Melbourne or Canberra.
Choice of campus
ACU National has six different campuses to choose from and each has its unique
characteristics.
Student Organisations
To safeguard the general welfare of all international students, each campus has a Student Representative Council.
Counsellors
Counsellors are available on campus to provide free and confidential advice.
There are also Study Abroad Advisors to assist you with study related issues.
Australian Catholic University - How to apply
1. Submission of application
Applicants must complete the relevant application form for their preferred course and attach all supporting documentation including certified copies of academic transcripts and English language proficiency tests.
The closing dates for applications are as follows:
For February 1st semester admission - 30 November
For July 2nd Semester - 31 May
Late applications may be accepted if places remain.
2. Offer of place
Successful applicants will receive an offer letter stating:
The course being admitted into
Commencement date for the course
The fees due
Any conditions attached to the offer
Unsuccessful applicants will be advised in writing.
3. Acceptance of offer
Applicants wishing to accept the offer must sign and return the offer letter together
with the payable fees.
4. Obtaining a student visa
Upon payment of the due fees, the university will issue an Electronic Confirmation of
Enrolment (eCOE) which is necessary for applying for a student visa.
Process for Enrolment
Once the children of the postgraduate student are in Australia, he/she must contact the International Education Office regarding their children's enrolment.
The university will complete all necessary documentation relating to enrolment
Students will be placed in a school with spare capacity that is in close proximity to their residence
The enrolment process can take place
School changes will only be considered in exceptional circumstances
Eligibility of overseas students to enrol
All procedures relating to this are governed through the Regulatory Framework System of the Department of Education & Training.
Short term visits
All participants in such programs benefit from:
International ties
Cross-cultural interaction
Inter-city/school relationships
Intercultural understanding and friendship
Such tours are normally organised for the purpose of visiting their overseas counterparts as part of group on a commercial basis during vacations or though memorandums of understanding.
University Entrance requirements
Entry to a degree program at ACU National requires prior academic qualifications or its overseas equivalent.
The EAP program may suffice for those who are unable to meet the above requirement.
Australian Catholic University application for children of international students
Australian Catholic University FAQ
How do I get more information about the university before commencing studies?
The best option is to attend Open Day in August every year. The next option is to attend an orientation program for new students which are held two weeks before the start of the academic year.
What happens to me if I become a permanent resident?
The student will need to re-apply as a local student from the subsequent semester of
enrolment. He/she will also have to pay HECS/local tuition fees from here onward.
What if I bring a family member to Australia?
It is recommended that the student check with the nearest Australian diplomatic mission before doing so. He/she will be responsible for supporting all dependents and paying the tuition fees of all dependent school-age children.
Will my qualification be recognised overseas?
Students should check with professional bodies in their home countries about course accreditation.
Where do I go if I have a complaint?
The first person would be the course coordinator. Students should note that the university has a formal procedure for handling complaints and there is also recourse to an independent mediator.
Will my prior studies be credited towards my current qualification?
Students should bring as much information as possible about past studies undertaken for a reasonable assessment to be made. This should include certified copies of academic transcripts and English test results.
Australia student exchange
Pre-acceptance
ACU National Exchange application form
Statement of support
Official transcripts
English language test results
Post acceptance
Acceptance and Payment Advice Sheet
Airport reception and Accommodation service
Housing forms (for Ballarat & Melbourne campuses)
Health InsuranceThis is a mandatory requirement for issue of a student visa.Confirmation of EnrolmentThis is the final document required for a student visa.
Pre-acceptance
ACU National Exchange application form
Statement of support
Official transcripts
English language test results
Post acceptance
Acceptance and Payment Advice Sheet
Airport reception and Accommodation service
Housing forms (for Ballarat & Melbourne campuses)
Health InsuranceThis is a mandatory requirement for issue of a student visa.Confirmation of EnrolmentThis is the final document required for a student visa.
Campus Ministry
Each campus has a pastoral service ministry offering professional welfare and counselling services. The Ministry also offers chapels as places of worship and reflection.
Grievance procedures
All complaints in this regard are dealt with by the Student Ombudsman in a fair and
professional manner. The university also has recourse to an independent mediator.
Professional Recognition
International students should consult with professional bodies and organisations whether the course they intend to pursue will be recognised in their home country.
Accreditation
It is a requirement that international students first seek permission from their academic advisor before enrolling in a course at ACU.
Study & Assessment methods
Assessment at ACU may be different from those of other countries in that it is focussed primarily on the student.
Official Transcripts
These are issued at the end of each semester with details of academic performance.
Services & Facilities
International students including Study Abroad students have equal access to all university services and facilities as local students.
International Internship
International Internships
This program, hosted in partnership with Marist College of the United States, offers American students a golden opportunity to undertake an internship with the view to becoming a participant in the global cross-cultural process.
Practical experience
The internship allows participants to experience living in a host society with the
internship being a key part of that experience.
Internship options
Arrangements can be made for work experience in the following areas:
Finance
Medical related professions
Film Production
Hospitality
Marketing