Bond University with Go to Australia - the Registered Australian Education Agency for International Students in Australia: Free Student Counseling for Bond University, Free Application Services for International Students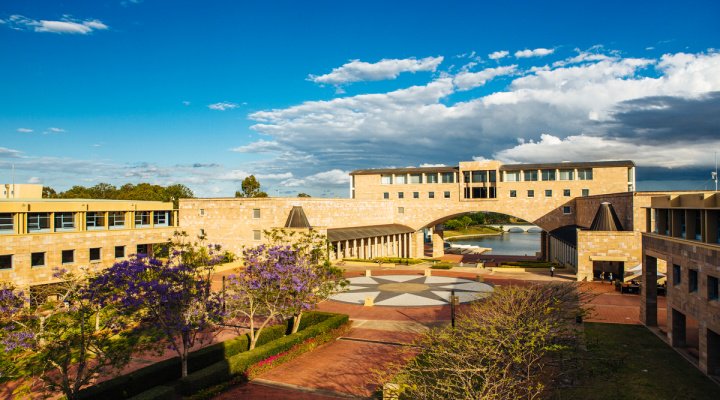 Bond University/CRICOS Code 00017B
Location
Bond University is ideally located on Queensland's world famous Gold Coast. The Gold Coast is famous for its sandy beaches and outdoor lifestyle and the university is located in the midst of such surroundings. The university is very close to Burleigh Heads and Miami beaches and is a one hour drive from Brisbane.
Faculties / Courses
English language courses
Business
Health Sciences
Humanities & Social Sciences
Information Technology
Law
Why study at Bond University
Bond University is Australia's first private University. An institution seeking to mould enterprising students as future leaders for the global economy. A centre for lifelong learning.
For more information contact AA Education
Bond University
The Faculty of Law at Bond University has become the first law school in Australia to secure a partnership with one of China's top specialist economics and law institutions, paving the way for more Chinese students to undertake postgraduate law programs at the Gold Coast university.
A five year partnership agreement between Bond and Zhongnan University of Economics and Law (ZUEL), located in Wuhan in China's Hubei Province, has officially been signed.
Under the partnership agreement, Bond academics will travel each year to ZUEL to deliver law subjects in English, allowing Chinese students who complete those subjects to articulate into Bond's Master of Lws and Juris Doctor programs.
The agreement also facilitates collaborative research partnerships between the two universities.
Email: melanie@australien-ausbildung.com
Bond University - Open Day
Bond Open Day - August 20
Bond University is organising an Open Day on the 20th of August to help prospective students make informed decisions about their academic future.
Prospective students can also meet Career Advisors and Faculty members to discuss their specific needs and requirements.
The faculties that will be putting on a display are the Business, Health & Medical Sciences, Humanities and Law schools.
For those who are not able to make it to the Open Day but are still interested in finding out more about what Bond has to offer, Bond welcomes enquiries by email.
By Neil Rao
Diploma of Health Sciences - Bond University
CRICOS Course Code: 093260K
BU Program Code: CO-00016
Program Commencing: January 2017
Program Intakes: January & May semesters only
Academic Entry Requirements:
Completion of Australian Grade 12 or Equivalent (OP 16 - 18 / ATAR 60.20 - 54.20)
English Languge Entry Requirements:
IELTS score of 6.0 (no sub score less than 5.5)
Program Description:
The Diploma of Health Sciences offers a broad foundation in biological and chemical sciences where you will gain an understanding of basic and applied sciences, including the anatomical, molecular and physiological processes of human health and function. You will be develop technical scientific and research skills using some of the latest research equipment, which can be applied across a broad range of industries.
Program Structure:
Eight subjects compromising Bond University CORE subjects and discipline specific foundation subjects:
Critical Thinking and Communication
Leadership and Team Dynamics
Ethical Thought and Action
Introduction to Global Citizenship
Introduction to Chemistry
Cell Biology
Chemistry for Living Systems
Principles of Human Structure and Function
Academic Skills*
* Academic Skills is a required 0 credit point subject that provides you with core academic skills including referencing, academic writing and time management. The subject runs for 5 weeks and must be completed in your first semester.
Further Study:
Successful completion of the Diploma of Health Sciences guarantees you a place in the Bachelor of Health Sciences program with eight subjects credited to the degree.
Other pathway options include the Bachelor of Exercise and Sports Science* and the Bachelor of Biomedical Science*.
*(8 credits not guarenteed for these pathwways & other entry requirements may apply)
For more information, please contact us!
Bond University
Application
If you believe that Bond University is the place you wish to study while learning more about Australia, why not contact AA Eduction Network today? One of our counsellors will be happy to provide further information, advice and guidance on your application and assist you with your plans.
Bond University
Bond University is Australia's first private, not-for-profit university.
The university was created following the traditions of finest private universities famous around the world.
The university operates in a less customary fashion by stressing on students' overall development rather than just the technical knowledge. It encourages students to be leaders and thinkers, analyze issues from a different angle and develop an innovative approach to problem solving. The university inflicts in students enterprise learning, ambitions and a desire to achieve a level beyond everyone's expectations. Thus, Bond University enables students to reach the heights they didn't expect. This is desired not only for their career but their personal life too.
Bond University offers undergraduate and postgraduate courses in the fields of law, business, Humanities & Social Science, Health Science, Medicine and Hotel, Resort and Tourism Management, sustainable development and Information Technology.
Bond University also offers the flexibility to undertake three semesters per year instead of the usual two as offered by many other universities. This flexibility gives the students an edge by earning their desired degree twelve months ahead as compared to students enrolled in other universities and thus entering the competitive careers market sooner.