Queensland Schools with Go to Australia | Free Enrollment Service for International Students to the Schools in Queensland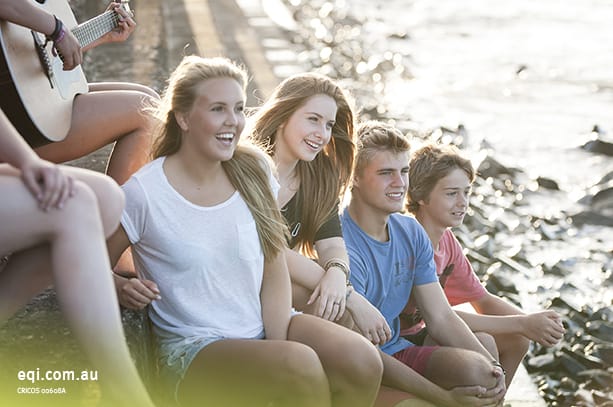 Queensland is characterised by modern, cosmopolitan cities, beautiful coastal and rural environments, its magnificent reefs and its national parks, rainforests and beaches. The state is youthful and its climate encourages an outdoor lifestyle, with diversity in sports, music and the arts. Queensland's schools are located in the midst of all of this diversity and excitement.
Schools in Queensland are staffed by university-trained professionals who deliver a world-class curriculum through a flexible education system that includes: online learning, computer labs linked to universities, video conferencing and recording studios, photo labs and multimedia facilities. Students progress through this system by way of assignments, oral presentations, practical exercises and examinations throughout the year.
Specialisation is offered in: aviation, music and performance arts, business, engineering, hospitality and tourism and international sports such as soccer, golf, tennis and surfing.
Queensland School Video
1) Primary School education for students in grades 6 and 7 and the High School Preparation (HSP) programme which provides intensive English studies prior to entering mainstream classes.
2) The Graduate Programme for grades 8 to 12 which qualifies them for tertiary study in Australia and overseas through choice from over 50 electives to assist entry into further study or vocational training.
Queensland Government schools provide: internaional student co-ordinatior, Homestay co-ordinator, careers and university advice and round-the-clock student emergency support. Schools work hard to provide an experience of affordable, competitive academic excellence in a friendly, safe and beautiful environment where students can an improve their English skills, achieve their study goals and form lasting friendships.
Apply Now to Study at a Queensland High School!
Queensland schools offer you as a student a supportive and positive environment in which to develop your true potential. The innovative teaching methods foster independent learning and encourage all students to think outside the box.
State of the Art Technology

Queensland schools put theory to practice and this is their forte. Learning is intgegrated into modern technology such as the internet and multimedia and this, in effect, creates global citizens.
School Types

Queensland is state of choice for learning with a wide range of government and non-government schools offers you a wide choice of both government and non-government schools. There are schools for all religious denominations, nationalities, classes etc...
Curriculum

All Queensland schools offer as compulsory subjects - English, mathematics, science, arts, technology and foreign languages. There are non-compulsory subjects on offer as well such as graphic design, music, hospitality, accounting and multimedia.
Extracurricular Activities

All Queensland schools encourage their students to undertake extra-curricular activities such as acting in school plays, singing in the school choir or participating in team sports. The range of sports on offer in Queensland schools such as tennis, football or cricket is so large that students will be spoilt for choice.
International Students

Queensland schools operate in a multicultural environment and Queensland teachers are experienced in dealing with students from different nationalities. As such, many Queensland schools have English language support services to assist needy students with their studies.
The tuition fee covers:
all aspects of compulsory schooling and teaching costs
textbook hire
compulsory subject-related excursions
supervision and counselling (academic and personal) throughout your program abroad
enrolment in a Queensland Government high school
pre-departure and post-arrival orientation information
ESL services
student identification card for student concession fares where public transport is available
support of a local school International Student Coordinator and/or Homestay Coordinator who is a representative of your school.
The tuition fee does not cover:
the cost of homestay accommodation
school uniform
school activities that are not compulsory, such as optional excursions and performances
personal items and holiday travel
stationery
lunch at school
passport and visa application fees
international and domestic travel
transfers to and from the local airport on arrival and departure (can be arranged upon request)
Education Queensland International
EQI is the division of the Queensland Department of Education and the Arts that develops and promotes world-class education programs for international students. 
In particular EQI:
Caters for over 1300 international students from 25 nations.
Manages over 32 Queensland government schools that offer full-time programs for international students.
Manages Australia's most popular group study tours program. Approximately 8200 students participated in EQI's Group Study Tours in over 360 Queensland government schools in 2004.
Manages international education projects in the commercial, world aid and development fields, including projects for the WorldBank and AusAID.
How do I get a student visa and how long will it take?
The requirements for an Australian visa vary according to country of origin. For further information, please contact your nearest Australian diplomatic mission in your home country. (See Visas)
Will I have to wear a school uniform and how much will it cost?
Wearing unform is a requirement in most Queensland schools. For further details about school unifroms, please visit the particular school's website.
Why do I need overseas student health cover (OSHC)?
All international students are required to have OSHC for the duration of their studies. (See Overseas student health cover)
How will I get to and from school on my first day?
Travel arrangements to and from school will be made by your homestay family until you are familiar enough to travel on your own.
Can I work part-time while I study?
Work permits may be issued subject to approval from the Department of Immigration, Multicultural & Indigenous Affairs. If approved, you are allowed to work up to 20 hours per week but this musn't compromise your studies.
Where can I study?
All International Student Program participants offer you ideal conditions in which to study. (See Education Queensland International schools)
Do I need to improve my English before I arrive?
This depends on your academic performance and English language ability. Some students may receive a conditional offer stating that they are required to first attend a English Language Secondary School Preparation Program (SSPP). (See Secondary school preparation program)
What happens after I submit my application?
The application will be assessed within 10 days of receipt. Later, a letter will be sent out stating the eligibility for an international student program.
Will somebody meet me at the airport?
If you wish so, you must first complete a Airport Reception Form soon after the application has been processed (See Arriving in Queensland).
What happens on the first day at school?
A Welcome & Orientation Program.
I do not know where I can live when I attend high school in Queensland. What should I do?

Homestay accomodation can be arranged by applying to Education Queensland International (See Homestays).
Are there any additional costs to what I will pay to Education Queensland International?
All fees and charges are listed in the application form. For advice, please contact Education Queensland International
A Unique Australian Experience!
The Regional Study Abroad Program (RSAP) is the latest addition to the suite of programs offered by Education Queensland International (EQI).
The program is offered in unique locations throughout Queensland and provides an opportunity for students to experience school life in the 'real' Australia.
Each location has been carefully selected and offers both high quality school programs within friendly, welcoming communities.
Students become active participants in school and local community life, and explore unique natural surroundings while enjoying a world-class education program.
Program Highlights
friendly host families
choice of location
accredited schools
affordable program fees and living costs
small international student numbers
fully packaged fees including tuition,
homestay, Overseas Student Health Cover (OSHC), airport reception, school curriculum field trips, and textbooks
supervised school holiday adventure programs (optional)
School Regions Queensland / Queensland Schools
Queensland is the "Smarter State". Therefore, international students choose Queensland as their preferred study destination.
Government schools in Queensland encourage all students to be technology savvy in order to create an interactive learning environment.
Queensland Coeducational government schools offer international students :
a vibrant and multicultural atmosphere
flexible learning opportunities
High quality teaching standards
a diverse range of subjects to choose from
smaller class sizes
student counselling & welfare support
CRICOS Provider Number: 00608A