Queensland University of Technology (QUT) with Go to Australia - the Registered Australian Education Agency for International Students in Australia: Free Student Counseling for Queensland University of Technology (QUT), Free Application Services for International Students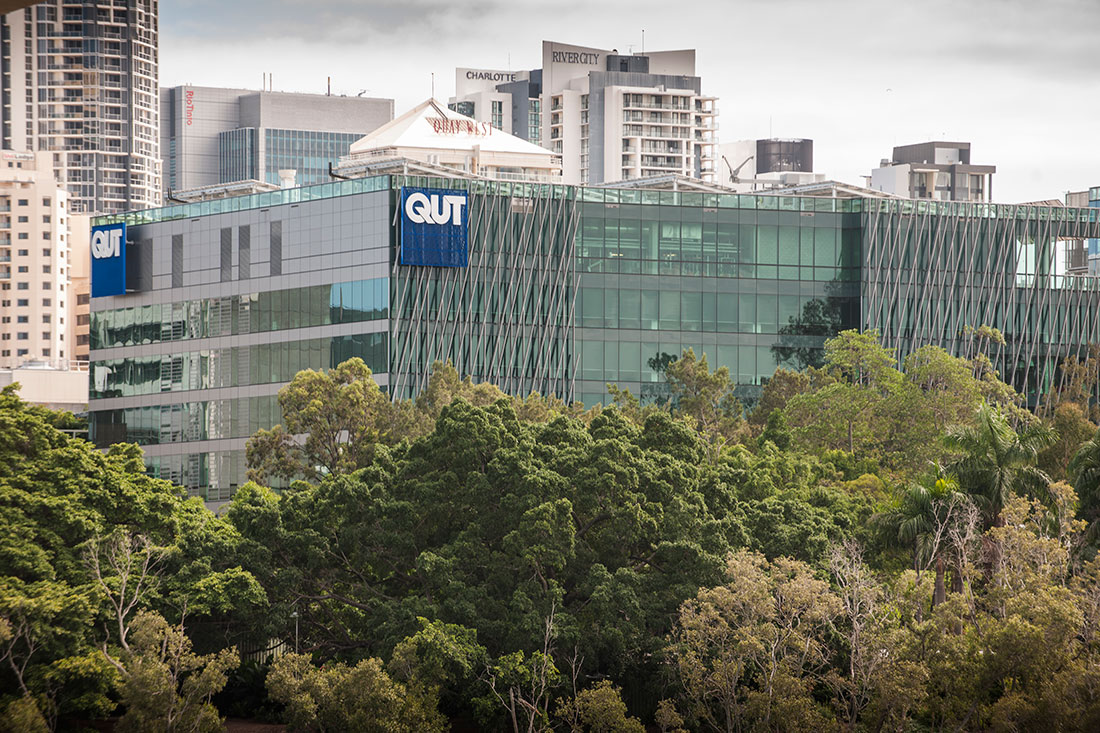 Queensland University of Technology/CRICOS Code 00213J
Based in Brisbane, Australia, QUT is a global education leader renowned for its internationally focused courses, groundbreaking research and strong links with industry.
QUT has a ranking of world standard or above in more than three quarters of its research assessed under the Australian governments Excellence in Research for Australia assessment framework (2010).
QUT won more teaching awards than any other individual Australian university in the 2010 round or the prestigious Australian Awards for University Teaching.
QUT  is the only university in Queensland to be awarded 5 Stars for Getting a job? in the 2011 Good Universities Guide
Why study at QUT
Queensland University of Technology (QUT) is a large university situated in Queensland, Australia. Its enrolment of all students (including 12% internationa students) number at 40,000. QUT's forte is its amazing range of undergraduate programs that encourage flexibility, creativity and innovation through several exchange programs.
Study in Australia Application Form
QUT is also well renowned for the quality of graduates produced and this is reflected in the number of bachelor degree graduates making successful transitions to full time work.
Queensland University of Technology offers courses in the following subject areas:
Built Environment and Engineering
Business
Creative Industries
Education
Health
Humanities Program
Law
Science and Technology
English Courses
OUT International College offers the following English language courses to prospective students:
General English/English for Business, English for Academic Purposes (EAP), EAP Plus, English for Tertiary Preparation, Cambridge First Certificate in English Preparation course, Study tours and special programs. An AA Education Network counsellor will be happy to advise you about your options with these courses
QUT International
QUT International
Advantages of QUT
Faculty of Built Environment & Engineering
Faculty of Health
Faculty of Creative Industries 
School of Humanities and Human Services 
Faculty of Education
Faculty of Information Technology
Faculty of Business
Faculty of Law
Faculty of Science 
Internationally recognised courses
QUT strives to deliver professional courses whose quality is recognised internationally.  In a 2005 report released by the Australian Universities Quality Agency (AUQA), QUT was commended for the rigour of the quality assurance of its courses and emphasis on real world training and research.
To further demonstrate its commitment to quality QUT has sought accreditation from internationally respected bodies. The Faculty of Business is the first Australian university faculty to attain AMBA (Association of MBAs), AACSB International (The Association to Advance Collegiate Schools of Business) and EQUIS (The European Foundation for Management Development) accreditation. The Faculty is one of only twenty in the world to receive all three accreditations.
Strength in applied research
Guaranteed pathways to university6. Queensland, an exciting place to be
Located in a safe, vibrant city
Lively community
Only full service campus in Brisbane CBD

Commitment to Innovation
Kelvin Grove Urban Village: The Kelvin Grove Urban Village is the first inner-city development of its kind in Australia, combining educational, professional, residential and recreational facilities.

Flexibility and Choice
With over 650 undergraduate and postgraduate options, flexible entry dates and pathways to degrees QUT courses can be tailored to your specific educational needs. Choose from a tremendous range of courses in Built Environment and Engineering, Business, Creative Industries, Education, Health, Humanities, Human Services, Information Technology, Law, Justice and Science.
Points of Distinction:Brisbane Graduate School of Business (BGSB)
Brisbane Graduate School of Business is ranked as the following:
o Tier 1 Australian MBA program Australian Financial Review BOSS magazine, 2005
o No 82 in World. Financial Times Top 100 Global MBA programs 2004. First Queensland Business School to make this prestigious list.
o No 3 in Australia. Financial Times Top 100 Global MBA programs, 2004 rankings
o No. 4 in Australia. Asia-Inc magazine Top MBA programs in Asia, 2004 rankings
Industry links/accreditations
o Bachelor of Applied Science (Biotechnology): AusBiotech Ltd
o Bachelor of Applied Science (Biochemistry): Australian Society for Biochemistry and Molecular Biology/Australian Association of Clinical Biochemists
o Bachelor of Applied Science (Chemistry): Royal Australian Chemical Institute
o Bachelor of Applied Science (Forensic Science): Australian and New Zealand Forensic Science Society
o Bachelor of Applied Science (Geoscience): Australian Institute of Mining and Metallurgy, Australian Institute of Geoscientists/Geological Society of Australia
o Bachelor of Applied Science (Physics): Australian Institute of Physics
o Bachelor of Applied Science (Medical Imaging Technology)/ (Radiotherapy Technology): Australian Institute of Radiography
QUT - tops class in popularity and graduate outcomes
New Faculty of Health courses
The Faculty of Health has recently released two new courses:
a Bachelor of Behavioural Science (Honours Psychology) and
Graduate Diploma in Occupational Health and Safety.
The new one-year honours program in psychology offers international students the opportunity to meets the requirements for registration as a psychologist with the Psychologist Registration Board of Queensland.
The graduate diploma course is a multidisciplinary program, which covers occupational health and safety topics including ergonomics, occupational health, hygiene, law and safety technology.
Latest "real world" double degree: Engineering and Business
The course is very flexible, with Engineering majors including electrical, telecommunications and computing systems. While the Bachelor of Business component offers a selection of accountancy, advertising, banking and finance, economics, human resource management, international business, management, marketing and public relations.
Depending on the major selected in both faculties, graduates will be eligible for accreditation in a range of professional associations.
The program is expected to meet the strong demand from industry for business savvy engineers and produces students of the highest calibre.
QUT English requirements  - IELTS:

- Master of Psychology (Educational and Developmental): Overall Band 7.5 (7)
- Master of Clinical Psychology: Overall Band 7 (7)
- Doctor of Philosophy (Clinical): Overall Band 7 (7)      
- Bachelor of Pharmacy: Overall Band 7 (6)
- !!! All Degrees: Overall Band  6.5 (6)
Queensland University of Technology Information
QUT's School of Physical and Chemical Sciences
Tracking the Moon is Easy : QUT Academic
It's an exciting breakthrough for any budding astronomer. Stephen Hughes, member of QUT's School of Physical and Chemical Sciences, said that moon tracking is possible even for the novice astronomer. All that is needed is a digital camera, a computer and a bit of working knowledge.
"DIY (Do it yourself) astronomy is easy, said Hughes.
"From night to night the moon moves gainst the unchanging backdrop of the stars.
"If we can measure how much the moon moves in a 24 hour period we can work out how long it takes the moon to complete one orbit of the earth, which is the length of the lunar month".
Dr Hughes labelled this breakthrough as a step closer to making science more accessible to the average person.
"This experiment shows how scientists can use modern technology to look at an age old problem.
"I want to encourage young people to get excited about science and think about exploring the extensive career choices that science offers", he said.
QUT MOU with leading Indian Technology Institutions
The Queensland University of Technology has signed a Memorandum of Understanding (MOU) with the Indian Institute of Technology, Madras (IITM) and the Indian Society for Electronic Transactions and Security (SETS). This agreement paves the way for joint collaboration in the important areas of information security and intelligence analysis.
"The importance of information security in today's world cannot be underestimated, QUT Vice-Chancellor Professor Peter Coaldrake said.
"Not only do we live in a world where all aspects of our lives are increasingly dependent on information and communication technologies, but we also live in a post 9/11 world where this dependence is under constant threat.
"Additionally, viruses, identity theft and other problems all contribute to make the Internet a dangerous place", said Professor Coaldrake.
The agreement has been descibed as a move that will benefit all concerned stakeholders in the Information Technology sector.

"This agreement represents a very strategic and timely response to the electronic security needs of today, said Professor Coaldrake.

"QUT is proud to be part of this partnership, which both addresses a problem of international and topical importance, and is helping to further build strategic links between Australia and India".
International Travel Visits
The countries and regions selected for visits by QUT representatives include:
China
The Gulf States
Hong Kong
Korea
Malaysia
Singapore
Sweden
Taiwan
Thailand
Vietna
Delegation in India
A special delegation led by the Vice-Chancellor, Professor Peter Coaldrake, recently visited India to explore areas for cooperation and ways to build further strategic links between the Indian and Australian education sectors and the also the two countries. A Memorandum of Understanding was signed with a leading Indian technology institution, the Indian Institute of Technology in Madras (IITM). This agreement paves the way for joint cooperation in the fields of information security and intelligence analysis.
QUT Admissions Policy
QUT will now be able to assist international students to obtain Overseas Student Health Cover (OSHC) for the duration of their course and this will also be included in the offer letter. As added benefits, students will be eligible for a 5% discount on insurance cover and will be proteced from future price increases and also there will be no need for renewal.
Contact our education agency to apply!
International students booklet
QUT has reviewed and republished its' Your Next Step booklet for international students. The booklet complements the QUT offer letter and includes useful sections such as Steps to Enrolment, Frequently Asked Questions, Student Support Information, International Fee & Refund Policy and a general guide to campus life and studying in Australia.
Study in Australia Application Form Can I study in Australia? 
Innovations & Breakthroughs - Personal solar power gives true wireless capability
Nano scientists from Queensland University of Technology are developing cheap, portable, personal solar cells that will be able to recharge laptops and mobile phones.
The flexible, 100 nm (nanometres - a nanometre is one billionth of a metre) thick polymer sheet devices will be able to be rolled up and taken anywhere to free users-on-the-move from having to depend on fossil fuel powered sockets to keep their communications devices charged.
Professor Nunzio Motta of QUT's School of Engineering Systems and Dr Eric Waclawik from the School of Physical and Chemical Sciences are developing the new renewable energy source using nanotechnology.
Weighing all of 10 micrograms per cm2, the new product is a cheap composite material made from carbon nanotubes, a 10th of the size of a human hair, and conductive polymer.
The polymer tiles could be easily linked together in a patchwork to increase the size and generate more power according to individual needs.
"QUT is the only university to be looking to develop the use of carbon nanotubes in this way," Prof Motta said.
"This solar cell could generate enough energy to recharge the batteries of low power devices such as laptops and mobiles."
Dr Waclawik said the polymer could be a viable alternative to silicon solar cells which are expensive, heavy and delicate.
"Although silicon solar cells have gained considerable market share and commercial success, high production costs still limit their commercial viability," he said.
"This is why we are exploring the development of low cost alternative photovoltaic in the Applied Nanotechnology group under a QUT Strategic Collaborative Grant."
Resource: Queensland University of Technology
Apply now and receive free information to study at an Australian university.