Carpentry Course in Australia
If you enjoy "handing" work and working with tools, then this may be the course for you!
In Australia it is possible to study a Certificate III in Carpentry. With this course, you will gain the required skills to work in the building and construction industry in Australia and across the globe.
This practical, hands-on course teaches you how to operate tools, how to build structures, how to plan drawings and specifications to determine materials required, preparing layouts and much more.
Please note that in the case of skilled trades, practical experience is included in the course, which takes place either in a school workshop or one day a week in a company, depending on the school.
Why Study a Carpentry Course in Australia?
Australia is recognised for providing and producing highly skilled carpenters.
Carpenters have a high proportion of full-time jobs and high chance of finding employment.
Carpenter is listed on Immigration's Medium and Long-term Strategic Skills List (MLTSSL). This means immigration has identified carpenters as an in-demand occupation in Australia, therefore there are possible permanent residency outcomes.
Construction is a very large employing industry.
Opportunities are great for young people.
You'll learn practical skills on special purpose machinery, giving you the chance to test out your theoretical knowledge.
Trade Instructors have current experience in the construction industry
Potential careers and salaries upon completion of course:
Carpenter: AU$43,210 - AU$94,415 per year*
*sourced from payscale.com
How do I get started?
Contact us via our online contact form and we will send you detailed information on your course options and explain what documents you'll need for enrollment. Check out the full list of our services here.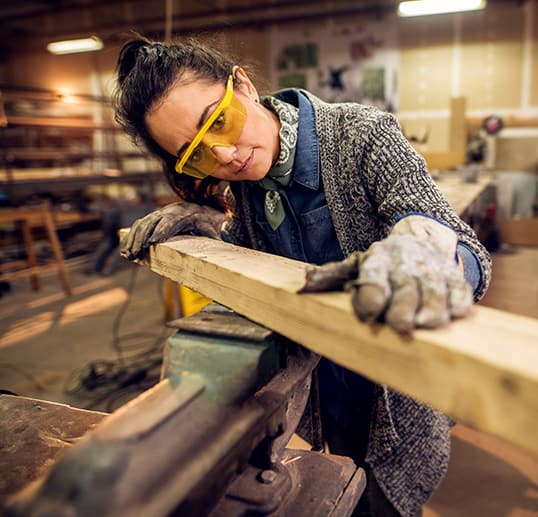 Can I stay in Australia longer after completing a Carpentry course?
Temporary Graduate Visa
Anyone who completes vocational training in Australia for more than 2 years (certificate / diploma), which is on the "Medium and Long term Strategic Skills List (MLTSSL)", but needs a "bridging time" for a permanent visa, may qualify for the Temporary Skilled Graduate Visa. This visa allows you to stay in Australia for 18 months and gives you full work rights. During this time you can gain the work experience required for a "Skilled Visa" or an "Employer-sponsored Visa" and can also improve your English skills. You may eve find an employer who is willing to sponsor you.
If you have applied for the Temporary Graduate Visa you may also be eligible to apply for the Job Ready Program. The Job Ready Program (JRP) is a employment-based skills assessment program that provides you with the opportunity to demonstrate that your skills and job readiness are relevant to your nominated occupation, in an Australian workplace before you apply for migration in Australia.
Note: Since the conditions for the respective visa categories can change constantly, we advise that you consult a migration agent who can provide detailed, accurate and timely advice on the current visa categories.