Study at the University of Technology Sydney with Go to Australia
CRICOS Provider No: 00099F

Study at University of Technology Sydney
University of Technology Sydney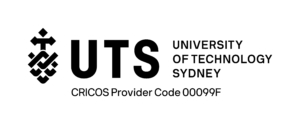 The University of Technology Sydney (UTS) is an innovative centre for academic excellence. UTS is popular with international students. The university is a leading provider of professional education and its qualifications are internationally recognised.
UTS pursues a 'hands on' approach to teaching and learning. Our students benefit from the special expertise of highly qualified teaching staff. Business, Education & IT are just some of the faculties of the university that are dedicated to producing superior graduate outcomes. UTS and its student population benfit from a multicultural environment.
The university has agreements with international universities in the following countries : Austria, Azerbaijan, Cambodia, Canada, Chile, the People's Republic of China, the Democratic Republic of the Congo, France, Germany, Hungary, Czech Republic, Denmark, Greece, India, Indonesia, Iraq, Ireland, Italy, Japan, Jordan, Kazakhstan, the Republic of Korea, Malaysia, Mexico, the Netherlands, New Caledonia, New Zealand, Norway, the Phillipines, Romania, Singapore, Spain, Sweden, Switzerland, Thailand, the United Kingdom, the United States of America and Vietnam.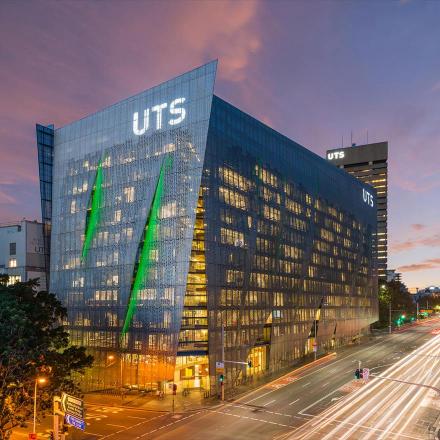 UTS offers international students a range of flexible and innovative study programs :
Undergraduate & postgraduate studies
Research, Study Abroad and Exchange programs
Off shore and bridging courses
High quality English language tuition
The university considers the disemination of information and international cooperation as integral to its global mission.
The UTS International Office promotes this strategic partnerships with international universities. This is mainly achieved through International Memoranda of Understanding (MOU) as well as cooperation in the areas of academia and research. UTS also considers staff/student exchanges as fulfilling this important global mission.
This global mission is all managed by the hard working International Relations Staff at the UTS International Office. The office is located on the city campus and is easily accessible by train from Central Station.
International exchanges that promote the sharing of knowledge and research are managed by the International Relations section of the office. Incoming students from overseas can study for one or two semesters at UTS and have it credited towards their degree upon their return home. Similarly, outgoing UTS students can complete part of their degree with a partner university and have it credited towards their UTS degree.
UTS also organises and arranges the International English Language Testing System (IELTS) - an internationally recognised certificate of English language proficiency. The results of the test can either be used for immigration, study, or professional membership purposes. The four main IELTS areas are reading, writing, listening & speaking. Tests are held twice monthly.
Application
Apply now to study at UTS.
University of Technology Sydney Programs
International Undergraduate Course Guide 2019
International Study Abroad and Exchange Brochure
International Postgraduate Course Guide 2019
Higher degree research Brochure
UTS Master Programs
Postgraduate Course Changes in the Faculty of Information Technology

As a leading IT Faculty in Australia, the Faculty of Information Technology at UTS prides itself on offering students practical, up-to-date courses that meet the demands of today's IT industry.
As part of our commitment to ensuring our courses are the best available, we regularly review our courses to ensure they meet the needs of both our students, andtheir future employers.
As a result of our recent review of courses, from 2008, the Faculty will merge a number of specialised Masters programs into two main courses: the Master of Information Technology and Master of Information Technology (Extended). In the revised program, students can choose to focus on one main stream (e.g. IT Management), or pursue a combination of areas that best suit their needs. The revised Master of Information Technology program will also allow interested students to prepare for future research degrees.
Another benefit of the revised program is that students with an appropriate IT background may be eligible for one semester of advanced standing and complete the normally 1.5 year Master of Information Technology course in 1 year.
The Master of Information Technology (Extended) program will enable students
to further develop their knowledge and skills in further specialised areas in 2 years.
We believe that this increased flexibility, combined with our wide selection of practical and industry relevant subjects, will give the graduates of our new Master of Information Technology program the best postgraduate IT education available in Australia.
As a result of introducing our new program, the following courses will be phased out from
C04213 V1 Master of Science in Professional Computing
C07108 V1 Graduate Diploma in Professional Computing
C04214 V1 Master of Science in Advanced Computing
C04215 V1 Master of Science in Advanced Computing (Extended)
C07109 V1 Graduate Diploma in Advanced Computing
C04221 V1 Master of Commercial Software Engineering Management
C07110 V1 Graduate Diploma in Commercial Software Engineering Management
C04225 V1 Master of Information Technology Management
C07114 V1 Graduate Diploma in Managing Information Technology
C06089 V2 Graduate Diploma in Professional Information Technology
However, course content similar to that of the course that you have applied for will be covered in both the Master ofInformation Technology and the Master of Information Technology (Extended).
Please refer to Appendix A for a suggested program of study that will match the course for which you have applied. As you have applied for one of the courses that will be phased out from 2008, your action is required.
What Streams Can You Choose?

Business Intelligence Technologies

Business Intelligence encompasses the processes, tools, and technologies required to transform enterprise data into information, and information into knowledge to enhance business decision-making and to create plans and strategies that drive effective business activity. This stream provides a foundation for understanding how to apply business intelligence techniques to extract information on market
trends and behaviour, how to effectively analyse and utilise data, and how to create business intelligence systems to support decision making.
Enterprise Software Engineering

The Enterprise Software Engineering stream will give you the knowledge and skills required to face the software engineering challenges typical of modern organisations. These challenges include: integrating COTS systems with legacy applications, managing and deploying outsourced development or maintenance, integrating the
software systems of merged companies, deploying and managing web based (B2B and B2C) systems, as well as managing the challenges of identity and access management in publicly exposed systems.
Network Applications

Internet-based applications form a major part of today's IT infrastructure. This stream will give you the knowledge and skills to develop enterprise-scale web applications involving technologies such as Web Services and J2EE. Some of the challenges involved in developing such applications include interaction design,
transaction and security management, and integration with legacy systems.
The subjects in this stream give you skills to address these challenges and develop web-based applications to meet current and future industry demand.
Network Services

Networking is a rapidly growing industry. As a CISCO Regional Academy, UTS is a leading provider of networking programs in Australia. This stream allows you to learn more about network management, network security and some contemporary issues in the field of networking. The subjects in this stream are a subset of what is available in our Internetworking program, designed for people who wish to combine networking with another area of IT. For those interested in specialising in networking, we recommend the Master of Science in Internetworking course.
Information Systems Services

This stream focuses on the use of advanced information systems services as part of a business' overall IS strategy. An effective information system architecture is essential for businesses competing in today's global marketplace. This stream covers the design of IS architectures, as well as other essential IS services like business process integration, systems quality management and the use of business intelligence as part of an overall IS strategy.
Information Systems Management

This stream is designed for those who want to take their career to the next level and be able to manage an organisation's information systems and IT operations. There is strong industry demand for professionals who can combine their technical skills with knowledge of business operations and management processes in an IT context. This stream will prepare you for managing IT projects, managing IT staff, managing IT contracts and outsourcing, and generally taking a strategic view of all aspects of an
organisation's information systems.
Computer Graphics and Gaming

UTS is a world leader in the field of computer graphics and animation, with many of our computer graphics graduates going on to win internationally recognised awards for their animation work. As an example of one of our graduates many achievements, UTS:IT graduates were part of a team that received an Oscar for animation in the movie Happy Feet. With this stream, you can learn the basic skills
needed to create animated movie effects and computer games, as well as the design and production topics you need to take your career down this exciting path. For those interested in specialising purely in computer animation, UTS also offers a Masters in Animation which includes some of the IT subjects in this stream.
Elective Choices

The revised Master of Information Technology program also offers students a wide range of electives, including a series of "Recent Advances" subjects, offering you an insight into the latest developments in the field of IT.
Students can also choose elective subjects in the areas of interactive multimedia, data mining and internetworking.
University of Technology Sydney - News