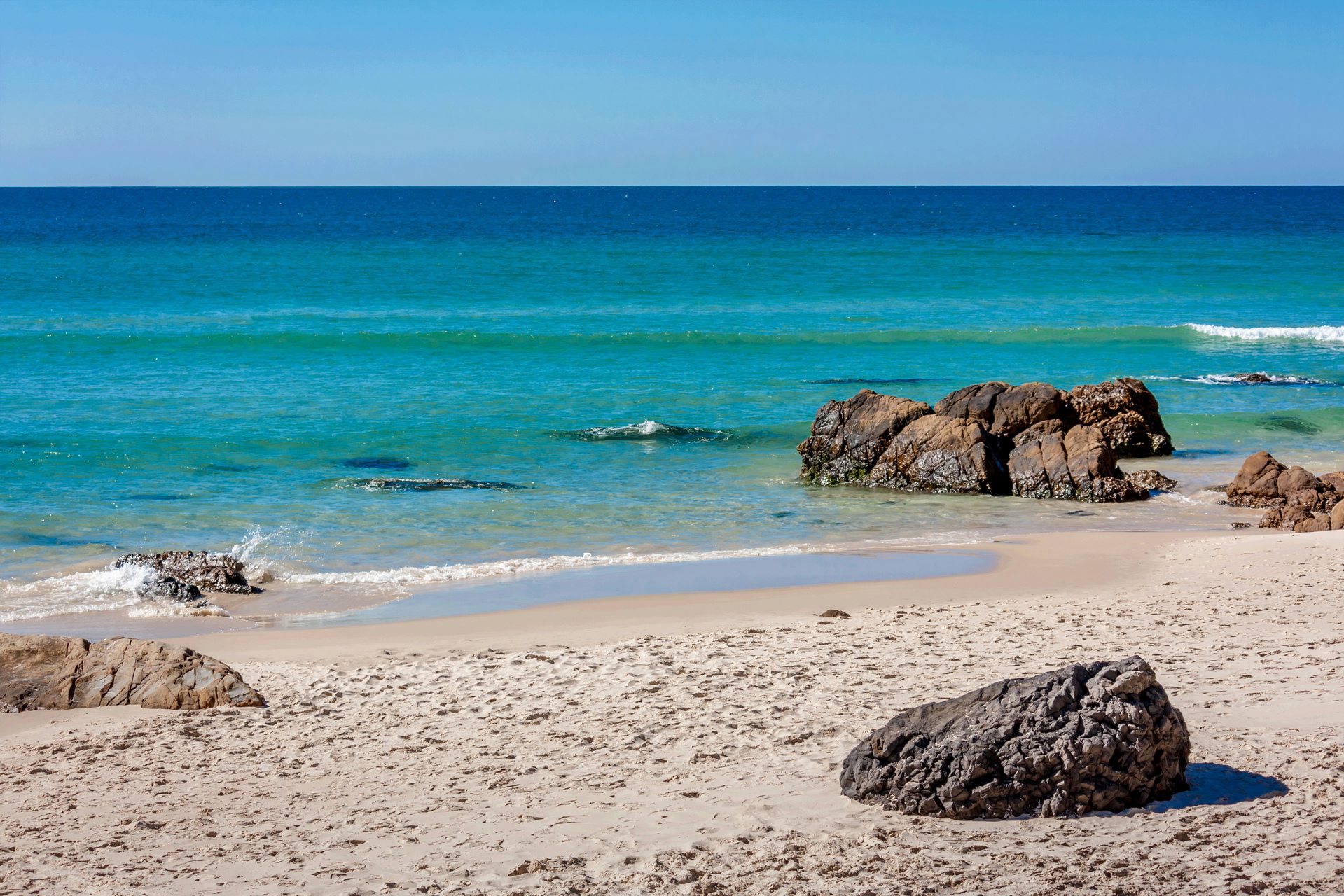 Beaches in Australia: The Best Beaches in Australia
There is one aspect of Australia that cannot be over-looked – the coast, and in particular, Australia's beautiful beaches! Along with gentle harbour and river beaches, coastal beaches provide plenty of fascinating entertainment and lifestyle.
Beaches are a part of Australian culture, and a must-see for any visitor. With over 25,000 kilometers (16,000 miles) of coastline, there is plenty of opportunity to explore this fascinating aspect of Australia. Many beaches are exposed to surf, providing ample opportunity for water sports enthusiasts; however care must be taken, as the surf and currents can often be powerful, and must be treated with caution.
Australians love nothing more then to spend a day at the beach, with beautiful temperate weather and crystal clear water it is no wonder. With some of the most exquisite marine life located off the shores of Australia, snorkelers and scuba divers will be lucky to see species which will never be seen any where else in the world.
Australia has 37,000 kilometers of coastline which hosts 11,011 beaches. As an Island, each state in Australia is home to its own beaches all different and beautiful in its own way. By far the most famous of Australia's coast line is the coast that runs along the World Heritage listed Great Barrier Reef in northern Queensland.
A fairy ride from Circular Quay, Curl Curl Beach is four miles north of Manly and according to bugbog webpage is considered the best surfing beach on the north side.  Palm Beach (not Miami) is considered the jewel of northern beaches.  This remote, quiet and peaceful location is where celebrities tend to come on the holidays and have chosen to purchase a getaway home when escaping the everyday life.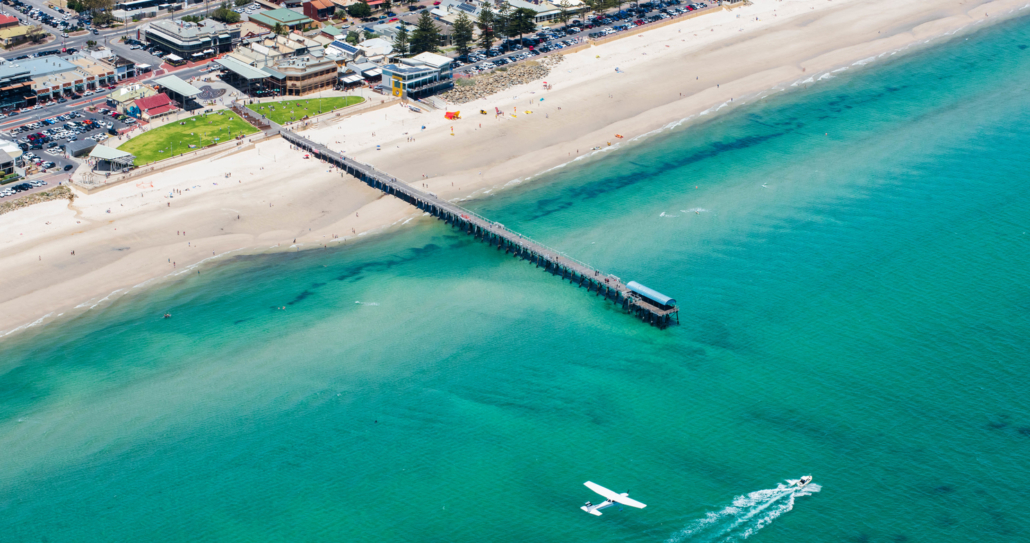 Bells Beach - Victoria
The most visited beaches in Australia include Bells Beach in Victoria, this is a gateway to the Great Ocean Road and plays host to numerous surfing events. Famous for its great surf.
Cable Beach - Western Australia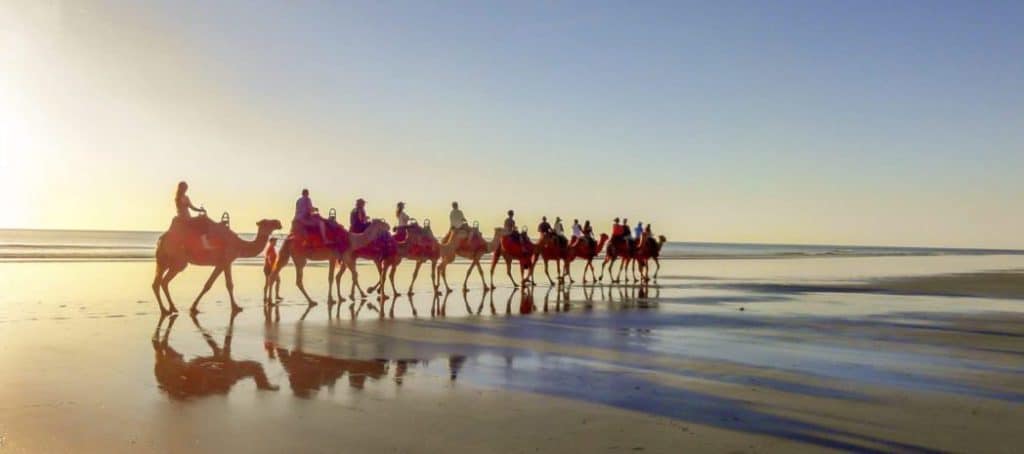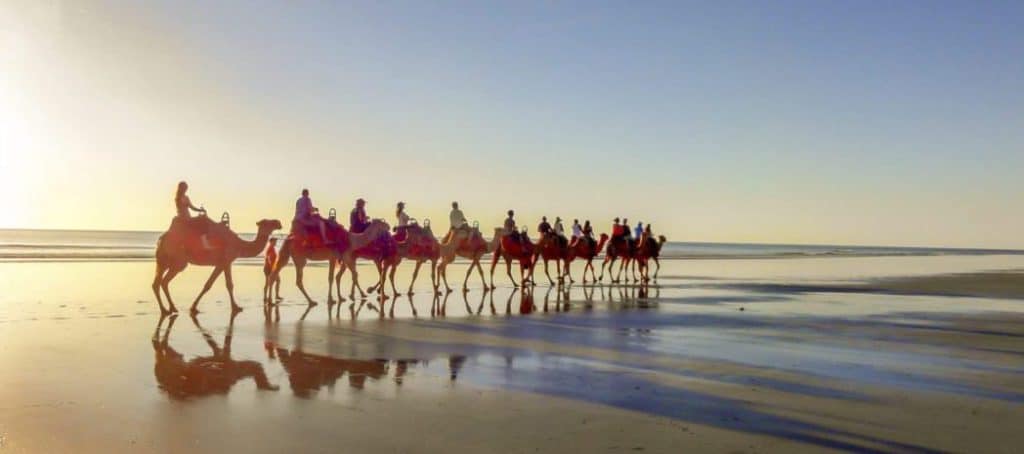 Cable Beach in northern Western Australia, is a popular tourist attraction with temperatures of 30 degrees all year round as well as crystal clear water and a very relaxed atmosphere which you get from holidaying in a small town. It is a great place for relaxation, with waters from the Indian Oceans, is a safe environment for swimming and taking a break, perfect place to see the sunset go down every evening.  And enhance the experience by having a camel ride along the beach. To visit Cable Beach tourists will need to stay in the coastal town of Broome.
Byron Bay - New South Wales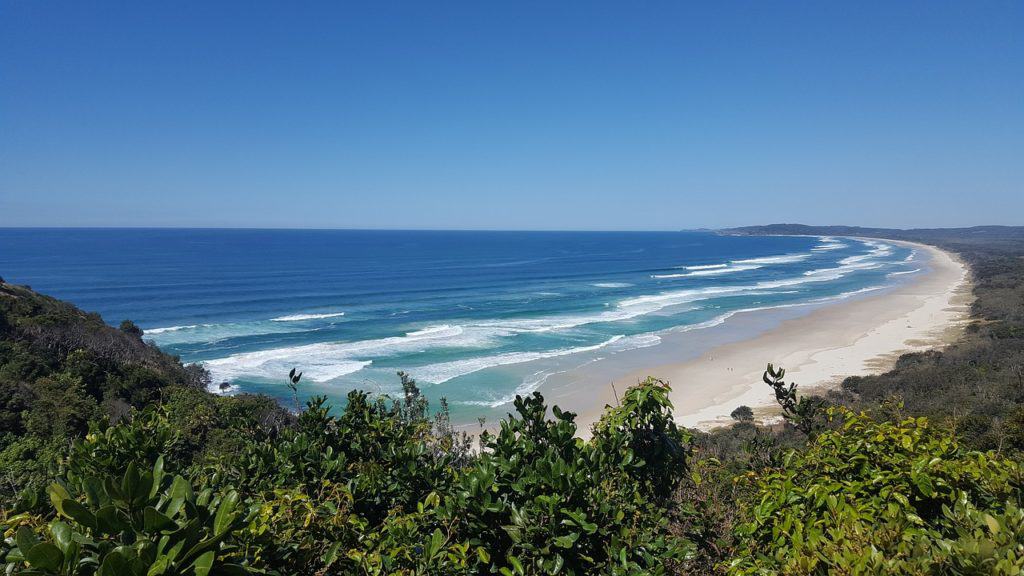 Byron Bay sits on the most easterly point of mainland Australia in Northern New South Wales and located just short trip from the Gold Coast. Byron Bays beaches are Tallow Beach, Watego's and Main Beach. They are all great for swimming, surfing and windsurfing.
Noosa Main Beach - Queensland
Noosa is a town that reeks of a beach lifestyle, boasting breathtaking beach views, golden sands and clear pristine waters. Noosa Main Beach is surrounded by the world famous Hastings St, which features boutique stores, restaurants, hotels and ice cream shops. Because of it's north facing direction, the towns main beach can be enjoyed all year round as it is far more shelter than other beaches.
Four Mile Beach - Queensland

Four Mile Beach in Port Douglas, Queensland is a destination popular amongst adults. Port Douglas itself is an exclusive tropical hide away within short distance to the tropical city of Cairns as well as being close to the famous Daintree Rain Forest. The beach it self has beautiful white sand and is the perfect place to explore the Great Barrier Reef.
Whitehaven beach - Queensland


Then there is the world famous Whitehaven beach, with arguable the whitest sand in Australia. Whitehaven beach located in the tropical Whitsunday Islands is open for day trippers. Here visitors can explore the island, have a picnic lunch and snorkel and explore the magic of the Great Barrier Reed first hand. The Whitsunday Islands are located in northern Queensland, a fantastic place for those wanting a memorable holiday.
Bondi Beach - New South Wales
Sydney has a great relationship with its beaches, with famous Bondi Beach being only 11 km from the city centre. This creates a busy, vibrant atmosphere, and Bondi is popular and well-known the world over for its beautiful sand and easy accessibility. Bondi Beach in New South Wales is Australia's busiest beach, especially in summer; the sand may be hard to see through the numbers of people spreading out over the 800m of its length! It is extremely popular for those wishing to spot local celebrities and even has its own television show dedicated to the beaches hard working life guards.
Other options nearby offer some relief from the crowds, such as Tamarama and Maroubra, and Manly Beach is an entertaining 30 minute ferry ride from the city.
Coral Bay - Western Australia
Coral Bay with it's white sandy beaches and crystal clear waters, is one of Western Australia's premier holiday destinations.
In Coral Bay, the animals observed are spectacular.  From April to June you can mingle with whale sharks and humpback with them as well.  And from June to October is impossible not to see manta rays, turtles and reef sharks in the gorgeous water guarded by a township.
And if this vacation is different from the other ones, a great place for honeymooners is the Margaret River.  A blend of good living and stunning nature is just West of Australia's.
With world-class wineries and gourmet vineyard, local artist expose an array of art and craft throughout the galleries. As well as including natural attractions with underground caves and other adventures, such as rock climbing and whale watching is a great location for fishing, romance, luxury and wildlife.
Wineglass Bay - Tasmania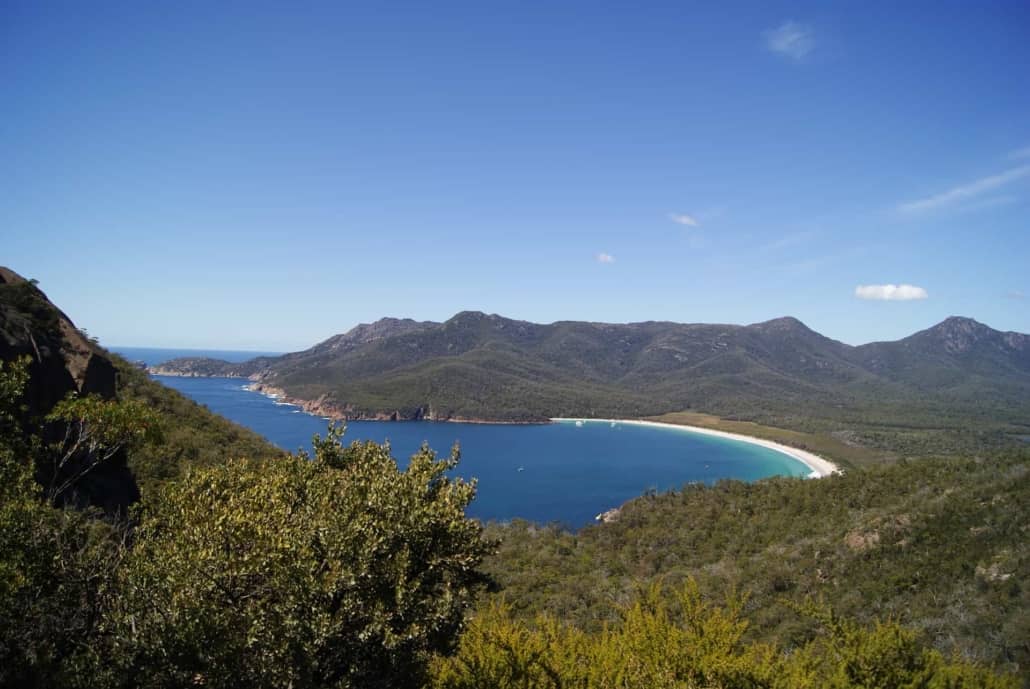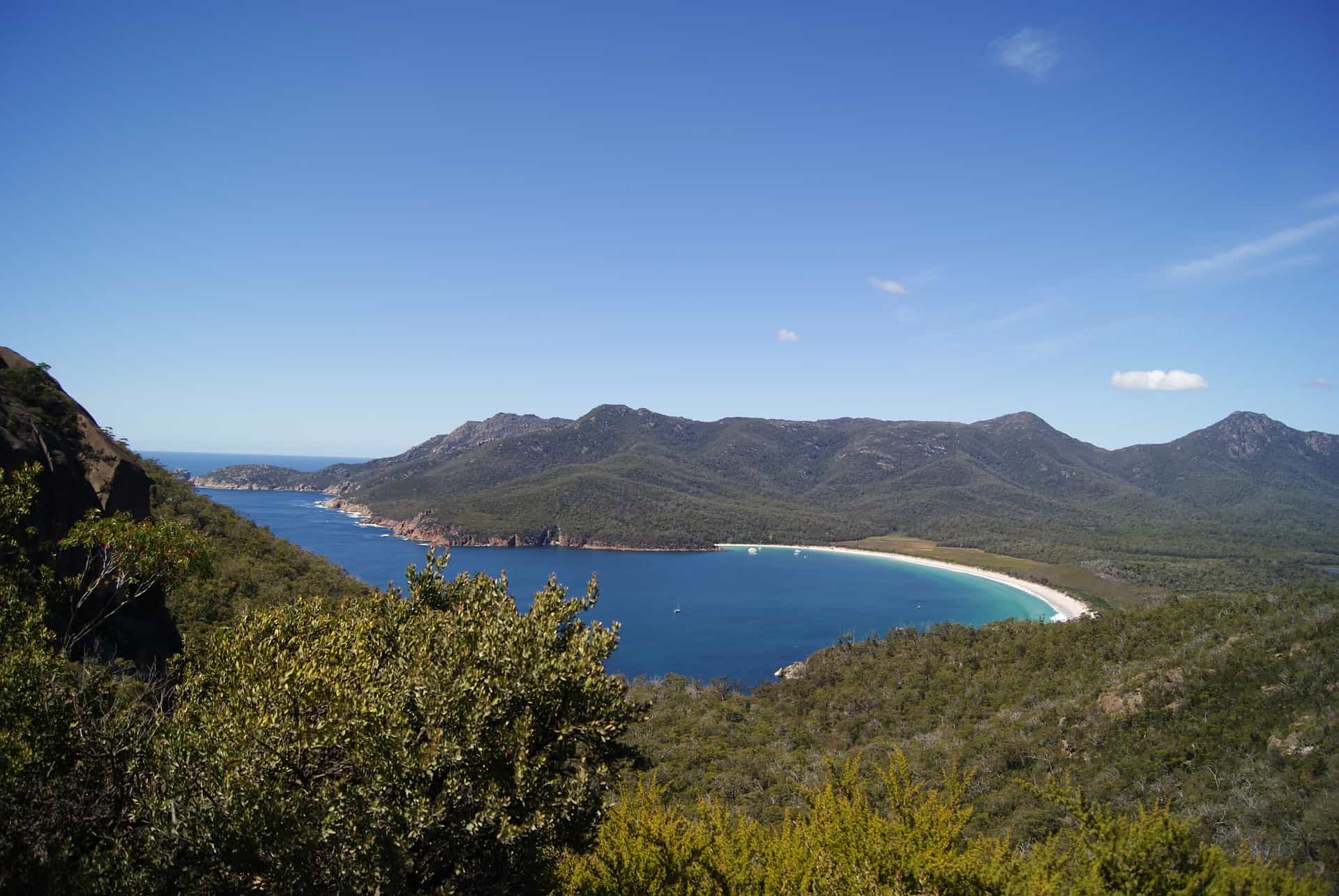 Looking for the more quiet scene, Wineglass Bay is about an hours walk away from civilization but with its stunning views, white sands, green bushes and turquoise waters, sometimes views of dolphins is a must see location.
There are many more beaches just waiting to be explored in Australia, make one of them your next holiday destination.
From the tropics to the Southern Ocean, there are more than 11,000 beaches along the Australian coastline, with a huge variety of ecological environments to be experienced. Some areas, such as the tropical zone, must be treated with caution, as marine life can be dangerous to swimmers and beach goers. But it is generally safe to experience these areas first-hand, and a tropical Queensland beach at sunset cannot easily be forgotten.
Beach Activities in Australia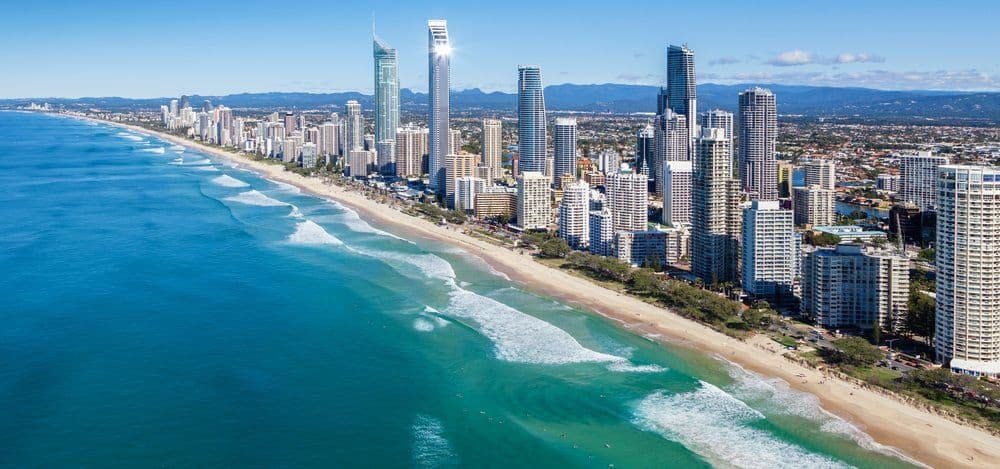 Many of the surf beaches in populated areas are patrolled by Surf Lifesaving Australia, volunteers who provide a watchful eye and helpful services to swimmers and other beach-goers. Their yellow and red flags can often be seen, a guide to the areas which are patrolled and safer to swim in. The SLSA often have surf carnivals, where many people take to the water in competition against both each other and the ocean, in sports such as swimming, surf-ski races and the fabulous surf boat races as well. Great care must be taken in un-patrolled beach areas, as currents can often lead quickly to unexpected difficulties.
Surfing is without doubt a popular Aussie pastime; lessons are available at Manly and Bondi, along with surf tours both up and down the coast from Sydney. Many surf beaches such as Manly, Bondi and Cronulla in Sydney, Bells Beach and Thirteenth Beach in Victoria, and the iconic Gold Coast beaches in Queensland, are at the heart of Australian surf legend, and should be experienced first-hand, to appreciate the glory of the Aussie beach lifestyle.
Beach
Beaches in Australia
Australia is the worlds largest island. Completely surrounded by ocean and spectacular beaches. By far the most famous beaches are those located along the Great Barrier Reef and on the Whitsunday Islands. How ever there are fantastic beaches all around Australia. For instance in Western Australia, the north coast is home to the Coral Coast and in the south is the fantastic crystal clear waters of Esperance and Bremer Bay.
Starting in Queensland, home of the Great Barrier Reef. Queensland has some of the most spectacular beaches and is home to fantastic array of marine corals and life. In the north coast of Queensland is the holiday destination of Cairns here lies tropical beaches such as Trinity Beach and Palm Cove. Heading south you have Airlie beach the gateway to the Great Barrier Reef and the Whitsunday Islands. Located on the Whitsunday Islands is the world famous Whitehaven Beach, with squeaky white sand this beach is only for the day trippers.
New South Wales is home to Bondi Beach, Bondi is famous amongst Australians as it is where you are most likely to spot a local celebrity. Probably Australia's busiest beach it also hosts a Television show dedicated to its hard working life guards 'Bondi Rescue'.
Victoria is known for amazing surf along the Great Ocean Road, this is a road which runs along the western coast of Victoria from Torquay to Apollo Bay. Between these to spots are some of the most amazing surf spots including the world famous Bells Beach home of the Rip Curl Pro. There are also some brilliant tourist towns to stay at during your trip.
South Australia hosts the Great Australian Bite, with some great fishing. The surf isn't to bad either. Back to the West. Western Australia is not where most people would first head for Australia's Best Beaches, though maybe they should. Bremer Bay in the states south has the whitest sand in the whole of Australia, although with cooler temperatures many still choose to go to Queenslands Whitehaven instead. In the north are the beaches of Shark Bay, Coral Bay and Exmouth these are the three most travelled to spots for those wishing to witness the Ningaloo Reef. The Ningaloo Reef is the only place in the world where you can see Whale Sharks.
A trip along Australia's rugged coast line is a must for those wanting to see unusual marine life, crystal clear waters, white sand, amazing surf and of course the odd coconut tree.