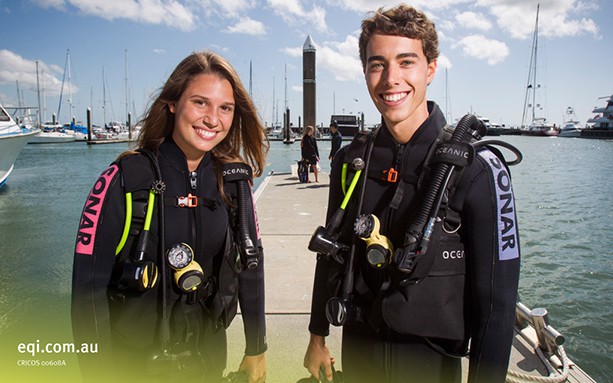 Cairns State High School
Cairns State High School overview
Since 1917  Cairns State High School has served and will continue to serve the diverse needs of generations of Cairns
families. The school has a reputation for academic excellence supplemented by outstanding achievements in the areas of Music, Performing and Visual Arts, and Sport. Cairns SHS is committed to developing flexible, innovative programs which are responsive to the needs of students in a rapidly changing environment.
The development of high quality vocational programs, the integration of technology into all aspects of learning and the focus on delivering an international curriculum are current examples of this commitment.
2 reasons to choose Cairns State High School
There is a range of sensitive and responsive student services including English as a Second Language support. These ensure a safe and supportive school environment for all students.
The school is strongly committed to developing Internationalism across the school.
Location
Cairns State High School is in the heart of tropical Queensland. Cairns is home to the Great Varrier Reef and lush tropical rainforests.
School History
The school's origins date back to 1917, making it the oldest school in Cairns.
Why Study at Cairns High?
The school offers you a unique learning experience in tropical and scenic Cairns.
Curriculum
All subjects taught at Cairns State High School incorporate multimedia and Information Technology.
International Students
Cairns State High School offers international students homestay and pastoral services.
SPECIAL PROGRAMS
Aerospace studies
Excellence programs
Marine and aquatic studies
Multimedia studies
Photo-imaging studies
Recreational studies and tourism
EXTRA-CURRICULAR ACTIVITIES
Centre of Artistic Design fashion parade
Charity events
Dance and drama evenings
International trips
Swimming and Athletics Carnivals
Instrumental music
School musicals
Rock eisteddfods
Formal parades
languages
SCHOOL FACILITIES
Performing arts centre
Five art studios
Sports complex
Swimming pool
Recording studio
12 school buildings and 37 classrooms
11 practical art rooms
Other highlights
Cairns SHS was awarded international accreditation in March through the Council for International Schools. The school is currently seeking accreditation to offer the International Baccalaureate.