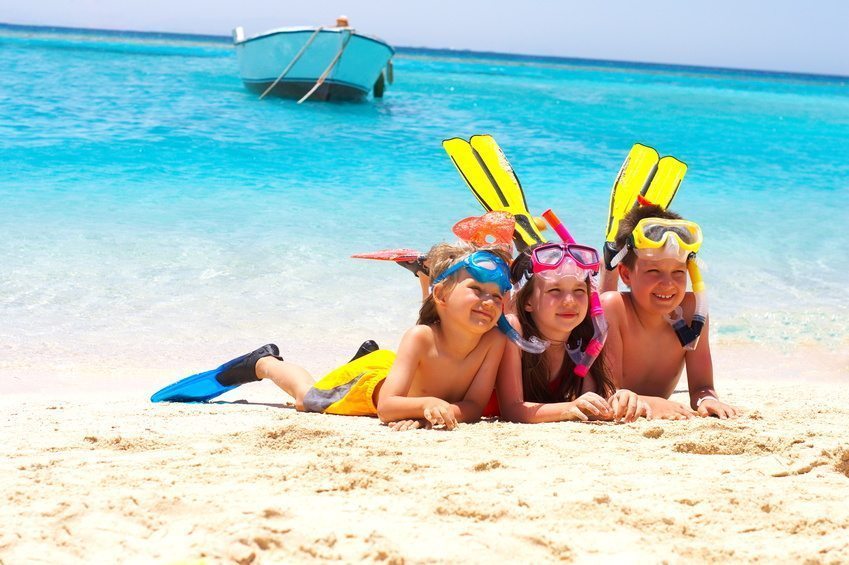 A holiday is a great reason to escape your everyday life, pack your kids up and see Australia! With such a large country to see though, where are the best places to take your kids? We have compiled a list of 10 destinations we think are great to take the little ones and enjoy a fantastic family getaway!
Leanyer Water Park, Northern Territory
Located just outside of Darwin, the Leanyer Water Park is on the list due to one important factor: IT'S FREE! Yes that's right parents, it won't cost you a cent to get into this water park, and it features three water slides, a massive toddler pool and various other types of fun in the form of water slides and pools. This is a great relief for those attempting to escape the Darwin heat and it will provide a great family day out for everyone!
Kangaroo Island, South Australia
Kangaroo Island is renowned for its diverse wildlife and plenty of it! Everything from sea lions, to kangaroos, to koalas and even frogs can be found on this little gem of an island and it's a great chance to get your kids out of the house and experience nature the way it was intended to be experienced. Make sure you bring a torch though as a large proportion of the creatures are nocturnal, so you'll find yourself allowing your kids to stay up late for once! You will also find some of the cleanest, clearest beaches in all of Australia! A wide variety of accommodation options on the island too are suited for all types of budgets.
Patonga, New South Wales
This quaint little seaside town is almost like stepping back in time to the 1970s, with an extremely retro vibe and even friendlier 'retro' people. Cars are few and far between in Patonga, and its wooden cabins are a fantastic place to stay to get away from everything. Even the drive up from Sydney to the ferry is picturesque and worth the trip, so gets those kids in the car and prepare for a great trip!
Rottnest Island, Western Australia
Only 18km off the coast from Perth, Rottnest Island is a holiday paradise. You will find everything from beaches, wildlife and exercise opportunity to make your stay on the island all the more fun! There are 63 beaches on the island and 20 bays and it is often voted as the best sand in all of Australia! No cars are allowed on the island so this is an island where you will get lots and lots of walking, bike riding and everything else under the sun in to come out an ever fitter person!
Kingfisher Bay Resort, Queensland
Located on Fraser Island which incidentally is the largest sand island in the World, this resort is always ranked amongst the 'greenest' holiday destinations in the country and the kids will never want to come home! Its kid club is renowned as being one of the best around and there is also plenty to do for the parents also! A great choice for any family!
Australian Capital Territory
An entire territory to explore? You better believe it! There is a lot more to the ACT than just our nation's capital, including the largest camping ground in all of Australia which makes it the perfect destination to pitch a tent and enjoy the outdoors! Added to this the large number of horse riding areas, rock climbing, archery lessons and dirt bike tracks, the ACT is the perfect place for the outdoor kid and family!
Mt.Hotham, Victoria
A family paradise in the snow, Mt.Hotham is easy to get to as it's the only ski resort in the country to have its own airport. You will find almost everything in one place when it comes to snow fun, with snowman building competitions, ski lessons and plenty (and we do mean plenty) of snow for everyone! While your kids are off enjoying their time in the white stuff, you could always relax by a roaring fire in one of the cabins or hit the slopes yourself with some of the best snow you will find in the southern hemisphere!
Hobart, Tasmania
Hobart is a fantastic place to take the family if you have a sweet tooth! The Cadbury factory in the northern suburbs of Hobart doesn't run the same tour it once did, but it still gives a fantastic insight into how chocolate is made as well as giving you loads of chocolate freebies! You will also get access to the Cadbury shop where you can find plenty of discounted chocolate to take home and enjoy! If you head a little further north of Hobart you will come to the historic town of Richmond and to Sweets & Treats, which is Hobart institution when it comes to lollies and everything sweet related! Make sure you book a dentist appointment on your return!
Queensland Theme Parks, Queensland
The obvious choice that we have to include on this list, what parent hasn't ever had to put up with their children wanting to go to the theme parks in Queensland? It is always worth a trip, as the kids will soon be screaming their heads off on some of the scariest rides around while you can enjoy the sun and sand of the Gold Coast. You can pick yourself up a park pass which gives you entry into the main ones of Movieworld, SeaWorld and Wet N' Wild, as well as looking into going to Dreamworld which is also nearby and that too has it's own water park. Surely one trip is worth keeping the kids quiet for a while?
Sovereign Hill, Victoria
A great chance to take the kids back to the good old mining and gold rush days of Australia, Sovereign Hill boosts an entire town where the old days come to life! Witness actors dressed the way they once did and re-enact everything from horseshoe making to gun firing. Just a few hours out of Melbourne, you will soon be taking your kids back to a time of long ago!
So there you go! You should now have some fantastic ideas for your next holiday and no excuses as to why you can't go away with the entire family to enjoy a trip away from home!