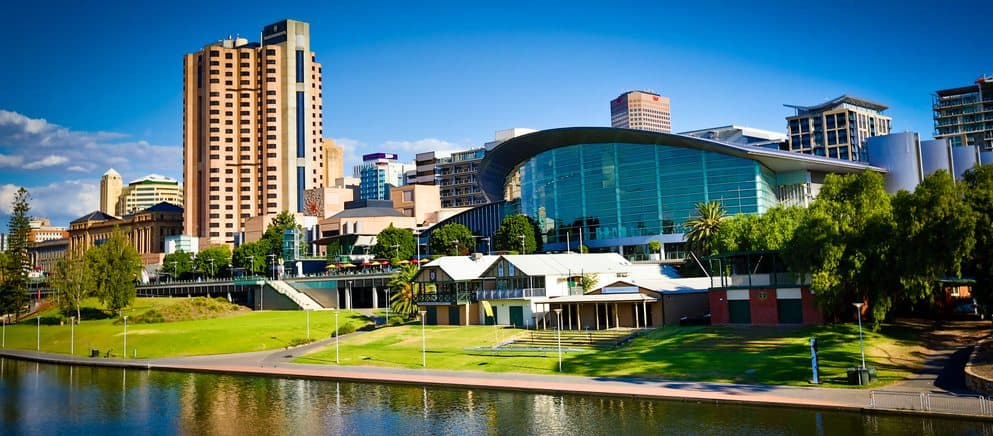 High School South Australia
High School Study Abroad in South Australia
We represent the Government high school in South Australia, these high schools are becoming more involved with international education with homestay and excellent student support services available. Over 100 government high schools are available for international students and teachers are professionally qualified.
The curriculum consists of a wide range of core and specialist subjects in: the arts, design technology, English and other languages, mathematics and science, health and physical education, and society and the environment. The syllabus is delivered through individually tailored learning for all high school students, including the more gifted, while specialist schools operate in some subject areas like science and the arts, and there is ongoing support for English as a Second Language (ESL) students. Use of technology is a part of every subject area and facilities are modern and up to date.
The quality of the high schools in South Australia is recognised internationally and the SA Department of International Education maintains the highest standards of education, care and support of international students in a caring and supportive environment.
We are happy to help you and your parents find the right school and assist with the application process.
South Australia High School Programs
High School Study Abroad Program
Study for 1 - 4 terms at a metropolitan high school in South Australia. Gain new educational and cultural experiences. Try a new subject, enrol in a special interest program and participate in exciting school-based activities.
High School Graduate Program
Study for 1 - 5 years at a high school in metropolitan or regional South Australia. Pursue your academic interests and ambitions and gain a world class education. On completion receive the South Australian Certificate of Education (SACE). Careers advice and counselling is also available for those who need it.
High School Regional Study Abroad Program
Study for 1 - 4 terms at a regional high school in South Australia.
Short High School Program
Study for less than 10 weeks at a high school in South Australia. You don't need a student visa for this program, instead you only need a tourist visa.
Free Services for Students & Parents
Detailed advice about Australian school system
Recommendation and suggestion to choose a suitable high school and subjects
Liaison with high schools in Australia to discuss possible placements, subjects and questions regarding your application and stay (if necessary)
Provision of all necessary application forms and support to apply for a high school placement
Check of all documents and submission of your correct application
Organisation of stay at an Australian family who will act as your guardian (you have your own room including meals while you stay in Australia)
Comprehensive Student visa application support including provision of all necessary documents
Information helping you to organise convenient flights to and from Australia (if required)
Information and support to help you get set-up in Australia (Health Insurance etc.)
On-Arrival Service (air port pickup an transport to your accommodation) (if required)
Emergency Phone Number
Pastoral Care through International Department of school and local contact person
Continuous contact to parents while student is studying at high school
Certificate for your high school abroad
Dedicated personal contact during your stay in Australia including support services should any issues arise
Our service is for free.
South Australia High School Curriculum
Subjects
These are the eight key learning areas identified within the South Australian school system:
English
Health & PE
Languages
Society & Environment
Mathematics
Science & Technology
Special Interest Programs
Such programs include sports, multimedia and the performing arts.
Specialised subjects include, but are not limited to:
Science and Mathematics: robotics, forensic science, nanotechnology, astronomy and viticulture
Health and Physical Education: psychology, hospitality, surfing, golf, cycling and outdoor education
The Arts: music, ballet, contemporary dance, textiles and fashion
Technologies: computer aided design, broadcasting, graphic design, photography and animation
Co-Curricular Opportunities
Individual and team activities are also offered to students in areas such as drama and music bands. There are also international competitions in which students can take part in order to achieve all round excellence.
Gifted & Talented Education
Some South Australian government high schools offer a program called IGNITE in one of the following areas:
General Intelligence
A specified academic study area
Visual & Performing Arts
Psychomotor ability
Leadership
Sports
Creative thinking & Interpersonal/Intrapersonal skills
Special Interest Programs
Some of our high schools also have special interest programs for students with a talent or passion for a particular
subject area. Areas include: Music, Sports, Languages & Performing Arts
Languages
Languages
South Australian government schools especially cater to students from non-English speaking backgrounds and have special services designed especially for them.
English as a second language (ESL)
In addition to special English language classes, ESL support is also offered to students in mainstream learning.
School of languages
This is a specialist language school offering foreign language tuition to secondary students in the Adelaide metropolitan area. Languages offered include French, Chinese, German, Japanese, Korean & Spanish.
You will need to show a minimum level of English to study at a high school in South Australia. Check with us to get the full details. 
In some cases the schools may recommend that you undertake the intensive Secondary English Course (ISEC) as part of your study program.
For all high school programs in South Australia, you are required to have achieved passing grades in your main academic subjects.
| 2020 | School term dates | Last date to appy |
| --- | --- | --- |
| Term 1 | 28 January – 9 April | 30 October 2019 |
| Term 2 | 27 April – 3 July | 28 January 2020 |
| Term 3 | 20 July – 25 September | 21 April 2020 |
| Term 4 | 12 October – 11 December | 14 July 2020 |
| 2021 | School term dates | Last date to apply |
| --- | --- | --- |
| Term 1 | 27 January – 9 April | 29 October 2020 |
| Term 2 | 27 April – 2 July | 27 January 2021 |
| Term 3 | 19 July – 24 September | 20 April 2021 |
| Term 4 | 11 October – 10 December | 13 July 2021 |
The below fees are set out by the government schools department of South Australia for 2020. 
High School Study Abroad Program (HSSAP)
May include 1, 2, 3, or 4 terms of Intensive Secondary English Course (ISEC)
Years 8-10                               Years 11-12
1 term AUD $ 7889               AUD $ 8189
2 terms AUD $14638            AUD $15238
3 terms AUD $22837            AUD $23737
4 terms AUD $29836           AUD $31036
Regional Study Abroad Program (RSAP)
Years 8-12
1 term AUD $ 7049
2 terms AUD $13798
3 terms AUD $21997
4 terms AUD $28996
High School Graduate Program (HSGP)
May include 1, 2, 3, or 4 terms of Intensive Secondary English Course (ISEC)
Annual Tuition Fee:
Junior High School – Years 8-10 AUD $ 13000
Senior High School – Years 11-12 AUD $ 14200
Whats included in all the above fees:
Application processing and school placement 
Pre-departure information
Reception at Adelaide Airport
Welcome and school tour
School enrolment
Orientation program
School textbooks and initial stationery pack
Student support services in school (including personal counselling)
Subject and career counselling in school
Ongoing English language support
Student reports
Overseas Student Health Cover (for student visa holders only)
Homestay accommodation (includes internet usage)
24 hour emergency support
Apply to Study at a South Australia High School