Robina State High School
Robina State High School overview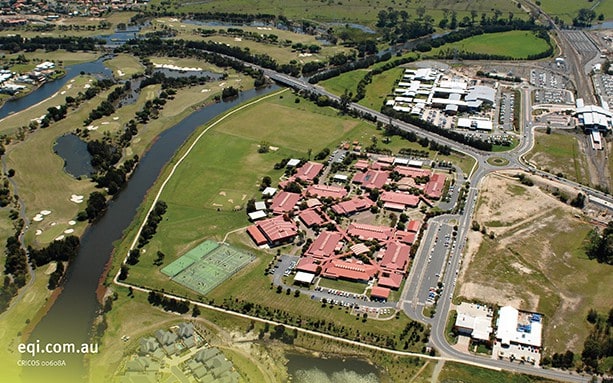 Robina State High School presents a number of unique facilities such as a traditional Japanese Tatami room, a biotechnology laboratory, seven computer laboratories, a performing arts centre, a dance studio, fitness training room,
indoor multi-purpose gymnasium, purpose built golf facility and baseball field.
3 reasons to choose Robina State High School
A large range of state accredited programs with a strong focus on university entrance supports high academic outcomes
Flexible time tabling allows individually appropriate school program development
Three full time International staff plus three part time study tutors support all students in our International program
Location
Robina State High School is in the Gold Coast Hinterland region and close to Surfer's Paradise.
Curriculum
The school places special emphasis on literacy from junior to senior school.
Specialist Programs
Biotechnology
Golf
Baseball
Futsal (A form of indoor soccer)
A Guide to Student Services
Chaplain
School Nurse
Guidance Officer
Community Liason Officer
International Student Program
Robina State High School warmly welcomes all international students and is committed to their overall welfare. The school provides international students with quality international education.
Unique Aspects & Achievments
University links and pathways programs with local, state and national Universities
Formal after school International Student tutorial program three days a week
Flexible program for senior students
Wide range of subject choices
Outstanding achievements in Maths, English, Science, Languages and Sports Excellence Programs
Application
Learn more about Robina State High School and contact our staff now for free information and service.
SPECIAL PROGRAMS
Baseball
Futsal
Golf
ESL
Marine Studies
EXTRA -CURRICULAR ACTIVITIES
Annual ski trip and Japan trip
School camps
Talent quest nights
Learn to surf program
Clubs and activities (environment, Drama, music, public speaking, volunteer activities, futsal, baseball, International Club, etc.)
languages
SCHOOL FACILITIES
Performing arts centre
Student activity centre
Parent centre
Navel cadet training unit
Authentic Japanese room
Purpose built LOTE centre
Computer, multimedia and biotechnology laboratories
Tertiary pathways
Griffith University GUEST Program
TAFE Co-operative Program
AWARDS
A large number of students regularly place very highly, in state and national competitions for maths, science, English and LOTE.
Other highlights
Three full time staff to support International Students
Formal after school tutorial program for International students four days a week
Senior students attend classes four days a week, with no formal classes scheduled on Fridays.
 Application