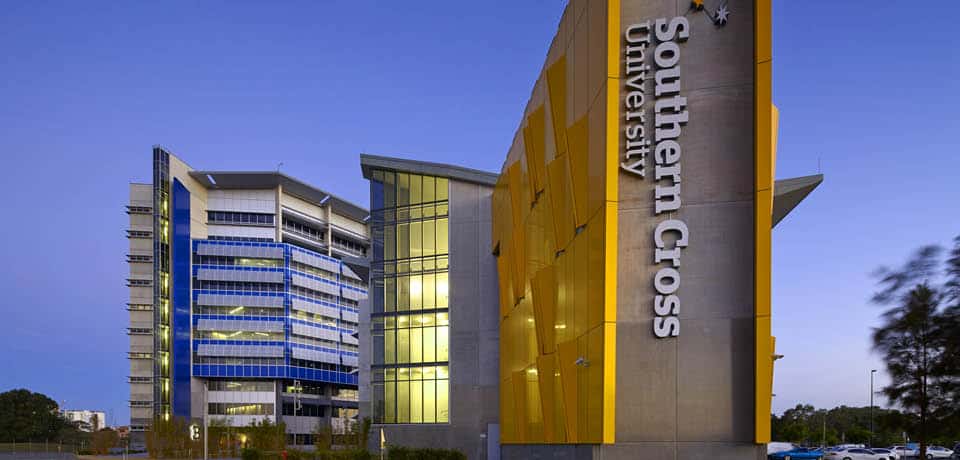 Southern Cross University with Go to Australia - the Registered Australian Education Agency for International Students in Australia: Free Student Counseling for Southern Cross University, Free Application Services for International Students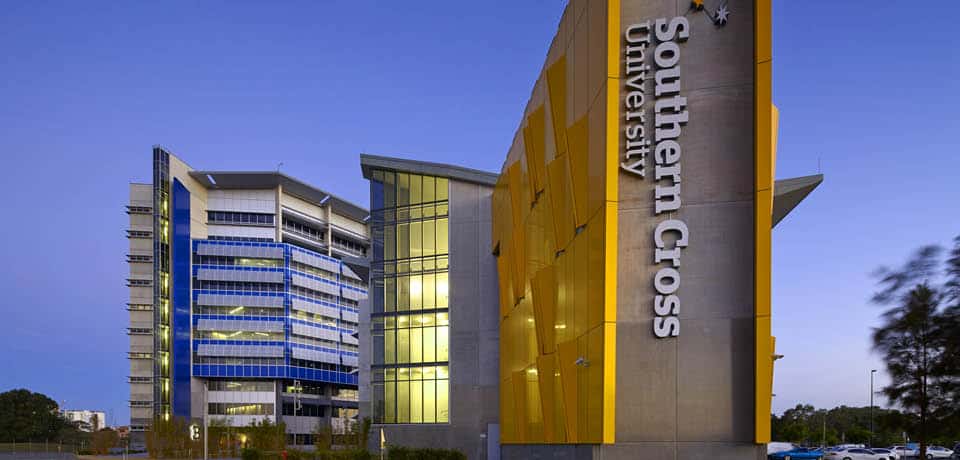 Southern Cross University
Southern Cross University is a vibrant university that has multiple campuses around Australia.
CRICOS Provider: 01241G

The Tweed Gold Coast campus provides education services through numerous undergraduate and postgraduate business courses, including the Master of Business Administration and Doctor of Business Administration. Recently it expanded its offerings to include courses in secondary education, social science, business, convention and event management, legal and justice studies and sport management.
The university, through its corporate programs, attracts business professionals from around Australia to attend and further develop their skills by attending intensive workshops.
The university is proud of its efforts to develop the local community. It has entered into many partnerships contributing to the success of the Tweed Gold Coast campus.
It has secondary schools in both New South Wales and Queensland states that gives it a platform to interact and put forward valuable suggestions to both the local government and the education sector. This augments and complements its involvement in business and professional communities.
Southern Cross University's expansion plans in Gold Coast include a new campus at the southern end of the Gold Coast airport and 400 metres from North Kirra beach. This expansion plan will result in the university having two campuses in the Gold Coast and will provide it with a competitive edge over other universities.
Study at Southern Cross University will give you:
Experience of a variety of state of the art teaching and learning facilities that enhance the study experience and give you hands on experience
Work experience with professionals in your chosen field while studying
Recognised qualifications that place you well to succeed in the global economy in your chosen profession
A taste of life on relaxed, multicultural campuses that are located in beautiful environments close to the resources and facilities of major centres of population
The opportunity to experience the Australian way of life and form lasting friendships with Australian and overseas students
Application
Contact AA Education Network today to explore your options and the opportunities offered by Southern Cross University for travel and study. One of our counsellors will be only too happy to assist you with planning your move to Southern Cross University in beautiful regional New South Wales and in providing assistance in making the necessary arrangements to pursue your goal.
Southern Cross University is an Australian Government university that is recognised by governments and professional bodies throughout the world. The University welcomes the enrolment of international students in its courses and is proud of its commitment to its international programs. The University offers an outstanding level of support to its international students and is committed to their academic and personal success.Specials: Two double masters programs offered by Southern Cross University at its Tweed Gold Coast campus:
MBA followed by Master of Professional Accounting
Master of Professional Accounting-Master of Supply Chain Management
Pathways to study at the University of Southern Cross - Courses & Faculties of the SCU
Study abroad program
The study abroad programs offered at Southern Cross University are shaped by four main factors:
Study abroad students are assigned study units as per their interests and abilities.
A special study unit 'Outdoor Education'
A special study abroad excursion - one week 4WD camping trip (see description below)
Study in one of the most beautiful and serene surroundings in Australia
Program Cost
The tuition cost of the study abroad program is A$6,500 per semester. This includes four units of study plus the study abroad excursion.
The Academic Program
As a study abroad student, you have the widest range of study units to choose from. Some of the broad areas in which students may choose to study are:
Australian Indigenous Studies; Australian Studies; Asian Studies; Business Studies; Environmental Management; Contemporary Music; Education; Social Sciences; Multimedia; Sport Science; Fisheries Management; Information Technology; Law; Media Communications and Production; Naturopathy; Nursing; Forestry; Tourism; Visual Arts.
All study abroad students should consider enrolling in the unit 'Outdoor Education'. (details further down page) Students are also encouraged to select one or two units in Australian Studies, Australian Indigenous Studies, or Asian Studies, as these provide the opportunity for a unique insight into this country and region.
Many units include field trips as an integral part of the subject, providing students with additional opportunities to experience other aspects of Australia.
Why you should choose Southern Cross University's study abroad program
Apart from the University's spectacular location and its range of interesting courses, two things really stand out in the study abroad program:
Outdoor Education
This subject is unique in Australia and is based on the concept of experiential learning. It introduces students to a variety of outdoor education activities making the best possible use of a number of spectacular national parks and wilderness areas that surround the University.
There are two or three "base camps" in the unit, one in a rugged granite belt national park called "Girraween and Bald Rock", one in the wilderness rainforest of Nightcap and Border Ranges National Parks, and an optional expedition.
You learn how to navigate, are taught basic survival skills and are then sent out in small groups on overnight bushwalks. You will quickly learn the importance of teamwork and leadership skills as you meet the challenges of the subject including becoming "geographically challenged" (lost!).
Activities include a 4 Day Introductory Camp, a 3 Day Bushwalk and Navigation Camp and an Expedition. Additional activities include a Survival Course, Wilderness First Aid Certificate, and Rock Climbing/Rappelling.
Outdoor Education can meet the requirements of many different disciplines and therefore may be used to gain credit in a range of areas.
Reflections on Outdoor Education
"The highlights of the trip were: sleeping under the stars, climbing South Bald Rock, the Pyramids at night, orienteering our own path and seeing some beautiful sights, getting to see the wildlife and making new friendships. I do not think I would be able to say enough wonderful things about this trip. I enjoyed it all"
Crystal
"At one point during the trip we had set camp atop of Mt Norman. Just before sunset three of us went for a walk to check out the area. We ended up running down the mountain screaming 'I love life'. At that moment I felt so alive and in tune with nature and my group members"
Tuck
Study Abroad Excursion
Each semester a special highly subsidised one week 4WD camping excursion is held for study abroad students. While the trip varies it has recently been held between Ayers Rock (Uluru) and Alice Springs in Central Australia in an area justifiably famous world-wide. You would have the opportunity to experience places of spiritual significance to the local indigenous people such as Ayres Rock (Uluru), The Olga's, Kings Canyon (Watarka) and Palm Valley. These spectacular places are not found anywhere else in the world.
You will also do some 4WD travel up the old Finke River (the oldest river in the world), camp overnight around a fire, swim in waterholes, and see no other travellers for days. this is the real Australia and an experience you will never forget.
Reflections on the Study Abroad Excursion
"I have to say that of all the places that I have been lucky enough to see in Australia, this trip to the outback has been my favourite. It is so different from anything that I have ever seen. The entire area just seemed to have a presence that is hard for me to describe in words. Being able to sleep in soft river beds, to catch a glimpse of wild kangaroos and to see a pack of wild horses all contribute to this amazing trip that I will remember for the rest of my life"
Jessica
CAMPUSES
Lismore Campus
Lismore is the university's largest campus and is the location of its administration and the International Office through which the University's international programs are co-ordinated. Many of the University's on-campus courses at both undergraduate and postgraduate level are offered only on the Lismore campus.
Coffs Harbour Campus
The Coffs Harbour campus is shared with a Technical and Further Education College (TAFE), and a government high school providing educational opportunities from school to postgraduate University studies. It is also the location of the University's English Language Centre. A range of the University's academic programs are available on the Coffs Harbour campus including some that are not available at the University's other campuses.
Tweed Gold Coast Campus
The Master of Business Administration, Master of Professional Accounting, Doctor of Business Administration, Bachelor of Business, Bachelor of Business Administration, and Bachelor of Social Science programs are available on our campus at the world-famous Gold Coast.
THE CITIES AND THE REGION
Lismore and surrounding towns have a combined population of nearly 150,000 and are set in an area of unsurpassed natural beauty. Located to take full advantage of both the rainforest and the sea it has a wonderful warm climate that allows students to make the most of their leisure time.
The city offers a broad range of cultural and sporting activities and facilities and the University plays an integral part in the provision of leisure and social events for students. The lifestyle is conducive to study and social activity and is relaxing, friendly and stimulating.
Coffs Harbour is an idyllic coastal city with a population of 60,000. The district has a delightful climate and the proximity of the mountain range to the coast results in a stunning diversity of environments from rainforest to coastal heath, waterways and pristine beaches.
Surfing, sailing, fishing, white-water rafting and abseiling are just a few of the many leisure and sporting activities available to complement the quality educational opportunities on offer.
Byron Bay is only 45 minutes drive from Lismore. It is Australia's most easterly point, is Australia's leading 'backpacker' destination and justifiably famous world-wide. It offers a cosmopolitan lifestyle set among some of Australia's best bathing and surfing beaches with whale-watching, scuba diving and hang-gliding just some of its attractions.
The Gold Coast is only 90 minutes drive from Lismore. It is one of Australia's premier tourist spots with a number of popular theme parks, including Seaworld, Movieworld, Dreamworld, and Wet 'n Wild. It also has a casino.
Nimbin is only 30 minutes drive from Lismore. It was born out of the famous 1973 'Aquarius Festival' and is a centre of Australia's environmental awareness movement.
Beaches The coastline in the region is one of Australia's best, offering long stretches of idyllic beaches for swimming, surfing, fishing or just lying around.
Rainforest The region has six National Park areas that are World Heritage listed and where students can enjoy bushwalking, beautiful rainforest walks, and mountain climbing.