Brisbane is the thriving capital of Queensland and is one of the biggest cities in Australia, behind Sydney and Melbourne, its wide range of educational providers is a strong reflection of this city's continuing development in becoming an international capital of the world. One of the most attractive reasons to study in Brisbane is that it offers a unique study experience. While you are located in a sophisticated big city, you are also surrounded by natural habitat.
In the city's centre you can visit South Bank. South Bank has a sandy beach; picnic spots on large grass areas; various shops, and many cafés, restaurants, pubs and bars. This place also has cinemas and regular free live entertainment that locals and tourists can enjoy. South Bank is also host to regular festivals and has a Cultural Centre where you can visit the Queensland Art Gallery and Gallery of Modern Art. These places are where many works of art from Australia and overseas can be seen and admired. The Queensland Museum is a great place to learn about natural and cultural history. In addition there is the State Library of Queensland. This library has a large variety of books, displays and activities. Ballet, opera, theatre and other on-stage entertainment can be found at the Queensland Performing Arts Centre (QPAC).
There are regular trips on the Brisbane River. Ferry cruises can be taken up and down the river. Trips up and down the river do not have to be continuous. You can stop on various locations along the river. While travelling on the river you can see many houses and city attractions.  The City Botanic Gardens is just a short walk from Brisbane's central district. While walking through the gardens tourists will get to observe plant and animal life unique to Queensland. If there is time a drive a trip to the top of Mt Coot-tha is a good idea. Located there is the Brisbane Look-out Mt Coot-tha. From this place there is a great view of Brisbane City. You can observe the shape of the Brisbane River and the city centre's skyline. When the whether is warm and sunny Moreton Bay and the distant mountain ranges can be observed. At the lookout there is also a café and restaurant. Also at Mt Coot-tha is the Brisbane Botanic Gardens. The place has a tropical display dome; Japanese gardens; other specifically-themed gardens; a lagoon, and the Sir Thomas Brisbane Planetarium.

International Students in Brisbane
Brisbane is a testament to modern living. It is a great place to enjoy a relaxed lifestyle, to work and to study in Brisbane.
Brisbane is proud of its longstanding reputation as a great place to study. Prospective and current students also realise the attractiveness of Brisbane as a city in which to live, study and work.
Brisbane is also a centre for the arts, culture and tourism. To study in Brisbane has never been so much fun with fantastic beaches to complement either study or work.
From world recognised beaches and reefs to lavish rainforests and dry inland areas, Queensland offers visitors a diverse range of attractions
Apart from the beautiful landscapes and unique country there are a variety of educational opportunities available to anyone wanting to study in Brisbane.
Students can choose to study in Brisbane at:
English Language Schools offer programs in English language training from 1 week to 1 year (or more), depending on the needs of students.
Secondary school and/or tertiary study in Brisbane, gives international students a chance to experience a different culture in a flourishing multi-cultural city as well as gaining internationally recognised qualifications they can use to pursue further study in Brisbane or abroad. The teachers and lecturers are all university educated and as Brisbane is one of the most culturally diverse cities; the teachers have experience in helping students from different backgrounds.
To be accepted into study in Brisbane at any educational institutions, students must prove their proficiency in the English language and have achieved at least a pass while studying in their own countries. Though it varies from each educational provider, students will generally need a minimum score in the IELTS English language proficiency test but please contact the preferred institution to check, specifically, what their English language requirements are.
Why study in Brisbane?
Here are some more reasons to choose to study in Brisbane:
World Class Education
Brisbane is home to many world-class universities including: Griffith University; Queensland University of Technology; the University of Queensland. There are also many vocational training providers including the Southbank Institute of TAFE and private colleges. It is also home to various English colleges for students wishing to learn advanced English skills for education, business or leisure related purposes. Colleges include: the Queensland College of English and the Hilton International College.
In addition to the academic programs offered, many Institutes also offer a wide-range of sporting and cultural program for students. Sports racemes are customized to suit the seasonal weather of Queensland. Popular sports in Australia include: Australian Football Rules (AFL), Rugby Legue, Tennis, Soccer, Netball, Basketball, Swimming, Surfing.
Many institutions also offer innovative study tours. These are short-term academic learning tours focusing on education and cultural experiences in the following disciplines: English, tourism, business, hospitality and other vocations.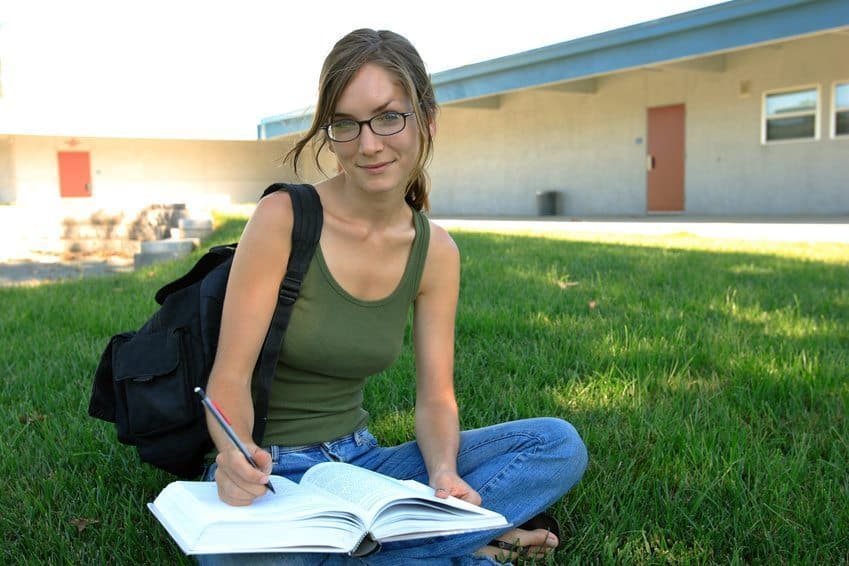 Brisbane is the capital of the sunshine state
Brisbane is the capital of Queensland AKA "The Sunshine State" a popular destination because of its subtropical climate. Believe it or not, Brisbane has over 300 days of sunshine shine in a year!
Compared to the other major cities in Australia, Brisbane has the most consistently hot and humid days during the summer which are the months December to January. Temperatures often reach past 30 °C and average around 25°C. The humidity is heavy during the peak summer season.
Though the days are shorter in winter, the skies usually remain clear, so there are frequent sunny days without the strong heat and humidity of summer. The temperature averages around 15 °C
The rainy season usually comes during the period between October and March which is the early spring to late autumn cycle. Due to the humidity and the location of the city, thunderstorms are common and every now and then they can be quite destructive with heavy rain and strong winds. On the odd occasion thunderstorms have also hailed.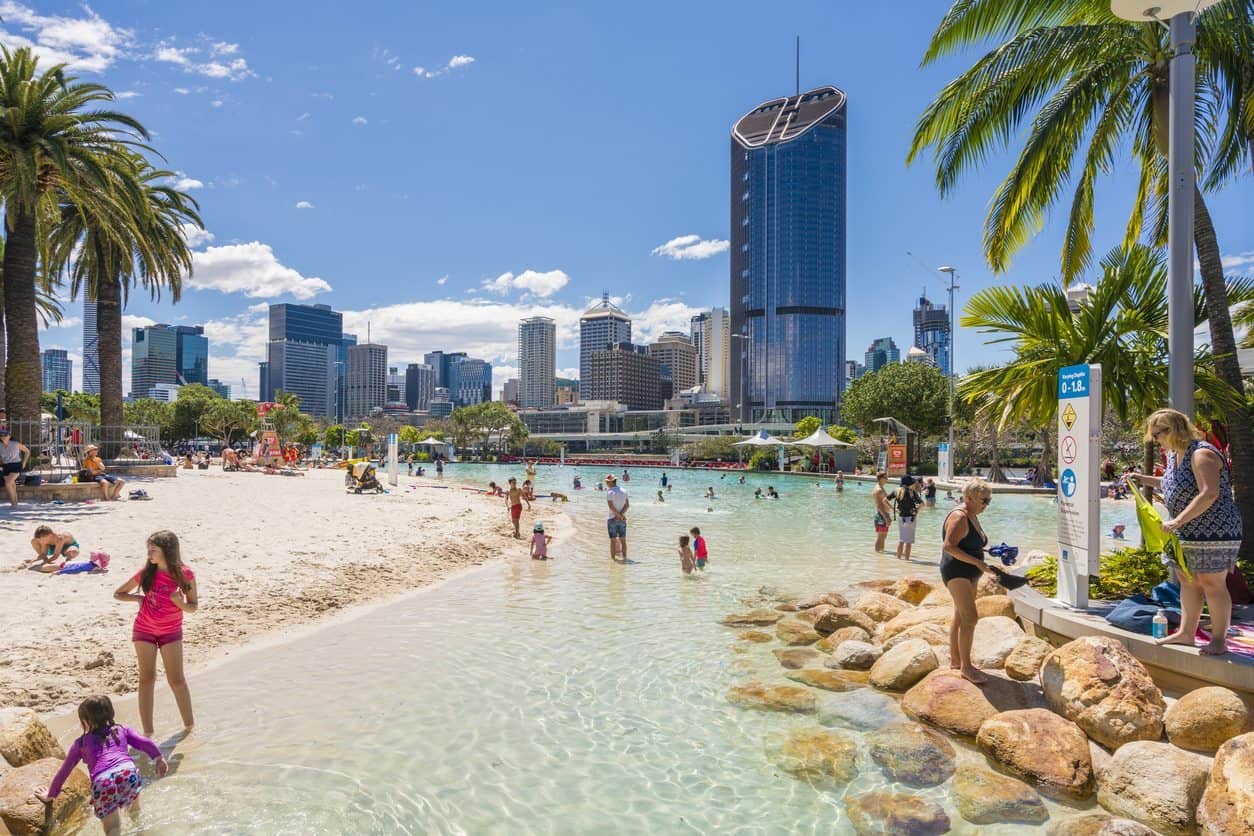 Brisbane is easy to get around via public transport
The public transport in Brisbane enables you to get around Brisbane with ease. Their are trains, buses and even ferries. Additionally if your an eligible students, you can save up to 50% on  TransLink public transport services (excluding Airtrain), regional qconnect bus services and some ferry services.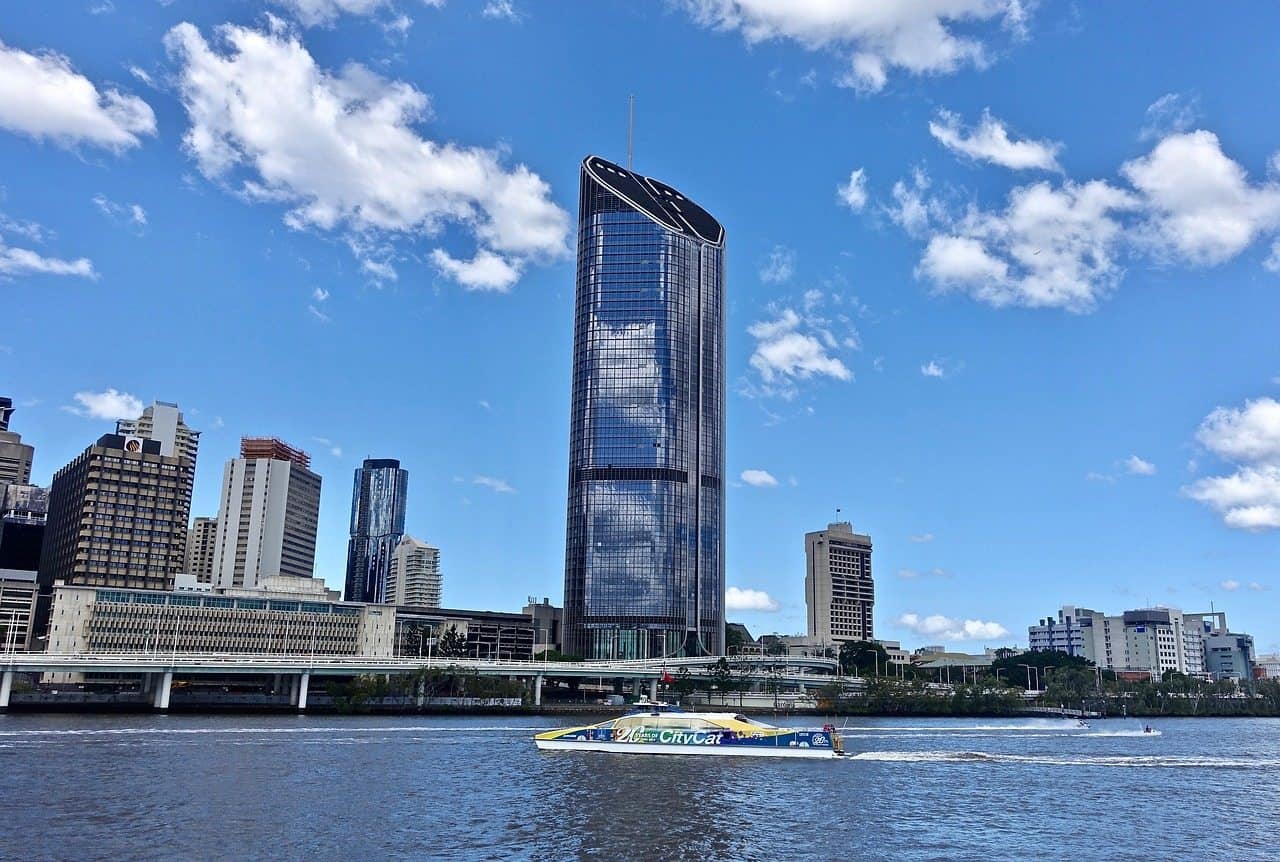 Brisbane has a wide assortment of eateries sure to satisfy any hungry student
Like all major cities of the world, Brisbane has a wide assortment of eateries sure to satisfy any hungry student.
Here are some of the more popular locations to eat at:
Caxton Street is a popular nightlife destination as there are places for live music and dancing. Caxton is also popular for its many reasonably priced seafood restaurants. It is located near the Suncorp Stadium so it can get very busy when a sporting event is on.
Chinatown is not just limited to Yum Chas during the day and great value Chinese food. It also offers a variety of different Asian cuisines including Thai, Japanese, Vietnamese, Malaysian and Cambodian.
Dining in The City is divided into three main districts:
The first is Queen Street Mall which is also the main shopping district, is filled with shopping malls and mainly food courts but there are quite a few restaurants and cafes around.
The second is Riverside, Eagle Street Pier. This is the main dining district and there is a wider range of restaurants (some more refined) with the added bonus of riverside views.The third is Albert and Felix Street, which is a nice combination of the sophisticated restaurants and the more laidback bars and bistros.
Emporium, Fortitude Valley is an option, if you're feeling a little more stylish and sophisticated; it offers more ethnically diverse restaurants ranging from Asian, Middle East and European.
Milton, Park Road is often described as being reminiscent of European cafes and offers more formal dining choices. It is also a lovely area filled a mixture of boutiques. Suncorp Stadium is nearby so, like Caxton Street, it can get very busy on game nights.
South Bank is one of the more popular dining destinations. There are more than 30 restaurants and cafes with the bonus of riverside and city views. The culturally diverse eateries include Italian, Greek, Lebanese, Turkish, Asian as well as Modern Australian.
West End is frequented mostly by the locals and the food savvy. It is a quick, tasty and cheap meal option. It also has a blossoming nightlife but in a more relaxed atmosphere. There are more cafes than restaurants and is a popular destination for breakfasts.
Brisbane Arts and Culture
There is more than meets the eye when it comes to Brisbane – the city has a lively professional arts scene, with many training institutes, galleries, museums and theatres enhancing the cultural life of locals and visitors alike. Events, exhibitions, concerts and performances and held regularly throughout the year, including touring international, national and innovative locally-created work.
You will always find something exciting to see or do. The main cultural precinct in Brisbane is the Queensland Cultural Centre, located adjacent to South Bank in the suburb of South Brisbane on the Brisbane River.
The precinct is home to the renowned Queensland Performing Arts Centre (QPAC), with four state-of-the-art venues – the Playhouse, Lyric Theatre, Concert Hall and the Cremorne Theatre. Plays, musicals and concerts are regularly held in QPAC, including frequent performances by the Opera Queensland (the second largest opera company in Australia), the Queensland Ballet, the Queensland Orchestra, the Queensland Theatre Company as well as the Australian Ballet and other national and international touring companies.
The Queensland Cultural Centre is also home to the State Library of Queensland, the Queensland Museum and Sciencentre – for interactive exhibits, large collections of natural and manmade artefacts and educational fun for the whole family. For lovers of fine art exhibitions, a visit the Queensland Art Gallery and the recently opened Gallery of Modern Art (Australia's largest modern art museum) are well worth a visit, both of which housing impressive collections.
The World Expo of 1988 left a lasting imprint on the cultural landscape of Brisbane. Held from April to October in 1988, this famous expo brought some of the world's most cutting-edge artists and their culturally diverse work to Australia's shores – sculptures from the expo are still dotted around the city, for example in King George Square. The original site of the expo was converted into the South Bank Parklands.
The Brisbane Powerhouse Centre for the Arts at New Farm on the banks of the Brisbane River is a creative hotpot of new art forms, including theatre, dance, visual arts and music - well worth a visit for it's edgy contemporary performing arts productions from Australia and abroad.
Brisbane is home to many elite training institutes, producing internationally recognised musicians, performers, visual artists and filmmakers. Visitors can immerse themselves in the new work being made by upcoming artists at exhibitions and performances at many of these institutes – for example, the Queensland University of Technology Art Museum, the University of Queensland Art Museum, the Queensland College of Art and Queensland Conservatorium at Griffith University,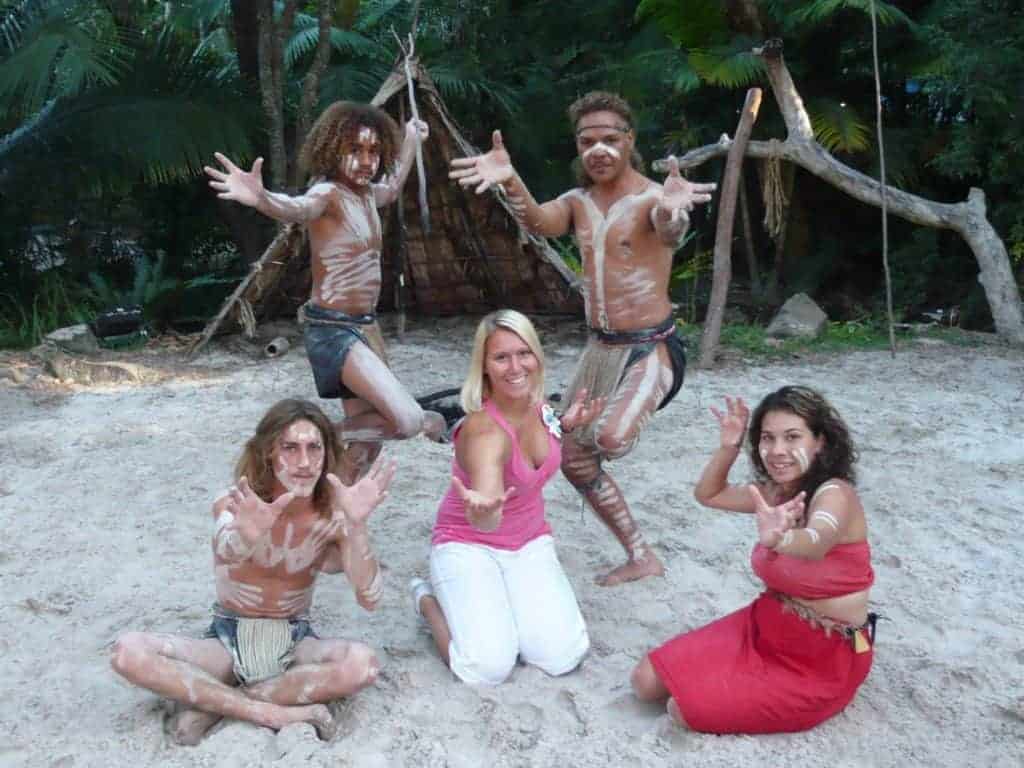 Cost of living in Brisbane
Wondering about the living costs for you as an international student and trying to save money on your stay. For many students, this status represents constrained budgets and a limited income due to employment restrictions, the change of currency and the multiple expenses involved. However, Australia's affordability places it on the top ten destinations for education purposes because it offers lower living costs than US and some countries in Europe, without compromising the quality of education and lifestyle.
To give you an idea of how much you need in a year for living expenses, the Australian Department of Immigration requires proof of financial solvency worth of around AU$ 18,000.00/year. This estimation includes accommodation expenses, transport, food, entertainment and incidentals, and it excludes tuition fees and other education costs. However, these expenses vary depending on your lifestyle and you will find that some cities in Australia will give you better value for money than others.
A basic guide for a single student with essential living costs would state, for instance, that accommodation expenses are higher in big cities like Sydney and Melbourne whilst Brisbane can give you the same facilities for half price. In addition, goods and services like food, clothing and even medical assistance can be much cheaper if you go to smaller cities with lower demand and less population, and they can even be more affordable in outer suburbs.
As a reference, a small shopping list could cost you around AU$9.74 bought from a supermarket brand in Brisbane, including 2lts milk for AU$2.47, a dozen eggs for AU$2.45, 520 gm cereal for AU$2.13 and 700 gm for AU$2.69. The same brand will show an increase in prices of 0.5 to 0.10 cents per item in Sydney. However, any supermarket in Australia can be beaten on price by local producers, which can reduce your costs significantly and even more if you plan your shopping and share expenses with your housemates at the local markets.
If buying cheaper groceries and finding affordable housing is not enough to reduce your expenses, Australia offers several concessions to international students, which makes life easier by giving discounts on events, some stores and different services. But it is public transport the most valued concession service for many students since it is, in many cases, their only way to move around and on a daily basis.
Despite the responsiveness, NSW and Victoria do not offer concession fares to international students on the city trains, buses or trams, which might discourage them from accessing the city's facilities, travelling around, and may increase their need of part time jobs to afford public transport or even their own vehicle due to the high cost of travelling. A student, for example, could spend around AU$2500 per year without concessions and would spend even more if he/she lives away from campus or school.
Finally, it is worth mentioning that although Australia is well known for its affordability and quality of living, costs can be reduced even more by making some changes and readjusting your life for the length of your stay. Sharing accommodation and groceries expenses, shopping carefully at the markets and taking advantage of discounts and concessions are the smartest way to save hundreds of dollars and improve your aussie experience stretching your budget.
Universities in Brisbane
Brisbane has 3 main Universities that accept International students into their programs.
University of Queensland
Queensland University of Technology
Griffith University
Alternative Study Options
Technical and Further Education colleges (TAFE)
Study at TAFE Queensland in Brisbane, Technical and Further Education colleges (TAFE) can be an alternative path to universities in Australia.
TAFE are college institutions that specialise, mainly, in vocational tertiary education courses such as hospitality, tourism and engineering amongst many others.
These colleges are funded and run by the state or territory governments they operate in.
Private Colleges
There are over 1000 private education institutes across Australia and approximately 20 located in Brisbane. Brisbane also offers many independent/private education and training providers, these institutions all fall under the Australian Council for Private Education and Training (ACPET). The ACPET is the nationwide industry organisation for independent providers of education and training for Australian and international students. These include: higher education, vocational studies and English Language programmes.
We can help
If you're considering commencing or continuing your study in Brisbane at an Australian educational institute in, AA Education Network can help you. We offer a comprehensive service, providing assistance and information to students of all ages and educational backgrounds.
Once you've spoken with one of our Education Network representative, they will then choose a course for you based on your preferences and previous study. If English is your second language, paperwork can be tricky.
That's why AA Education Network provides a translation system, on top of our other services such as:
Arranging certified copies of your identification forms
Organising English language tests, and
Providing information on necessary visas.
But our work doesn't stop there. Once you've been offered a place at an Australian educational institution, we can provide you will all the information you'll need to make your transition into Aussie life a little smoother.
We offer practical advice on things like travel insurance, opening a bank account and finding the cheapest flight to get here, and can also address any problems or concerns you may be experiencing such as potential communication problems, or fears about integration.
Once you've arrived in Australia, you've still got your Education Network team behind you. Whether you want information about getting Australian awards recognised, are experiencing homesickness or culture shock, or just have a question you need answered, your team member is just an e-mail away.
If all this sounds too good to be true, wait until you hear the best part – these services are provided at no cost to you.
If you're keen to experience life Down Under, but worry about all the hassle and red tape that normally accompanies such a move, contact AA Education Network immediately. The most you'll have to do now is choose an area of study.