Brisbane is the thriving capital of Queensland and is one of the biggest cities in Australia, behind Sydney and Melbourne, its wide range of educational providers is a strong reflection of this city's continuing development in becoming an international capital of the world. One of the most attractive reasons to study in Brisbane is that it offers a unique study experience. While you are located in a sophisticated big city, you are also surrounded by natural habitat.
In the city's centre you can visit South Bank. South Bank has a sandy beach; picnic spots on large grass areas; various shops, and many cafés, restaurants, pubs and bars. This place also has cinemas and regular free live entertainment that locals and tourists can enjoy. South Bank is also host to regular festivals and has a Cultural Centre where you can visit the Queensland Art Gallery and Gallery of Modern Art. These places are where many works of art from Australia and overseas can be seen and admired. The Queensland Museum is a great place to learn about natural and cultural history. In addition there is the State Library of Queensland. This library has a large variety of books, displays and activities. Ballet, opera, theatre and other on-stage entertainment can be found at the Queensland Performing Arts Centre (QPAC).
There are regular trips on the Brisbane River. Ferry cruises can be taken up and down the river. Trips up and down the river do not have to be continuous. You can stop on various locations along the river. While travelling on the river you can see many houses and city attractions.  The City Botanic Gardens is just a short walk from Brisbane's central district. While walking through the gardens tourists will get to observe plant and animal life unique to Queensland. If there is time a drive a trip to the top of Mt Coot-tha is a good idea. Located there is the Brisbane Look-out Mt Coot-tha. From this place there is a great view of Brisbane City. You can observe the shape of the Brisbane River and the city centre's skyline. When the whether is warm and sunny Moreton Bay and the distant mountain ranges can be observed. At the lookout there is also a café and restaurant. Also at Mt Coot-tha is the Brisbane Botanic Gardens. The place has a tropical display dome; Japanese gardens; other specifically-themed gardens; a lagoon, and the Sir Thomas Brisbane Planetarium.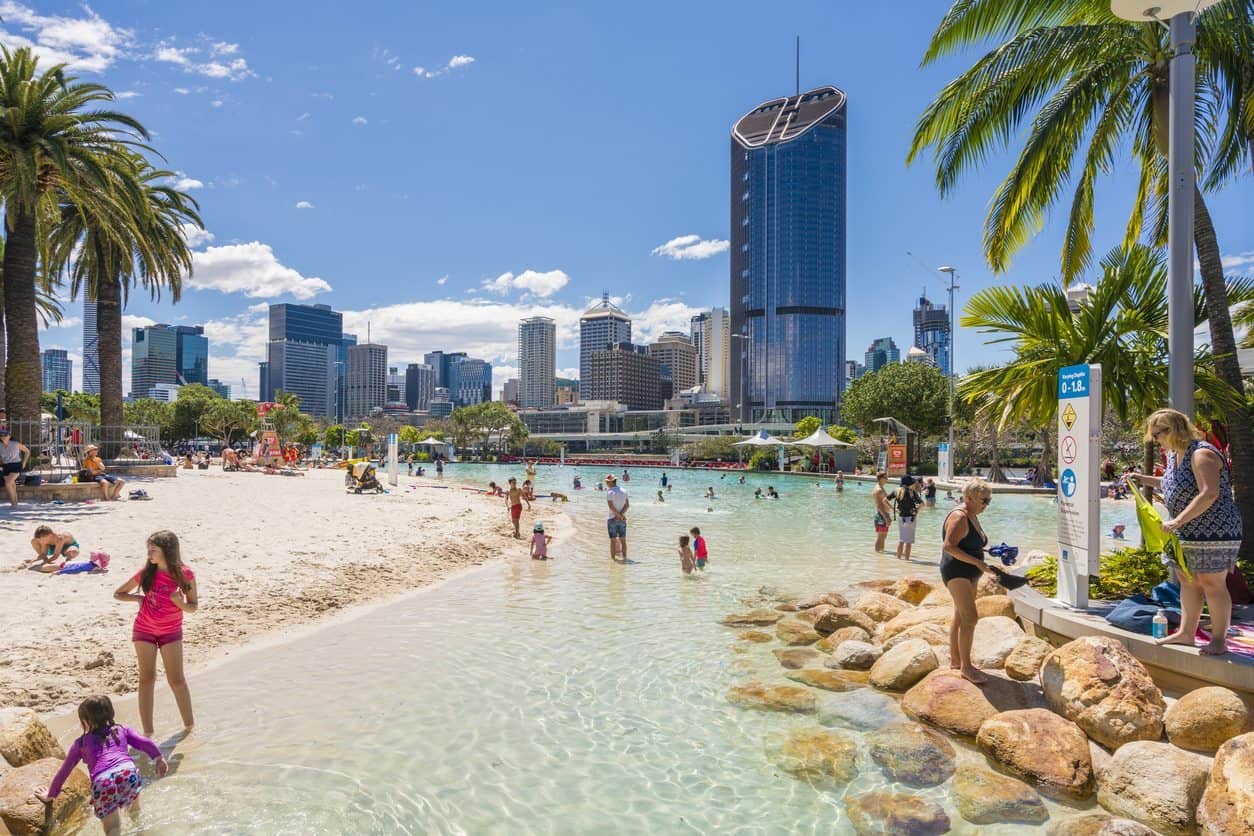 International Students in Brisbane
Brisbane is a testament to modern living. It is a great place to enjoy a relaxed lifestyle, to work and to study in Brisbane.
Brisbane is proud of its longstanding reputation as a great place to study. Prospective and current students also realise the attractiveness of Brisbane as a city in which to live, study and work.
Brisbane is also a centre for the arts, culture and tourism. To study in Brisbane has never been so much fun with fantastic beaches to complement either study or work.
From world recognised beaches and reefs to lavish rainforests and dry inland areas, Queensland offers visitors a diverse range of attractions
Apart from the beautiful landscapes and unique country there are a variety of educational opportunities available to anyone wanting to study in Brisbane.
Students can choose to study in Brisbane at:
English Language Schools offer programs in English language training from 1 week to 1 year (or more), depending on the needs of students.
Secondary school and/or tertiary study in Brisbane, gives international students a chance to experience a different culture in a flourishing multi-cultural city as well as gaining internationally recognised qualifications they can use to pursue further study in Brisbane or abroad. The teachers and lecturers are all university educated and as Brisbane is one of the most culturally diverse cities; the teachers have experience in helping students from different backgrounds.
To be accepted into study in Brisbane at any educational institutions, students must prove their proficiency in the English language and have achieved at least a pass while studying in their own countries. Though it varies from each educational provider, students will generally need a minimum score in the IELTS English language proficiency test but please contact the preferred institution to check, specifically, what their English language requirements are.
Why study in Brisbane?
Here are some more reasons to choose to study in Brisbane:
It is home to many world-class universities including: Griffith University; Queensland University of Technology; the University of Queensland.
In addition to the academic programs offered, many Institutes also offer a wide-range of sporting and cultural program for students. Sports racemes are customized to suit the seasonal weather of Queensland. Popular sports in Australia include: Australian Football Rules (AFL), Rugby Legue, Tennis, Soccer, Netball, Basketball, Swimming, Surfing
There are many vocational training providers including the Southbank Institute of TAFE.
Brisbane is home to various English colleges for students wishing to learn advanced English skills for education, business or leisure related purposes. Colleges include: the Queensland College of English and the Hilton International College.
Many institutions also offer innovative study tours. These are short-term academic learning tours focusing on education and cultural experiences in the following disciplines: English, tourism, business, hospitality and other vocations.
Brisbane Weather & Climate
Brisbane is a popular destination because of its subtropical climate. Compared to the other major cities in Australia, Brisbane has the most consistently hot and humid days during the summer which are the months December to January. Temperatures often reach past 30 °C and average around 25°C. The humidity is heavy during the peak summer season.
Though the days are shorter in winter, the skies usually remain clear, so there are frequent sunny days without the strong heat and humidity of summer. The temperature averages around 15 °C
The rainy season usually comes during the period between October and March which is the early spring to late autumn cycle. Due to the humidity and the location of the city, thunderstorms are common and every now and then they can be quite destructive with heavy rain and strong winds. On the odd occasion thunderstorms have also hailed.
In 2006 Australia went through a severe drought and cities have been under strict water regulations but as of 2009, water restriction has dropped to the medium level.
Public Transport whilst studying in Brisbane
QUEENSLAND PUBLIC TRANSPORT: GO CARDS
Brisbane city has one of the best public transport systems in Australia and as an international student studying in the southern state capital of Brisbane chances are you will use the public transport system on a regular basis. Although the fares for public transport in Queensland have gone up since 04/01/2010 by 40% this rise in fares has been offset by the introduction of Go-Cards. An innovation developed by the Queensland government to make public transport more affective in the south east corner of the state. The purpose of the Go-Card is to cut down on queues for people who use public transport particularly during the heavy peak periods between 7.30AM and 9.30AM in the morning and 3.00PM and 6.00PM in the afternoon.
DIFFERENT ZONES AND TRANSPORT MODES
Because the transport system in Brisbane is made up of different zones and three (bus / ferry / train) different types of transport it has become expensive and cumbersome for many travelers in the south east. Having to buy different tickets for different zones and transport, but now with the Go-Card this is no longer an issue with one being purchased for all. How this works is by 'clocking' onto a bus, ferry or train and 'clocking' off when you leave that mode of transport. The Go-Card allows for three transfers during your journey and you save up to 30% on fares. The state of the art technology that the Queensland government developed allows passengers to do this with the assistance of an electronic device similar to a docking station in a factory that measure the time you clocked on, the distance you have gone and when you clock off.
The Go-Card is paid for at most QR stations or many newsagents and can be topped up on line or by phone and if you use the Go-Card more than ten times in a one week period you save up to 50% on fares for that week starting Monday and ending Sunday. There will be 123 QR stations selling Go-Cards by the time university recommences and another 1000 retailers across the south east from Noosa in the north, Coolangatta on the Gold Coast and west to Helidon selling Go-Cards. So the system is comprehensive. And as a tertiary student in full time study you have the option of getting a Go-Card with a concession.
The Queensland State Government has more statistics related to the purchasing and use of Go-Cards:
South East Queensland has 266 Go-Card retailers
65 000 Go-Cards sold in November and December 2009
550 000 Go-Cards distributed to consumers across the state since the introduction of the service
70 million trips taken so far using Go-Cards
4000 people use on-line services weekly to top up their Go-Cards
So if you are studying in Queensland and you do not have a vehicle then the Go-Card is the right option for any international student with the potential for good savings.
How the Go-Card works is you purchase a Go-Card from a Go-Card agent or retailer for $5AU or more. The initial $5 is a refundable deposit that you have to purchase initially so that you will always have the appropriate funds to finish your journey. And the rest of the money you put into your Go-Card is used as the funds for the buses, trains and ferries that you use and is deducted at the end of each journey.
We can help
If you're considering commencing or continuing your study in Brisbane at an Australian educational institute in, AA Education Network can help you. We offer a comprehensive service, providing assistance and information to students of all ages and educational backgrounds.
Once you've spoken with one of our Education Network representative, they will then choose a course for you based on your preferences and previous study. If English is your second language, paperwork can be tricky.
That's why AA Education Network provides a translation system, on top of our other services such as:
Arranging certified copies of your identification forms
Organising English language tests, and
Providing information on necessary visas.
But our work doesn't stop there. Once you've been offered a place at an Australian educational institution, we can provide you will all the information you'll need to make your transition into Aussie life a little smoother.
We offer practical advice on things like travel insurance, opening a bank account and finding the cheapest flight to get here, and can also address any problems or concerns you may be experiencing such as potential communication problems, or fears about integration.
Once you've arrived in Australia, you've still got your Education Network team behind you. Whether you want information about getting Australian awards recognised, are experiencing homesickness or culture shock, or just have a question you need answered, your team member is just an e-mail away.
If all this sounds too good to be true, wait until you hear the best part – these services are provided at no cost to you.
If you're keen to experience life Down Under, but worry about all the hassle and red tape that normally accompanies such a move, contact AA Education Network immediately. The most you'll have to do now is choose an area of study.
Universities in Brisbane
Brisbane has 3 main Universities that accept International students into their programs.
University of Queensland
Queensland University of Technology
Griffith University
Alternative Study Options
Technical and Further Education colleges (TAFE)
Study at TAFE Queensland in Brisbane, Technical and Further Education colleges (TAFE) can be an alternative path to universities in Australia.
TAFE are college institutions that specialise, mainly, in vocational tertiary education courses such as hospitality, tourism and engineering amongst many others.
These colleges are funded and run by the state or territory governments they operate in.
Private Colleges
There are over 1000 private education institutes across Australia and approximately 20 located in Brisbane. Brisbane also offers many independent/private education and training providers, these institutions all fall under the Australian Council for Private Education and Training (ACPET). The ACPET is the nationwide industry organisation for independent providers of education and training for Australian and international students. These include: higher education, vocational studies and English Language programmes.