Study in Canberra Australia's Capital Territory
Increasing numbers of international students are choosing Canberra's their study destination because of its reputation for delivering quality education outcomes. Other reasons could be Canberra's spectacular economic growth, development and industrial growth.
Canberra is the capital city of Australia, and about 400,000 people live here. It was built on the plain at the foot of the Australian Alps, and covers 805 square kilometres. Canberra is approximately a three-hour drive south west of Sydney. It is not Australia's biggest city, Sydney and Melbourne are the largest, however, Canberra was in the middle of the two large cities so it was chosen to be the capital.
Aboriginals were the first people to live in the area, and that is how it got its' name, Canberra is said to be an old aboriginal word meaning, "meeting place". It was built around a man made lake, so even though the ocean is not there, there are plenty of places to swim and suntan.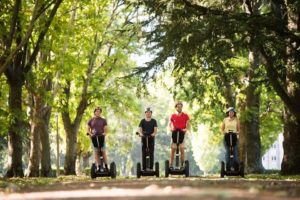 Canberra's main sport is cycling, so if you are an active cyclist, you will want to join the stream of people riding through the bike trails, parks, streets and hills.
The ACT is a very popular tourist spot, and many of the tourists are employed in places such as, hotels, restaurants, and tour bus companies. If you are not working there however, it is usually sufficient to only spend a few days in the city and be able to cover the things you will want to see and do.
Canberra is home to the National Gallery of Australia. The gallery displays art from various Australian artists. Art from overseas is also on display. Also in Canberra is the National Museum of Australia. Visitors can learn about Australia's land and people. The museum tells the stories of Australians and Australia.
The Australian War Memorial is a shrine, museum and an archive. The Memorial commemorates Australians who sacrificed themselves in a war. Its purpose is to help Australians remember and understand Australia's involvement in war and its impact. In the memorial's building there are various relics, art, film and photographs used to tell the story of Australia's experience in wars, peacekeeping and other conflicts.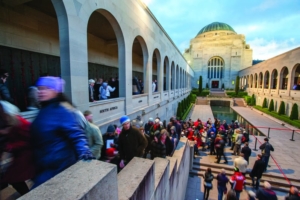 Questacon is Australia's National Science and Technology Centre. It aims to promote awareness and understanding of science and technology in society. The centre commits to giving an experience that is fun and interactive. Thousands of visitors come to the centre each year. The educational approach is based on learning by doing. Questacon tries to provide fun ways to explore science and technology.
Museum of Australian Democracy at Old Parliament House is a museum that aims to encourage visitors to reflect on Australian democracy. The museum is located at Canberra's original parliament house. It contains several exhibitions. Australian Democracy is where visitors take a trip through the past. It places Australian democracy in the context of geography and history. Visitors learn about Australia's road to democracy. There is also the Prime Ministers of Australia exhibition. This is where the profiles of Australia's Prime Ministers are displayed. Visitors can also learn little known facts about the people who became the leader of Australia. Other exhibitions are Living Democracy, Hands on Democracy and Billy Hughes at War.
Weather
The summer season in Canberra is usually quite hot and dry, with the spring season being nice and mild, the temperatures range from 16-30°C (60-86°F). The autumn season, of this city is also very mild, however the winter can become very cool and wet, with the temperature ranging from 7-15°C (45-59°F).

Living Costs
The cost of living in Canberra is very affordable and much cheaper than the larger cities, plus you will live in a safe clean environment. There are many ways to keep costs down by shopping at low-cost supermarket and stores such as Aldi, Big W and Kmart. Buying produce that are in season and cooking your own meals are useful options to manage your budget.
The median weekly rental price for a house in Canberra is AUD$560, while the median weekly rental price for a unit is $465.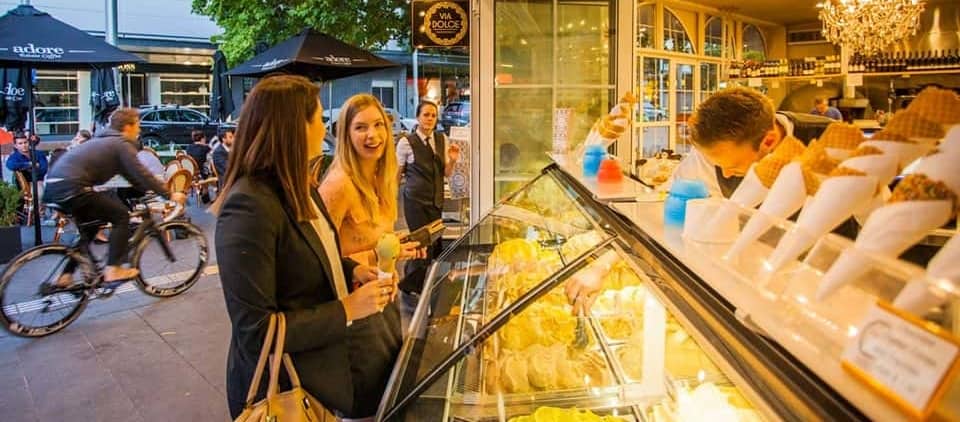 Study Options
Canberra is home to a number of world-class research and education institutions, and education forms an important part of the community and economy. A global city with a multicultural population, Canberra welcomes students and world-class academics from around Australia and the world to their community. International students make up 27 per cent of the total number of students studying in the ACT.
Canberra is a place where a culture of innovation and creativity leads to extraordinary achievements in science, research, education and business, with great career opportunities awaiting our graduates. Its status as the home of the Australian Government makes it an ideal place to study courses in politics, international relations, public service, law, journalism and security.
Study in Australian Capital Territory at:
We help you to study in Australian Capital Territory (ACT)
Welcome to our Study in Canberra page, your one-stop information centre on study and training opportunities available in the Australian Capital Territory. If you are an international student looking for information on study opportunities (English language studies, university education, technical and vocational training opportunities, school studies) in Canberra, this site is for you.
Receive information on pathway and English programs, courses, fees, scholarships, and other general information about studying in Canberra.
The Australian Capital Territory Portal is a convenient and comprehensive information portal about the unique opportunities available to you!
Are you looking for a course or an institution?
Australian Capital Territory Portal helps you to find a course in Australian Capital Territory.
Do you want to know what life is like as an international student in Australian Capital Territory?
Are you looking for the perfect place in Australian Capital Territory to study?
Would you like to study in Australian Capital Territory? Our programs offer high quality education in a safe and modern environment.
Can I study in Australian Capital Territory?  - We can help you!
For student visa requirements, browse the study in Australia section. We work with universities and other government agencies to promote Australian Capital Territory internationally as a provider of high quality education.
For detailed information for international students on Australian Capital Territory study opportunities, universities, courses, visa procedures, costs, lifestyle and Australian education contacts worldwide, find out about Australian Capital Territory universities.
We also provide enriching group study tours and offer consultancies in international projects.
AA Education offers a comprehensive pathway program for international students through some Colleges. If you don't meet the normal academic entry requirements for study, or if you don't have strong English language skills, then some Colleges are the ideal start to your studies in Canberra. Please visit us for further information.
AA Education Network has been providing quality services to every individual who aims to either travel to Australia, study in Australia or even work in Australia. Irrespective of your age, gender and education background, AA Education Network can help you identify the opportunities and the experience that the life down under offers.
We aim to provide you assistance at every step of your trip to Australia. We help you by giving you guidance on how to apply for your course/visa, how to prepare for your trip, how to manage when you reach Australia, how to find job in Australia and finally on how to settle down when you come back to your home after your stay.
Our services include, but are not limited to the following:
Assistance with finding a suitable course in any education institute anywhere in Australia. Our network covers all the Universities, Colleges, TAFE institutes, Language Schools, High Schools etc)
Once you have decided on the course you want to enroll in, we provide you information on applying for it including help with filling in the forms with requirements relating to translation, certified copies and submissions
English language tests' requirements and other information including discounts on English tests
Follow up on a submitted application and support along the way
Information on how to apply for a student visas and extend/renew a current student visa
Assistance with the journey including information on flights to and from Australia
Help in organizing airport pick and other on-arrival services
Assistance with accommodation in Australia, specially student accommodation
All the information you will need about life in Australia. This includes information on health insurance, bank accounts, public transport, student discounts, job search etc.
On job front, we provide information on internships, work placements and work experience in Australia
Help with getting Australian awards recognized if you wish to transfer the credit of your course to another course overseas
Special service to provide support to our clients in Australia to ensure they settle down properly and find answers to every possible question (e.g. How do I find shared accommodation? Will I be allowed to take my pet with me? How do I find information on schools or child care places in Australia? How will I manage the cultural differences, language difference, stress etc.)
Provision of dedicated education agents during your stay in Australia to answer your questions during your stay. These agents are available via email.
Most importantly, we submit your application for free.
Due to all the above advantages, thousands of people use our services. Our client base is expanding rapidly with students, tourists and job seekers who find comfort and quality in our services. Our clients know that they can trust us in providing them the best solution for their education, holidays or work needs.