Study Gold Coast | Study on the Gold Coast with Go to Australia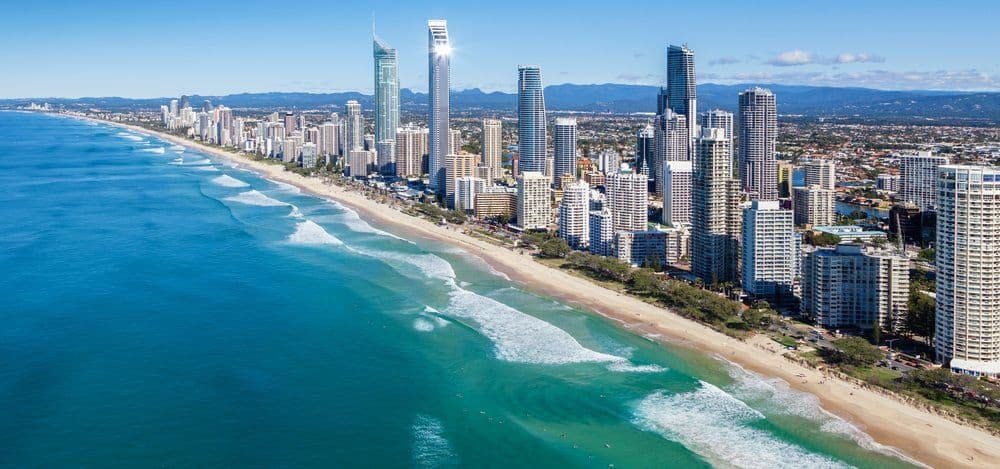 Study in Gold Coast at any High School, English School, TAFE, College or University
Study at the Gold Coast in Australia
Gold Coast Australia is a city and local government area in the southeast of Queensland, Australia. It is the second most populous city in Queensland and the sixth most populous city in Australia.
Gold Coast City is renowned for its sunny subtropical climate, popular surfing beaches, expansive waterway and canal systems, a skyline dominated by high-rise apartment buildings, active nightlife and wide variety of tourist attractions.
Study Gold Coast - Courses
Registered Training Organisations provide recognized training and assessments under the Australian Qualifications Framework. These organizations also issue qualifications and statement of attainment.
For students who want practical training either to prepare themselves to enter the workforce or for advanced entry into universities, these organizations provide a wide range of courses and workshops.
Students also enjoy the extra flexibility these organizations provide as they can go through their training or course either through internet, distant education or through modules incorporated into their high school curriculum.
Study Gold Coast - Universities
Apart from many private and government education institutes and schools mentioned above, Gold Coast City is also home to four universities, one of which is private and other three are government. These universities' campuses also provide research schools, Centre of Excellence and Cooperative Research Centres. The presence of these centres reinforces the image of Gold Coast City as a major provider of quality education.
Gold Coast Australia - Study Options for you
Griffith University
Griffith University's State-of-the-art facilities include the Griffith Centre for Medicine and Oral Health, the new Clinical Science precinct and the multimedia digital precinct. The Griffith Centre for Medicine and Oral Health - home to the first School of Dentistry to be established in Australia in almost 60 years - opened its doors next to the Gold Coast hospital in 2005. The $36 million Centre is the latest addition to the campus' expanding health portfolio.
Receive more information
Bond University
Bond University
Bond University schedules three semesters each year with intakes in January, May and September. This intensive study program allows you to complete the average Bachelor degree in two years and a Masters degree in just one year full-time.
Our professors, lecturers and guest speakers are internationally renowned for their practical experience. Our lecturers also have the academic qualifications to support their experience – over 95% of Bond's Business academics have a PhD qualification.
Mackintosh College
Mackintosh College is situated in the ideal location and caters to a wide variety of international students requesting study abroad and study tour programs. From 8 to 80 students Mackintosh College has the resources to cater to varying English abilities and activity interests.
Currently there is a rich mixture of international students studying at Mackintosh College. Students have chosen to come from Brazil, Japan, China, Thailand, India, Korea, South America and more to enjoy all the beaches and sub topical rainforest environment the Gold Coast has to offer. Situated directly next to the beach, students at Mackintosh College enjoy an active lifestyle of sun, sand and surf.
Many study groups and study abroad programs prefer to not only learn English, but take advantage of our short course training facilities. Our short courses cover bar, gaming, coffee and cocktail making. Our English courses cover reading, writing, speaking and listening to cater to all levels of English.
Miami State High School
Miami State High School is a small but prosperous school, sitting in a great location behind Nobby Headland only a minute's walk from the surf, is expected to have around 870 students with a staff team of over 50 for the year 2008. Miami High is a school rich in tradition and distinguished with many triumphs over the years in events of academic skill, sporting prowess and performing arts. For a school of its size, many graduating classes over the past years have performed above the state averages.
Gold Coast University Hospital
Gold Coast University Hospital: Changing the Outlook of Education, Tourism, and Economy of the Coastal City
Many students move to the Gold Coast to study at Griffith University or Bond University. With the Gold Coast University Hospital just at the corner, the students can easily walk down to the hospital for practical workshops.
In fact, the universities have a tie-up with the hospital to host interns specializing in numerous fields in medicine. Today, international students are invited to study a bachelor or Masters Degree in medicine at the Gold Coast. The Gold Coast University Hospital has suitable infrastructure to train and absorb these doctors, nurses, and paramedical staff.
Gold Coast University Hospital
One of key projects that perhaps changed the look of the Gold Coast is the Gold Coast University Hospital. This major health facility has been built near Griffith University that has at least 750 beds. The facility has the provision to treat cancer, neonatal, and trauma patients. It also has adequate infrastructure for cardiac and neuroscience patients.
The facility will not only house sophisticated instruments and intensive care units but also cater to research medical students from various universities and colleges. There are also tie-ups with TAFE colleges to ensure medical interns get suitable internships in the University Hospital.
Vocational Education at Gold Coast University Hospital
Students studying nursing or paramedical courses at TAFE institutes at the Gold Coast will now be able to study further, work as interns, or carry out further research activities at the University Hospital. For instance, students studying nursing at the Health and Well Being School can specialize further or work at the Gold Coast University Hospital.
Tertiary Learning and Research at Gold Coast University Hospital
The main attractive feature of the Gold Coast is its research and teaching facilities at the Gold Coast University Hospital. Not only Griffith University, but also Bond University and nursing colleges have come into an understanding with the hospital for hosting students for their internship programs and research studies.
Teaching students on clinical practice, surgery, and medicine at the hospital are a part of the tertiary learning completed at the hospital.
Growth of Health Related Education in Gold Coast
Rural health is expected to develop due to the mega hospital at the Gold Coast. University graduates and post graduates will be able to get jobs and practice research work at the hospital.
During research work and after research studies, the medicos will get opportunities to visit rural sectors to promote health in paediatrics, cardiology, and impart health education among people living in this area.
Growth of Economy and Employment in Gold Coast
The Gold Coast University Hospital will have a healthcare centre, swimming facility, and recreational parks. These attractive features will result in jobs and commercialization.
Key areas which are expected to develop are IT, environment, and health sectors. The government also plans sustainable development in the city and promote roads which are useful for walking and cycling.
So, the Gold Coast is all set to dawn a new look. If you are ready to be a part of it and want to work or study at the universities, colleges, and TAFE at the Gold Coast, write to our student counsellor.
Gold Coast Transport
A Wide Network of Roadways, Rails, and Air Transport Developed in Gold Coast to Tap Global Market
The Gold Coast is one of key developing cities today. Various projects are underway to attract travellers, international students, skilled migrants, and tourists to this coastal city. Transport is one of the essential features which have been addressed by the government through the Gold Coast City Council Transport Plan, the Gold Coast Rapid Transit and similar projects.
Arrival at Gold Coast
Queensland has two well-populated cities, Brisbane and the Gold Coast. International students arriving at Brisbane Airport, hire a car rental service that transports them to the railway station. The Service is not only affordable but also safe. The authorities at the airport will direct the student traveller to the nearest station of the spot he or she wants to go. An institute will generally be at a walking distance from the station.
Top institutes, such as universities, colleges, and TAFE institutes also offer their own pickup and drop facilities for the international students.
Transport Facilities within Gold Coast
Once the students reach their destination, they need to travel each day to reach their institute. Many take a trip to various tourist spots in the Gold Coast during the weekends. Convenient transport system has ensured that students, newcomers, travellers, or families visiting various landmarks in the coastal city avail a cost-effective and safe ride. Bus, rail, ferry, and tram services are available at low tickets.
Public Transport
One of the popular ways students and tourists travel in the Gold Coast city areas is through the Gold Coast Tourist Shuttle. There are discounted tickets sold by the transport organization that allow buses to ply 24 hours a day from various city spots, theme parks, and beaches. From Coomera to Tweed Heads and Coolangatta, travellers can travel by boarding just any of the buses under the shuttle department.
Apart from the Gold Coast Railways, there are two monorail systems that connect the beaches, water parks, sea resorts with Broadway. Many travel through ferries. Few others walk down to the spot or cycle their way to their destination.
Rapid Transit System
The Rapid Transit System transport project is also under construction and expected to be completed by 2014. The light rail system will have 14 trams that will transport passengers from the Gold Coast campus of Griffith University to Broadbeach. The rail will pass through Surf Paradise, the Gold Coast University Hospital, Main Beach, Cyprus Avenue, and Southport during the implementation of Stage I phase.
Convenience of International Students
The Gold Coast has been rapidly developing into one of the important centres for education, tourism, and industrial growth. Easily available and affordable transport system allows international students to enter the Gold Coast and commute from one place to another. All universities and major colleges have been interconnected with various transport system as well.
If you are keen to know about different transport routes, discounted tickets, and travel deals at the Gold Coast, write to us.
Au Pair Cultural Exchange Program
Cultural Exchange Program
Au Pair Cultural Exchange Program
The Au Pair/English Program has been specifically designed to offer students the opportunity to study English and experience life with an Australian family.
Au pairs receive a carefully selected family matched to their requirements. The program is for 3 months, but the au pair can stay with the same family for up to 1 year (conditions apply).
Au pairs work 20 hours a week for their family and study 20 hours a week at Gold Coast Language Schools. The program is suitable for both working holiday and student visa holders.
Benefits to Au Pairs
The Au Pair/English program can include everything, from airport pick up to 24-hour assistance during the length of stay. Au pairs do not need to be qualified but being kind, friendly and helpful is what our families are looking for.
The applicants gain an au pair experience and also a Certificate and a Reference Letter for future jobs after completing the program. The Au Pair House accommodation service offers the highest level of accommodation and the most affordable one on the Gold Coast, and elsewhere in Australia.
The au pairs receive great family support and a nice home and family atmosphere. Au Pairs also have the opportunity to become accustomed to the culture, the food, the suburbs, streets, shops and public transport in a very safe and comfortable way.
After the au pairs have successfully completed 3 months with the same family, they receive the Au Pair Certificate and a Letter of Recommendation for future paid jobs. When the au pair graduates from English school they will receive a Certificate of English Proficiency from Gold Coast Language Schools.
The Difference
Au Pair House visit all family houses and meet all family members during the process of family assessment. We provide the au pairs with a photo of the family, photo of the house and the bedroom that the au pair will stay in.
We also design, together with the family a work-schedule which contains a full description of the au pair tasks and provide this to the au pair before arrival, that way the family and the au pair know exactly what is expected.
Au Pair House assists all au pairs, contacting them once a week for the whole length of the program to check if they are ok or need anything.
We always ensure that all families understand the value of the au pair program and respect the rules of the program at all times. We make sure that all au pairs are
getting a great family experience during their stay. We are there for them from the moment they arrive to the last day of their stay in the program.
Details of Au Pair/English Program:
Monday – Friday mornings light home duties with the host family
Monday – Friday afternoons English at Gold Coast Language Schools
Weekends off
Accommodation and food 7 days a week
The work and the family profile will be described to the au pair before payment and commencement, so the au pair will know exactly what is expected
The families associated with the programs are carefully selected, assessed and they all live in very nice homes close to shops, transport, and the beach or city
The au pair can extend the program with the same family (conditions apply) for up to 1 year (at no cost)
Assistance during the placement Assistance during the placement Au Pair/English Program
Inclusions
Introduction to a selected family that offers you accommodation with a private bedroom
English lessons for 20 hours a week
Access to all 3 meals included
Blue card (License to work with children in Australia)
One-way transfer pick up for arrival
Booklet about Au Pair duties and responsibilities
24 hour phone number to call if any emergency
Certificate of Completion
Certificate of English Proficiency
Reference Letter for future jobs
Map of local areas and local businesses
Au Pair works up to 20 hours a week, weekends free
Program Structure
Duration – 12 weeks (can be extended)
20 hours English study per week Monday – Friday 2.30 pm – 7.10 pm
20 hours per week light duties host family (flexible)
12 week duration
The College of Australian Training
College of Australian Training
For nationally recognized and accredited training courses, many students enroll in the College of Australian Training. For students wishing to enter the hospitality or hairdressing industries, this college offer industry training courses.
The college also provides professional development courses and training to people looking to further develop their skills and expand their career potential.
The Australian Technical College
Australian Technical College
Operating in partnerships with local high schools, the Australian Technical College currently offers trade training in construction and commercial cookery. This college offer students secondary certificate courses, business training, Australian school-based apprenticeship and certificate III level trade qualifications.
Also, for the community benefit, these colleges offer a number of outreach programs to promote trade qualifications to year 10 students in the region and provide trade training to year 11 and 12 students in more distant parts of the Gold Coast.
Prior to 2008, the college was a government institute but now it is a private school delivering a fully integrated academic and training program. Post privatization, it has also started to offer Engineering and automotive qualifications.
Preliminary education in Gold Coast
Whether it is the mainstream education or a specialist curriculum you seek for your children, Gold Coast city offers everything through its diverse range of private and public education institutes.
The city has a diverse portfolio of many private and government schools offering highest quality education that is required by the younger generation to excel in the current competitive world. It has a range of schools providing suitable service to all kinds of children at all age levels. The types of schools are detailed below.
Preschools
Going to a school for the first time is the most intimidating experience in a child's life. Most of the kids are not used to spending the day without their parents. For them, just the idea of not being able to be with the mother and/or the father is scary enough. Therefore, Preschools help prepare young children for a smooth transition to a school life. Most of the children attending preschools are four to five years old.
Special Education Development Units
Australia is committed to providing quality education to all and to ensure this commitment is fulfilled, it has a lot of special schools for students with disabilities. Gold Coast City is no exception. For children under the age of 6 who also suffer from disabilities, whether physical or mental, numerous Special Education Development Units (SEDUs) have been established in the Gold Coast City. They are attached to primary schools and cater specifically to the needs of those less fortunate.
Primary Schools
Primary schools are the schools where Gold Coast students acquire the widespread education that is essential for their development. These schools provide seven years of compulsory education in a broad curriculum. This curriculum is uniform for all the students but is adapted to suit the local and individual needs.
Secondary Schools
Along with providing education to the students of compulsory age, the secondary schools also provide senior education to those who wish to pursue it further. It provides a great opportunity to students who wish to continue with their education.
Special Schools
Similar to Special Education Development Units, special schools provide highly specialized and individual programs to meet the diverse needs of students with disabilities. The main difference between SEDUs and special schools is that SEDUs provide education services to those under the age of 6.
The special schools are opened at numerous locations around the Gold Coast City and cover a wide range of specialized programs.
Special Education Units
Like SEDUs and special schools, Special Education Units (SEU's) provide education and development services to students with disabilities. They operate in various Gold Coast primary and secondary schools.
Outdoor Education Centres
Gold Coast realizes that in the current lifestyle, theoretical knowledge is not good enough for the proper development of children. Therefore, Outdoor Education centres have been established around the Gold Coast that provides physical challenges to students and teachers alike. Aquatic, environmental and adventure themes are commonly part of the curriculum in such centres.
P-12
Children in P-12 schools can be enrolled from preschool to Year 12. Thus, P-12 schools become an important part of many students' life enrolled in these schools at the preschool age and leave after year 12.
Gold Coast TAFE
Gold Coast Institute of TAFE
Gold Coast Institute of TAFE
TAFE is an acronym for Technical and Further Education. There are various TAFE institutes all around Australia and Gold Coast city is no exception. These institutes are government owned and are the largest provider of vocational education and training courses in Australia.
The Gold Coast Institute of TAFE has five campuses from Coolangatta to Coomera. It accommodates over 16,000 students a year and over 600 residents. It was named Queensland's Large Public Training Provider in 2007, and has also won numerous other regional and state level accolades.
The Gold Coast Institute of TAFE continuously aims to achieve higher levels of quality and respect in terms of the services it provides. It is already recognized as an innovator in design, assessment and delivery of vocational skills, business solutions and its approach for continuous learning.
The institute offers wide range of diploma and advanced diploma courses in almost every technical field. It also provides apprenticeship and traineeship.
Overall, the Gold Coast Institute of TAFE offers an experience which not only improves technical capabilities of students but also provides them with great personal development opportunities.