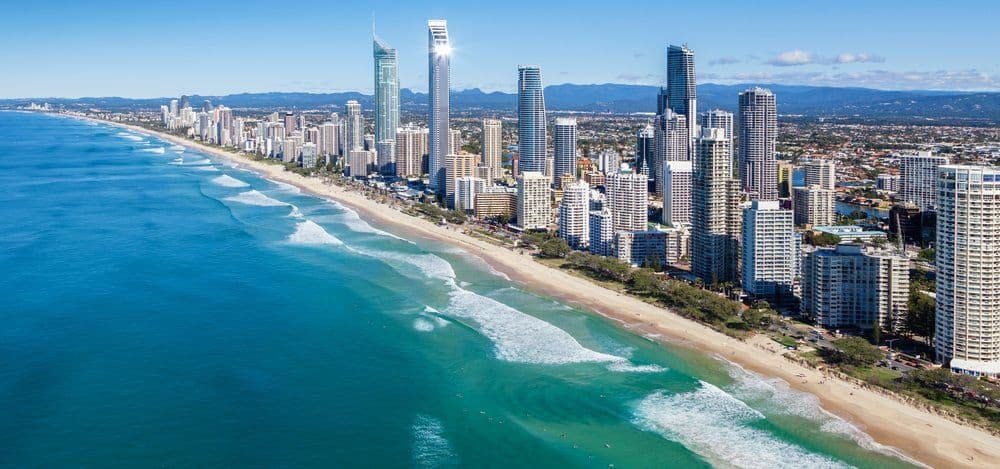 Gold Coast Australia is a city and local government area in the southeast of Queensland, Australia. It is the second most populous city in Queensland and the sixth most populous city in Australia. Just like Sydney, Melbourne and Adelaide, the Gold Coast is a popular study destination among international students
Gold Coast City is renowned for its sunny subtropical climate, popular surfing beaches, expansive waterway and canal systems, a skyline dominated by high-rise apartment buildings, active nightlife and wide variety of tourist attractions.
Famous for its sun surf and beaches, Gold Coast stretches along 57 kilometres of beautiful coastline. Just inland from the beaches is breathtaking scenery amongst the vast rainforests of the Gold Coast hinterland.
The Gold Coast has become the first choice for many Australian and international students wanting a first class education. With a reputation for quality, the Gold Coast offeres a wide range of choices that are contemporary, challenging and rewarding. You are offered the opportunity to enjoy the benefits of coming to a beautiful city that is safe, clean and full of opportunities.
Why Study on the Gold Coast?
With it's wonderful weather all year round, stunning beaches, lower cost of living, close proximity to Brisbane and Byron Bay and multicultural population, Gold Coast is a top study destination in Australia.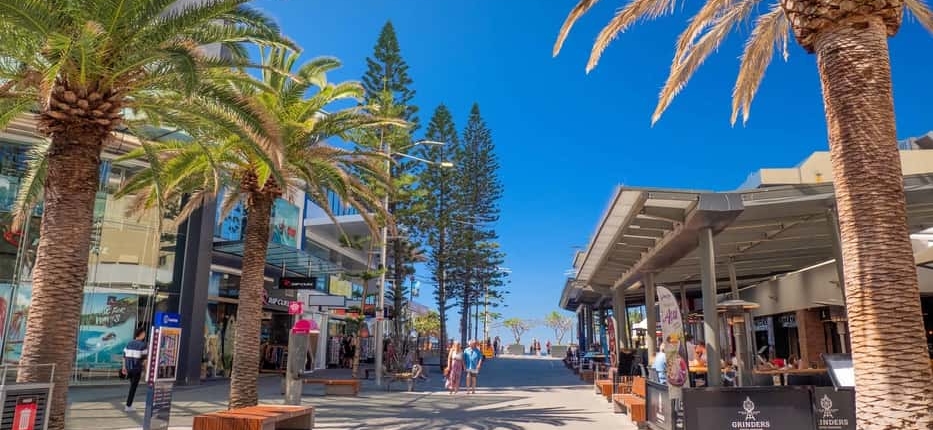 Subtropical and warm climate
The climate is subtropical, with summer temperatures averaging between 19-29 degrees C and winter between 9-21 degrees. Sugar cane is grown to the north of the city and other industries include property services, heath services, education, finance and insurance, construction, retail and transport, and, quite naturally, entertainment.
Tourism, however, employs roughly one quarter of the city's workforce. Over 10 million tourists visit the Gold Coast annually, and the city is connected to Brisbane International Airport, only an hour from city centre, by rail and road.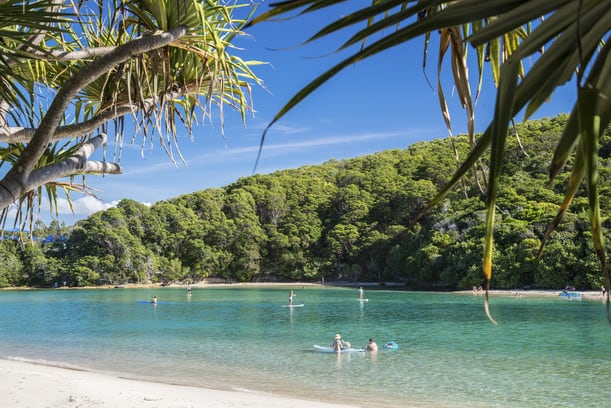 The city is one of the most affordable in Australia and over 25% of its resident population is from overseas, the largest numbers being from New Zealand and UK, with others coming from such places as China and southeast Asia, South Africa, Europe and the Philippines. About 10% of the Gold Coast's population is from a non-English speaking background.
Amid the wildlife parks, golf courses and waterways, Gold Coast City hosts major sporting events, both Australian and international, including the Pan Pacific Masters Games, the Nikon Indy 300, the Gold Coast Marathon, Australian Surf Life Saving Championships, horse races (Conrad Jupiters Magic Millions Carnival), triathalons and football.
An exciting city to visit and a beautiful place to live, the Gold Coast offers everyone who comes a slice of good living, natural beauty and cosmopolitan excitement.
Study hard play hard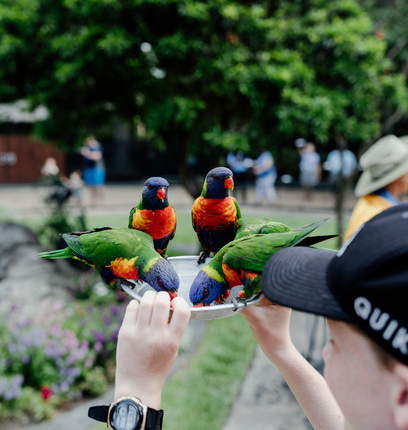 The Gold Coast is the amusement park capital of Australia. Four of Australia's seven major theme parks are located along one easily accessed stretch of the Pacific Highway. If you're a thrill seeker, fun lover or water junky, these theme parks will suit you.
There also the Curriculum Wildlife Park in Currumbin Valley and the David Fleay Wildlife Park in Burligh Heads.
Also to you avail are night clubs, theaters, shopping arcades , casinos and plenty of cafés and restaurants.
The beaches of Gold Coast provide excellent swimming spots and for those who enjoy surfing, you will not be disappointed!
Gold Coast is classed as a regional area
As of late 2019, Gold Coast along with some other cities, has been added to the 'Cities and Major Regional Centres' list by the Australian Department of Home Affairs as an incentive to attract more international students and those seeking to immigrate. The main goal of the Australian Government is to get more people moving to the Gold Coast to fill the shortage of skills needed in such a regional area.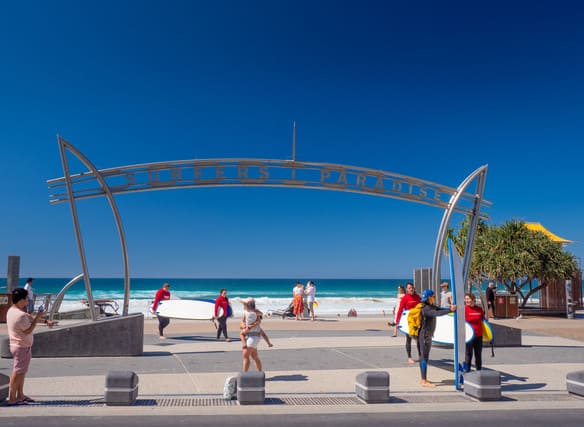 What this mean is that international students who are studying a bachelor or higher qualification from a regional campus of a registered institution will be eligible to access an additional year in Australia on a post-study work visa once they complete their course.
Additionally, international students may also be eligible to obtain 5 additional points for immigration.
Contact us to find out more
Gold Coast Study Options
Registered Training Organisations provide recognized training and assessments under the Australian Qualifications Framework. These organizations also issue qualifications and statement of attainment.
For students who want practical training either to prepare themselves to enter the workforce or for advanced entry into universities, these organizations provide a wide range of courses and workshops.
Students also enjoy the extra flexibility these organizations provide as they can go through their training or course either through internet, distant education or through modules incorporated into their high school curriculum.

Universities
Apart from many private and government education institutes and schools, Gold Coast City is also home to 3 universities, one of which is private and other three are government. These universities' campuses also provide research schools, Centre of Excellence and Cooperative Research Centres. The presence of these centres reinforces the image of Gold Coast City as a major provider of quality education.
Southern Cross University is an Australian Government university that is recognised by governments and professional bodies throughout the world. The Tweed Gold Coast campus is equipped with modern facilities and provides education services through numerous undergraduate and postgraduate courses.
Bond University is a private University. An institution seeking to mould enterprising students as future leaders for the global economy. A centre for lifelong learning. Bond University schedules three semesters each year with intakes in January, May and September. This intensive study program allows you to complete the average Bachelor degree in two years and a Masters degree in just one year full-time. The  professors, lecturers and guest speakers are internationally renowned for their practical experience. Our lecturers also have the academic qualifications to support their experience – over 95% of Bond's Business academics have a PhD qualification.
Griffith University with has long enjoyed international reputation for excellence in teaching and research. Its campus in the Gold Coast, through its teaching and research has supported the dynamic Gold Coast region. Griffith University's State-of-the-art facilities include the Griffith Centre for Medicine and Oral Health, the new Clinical Science precinct and the multimedia digital precinct.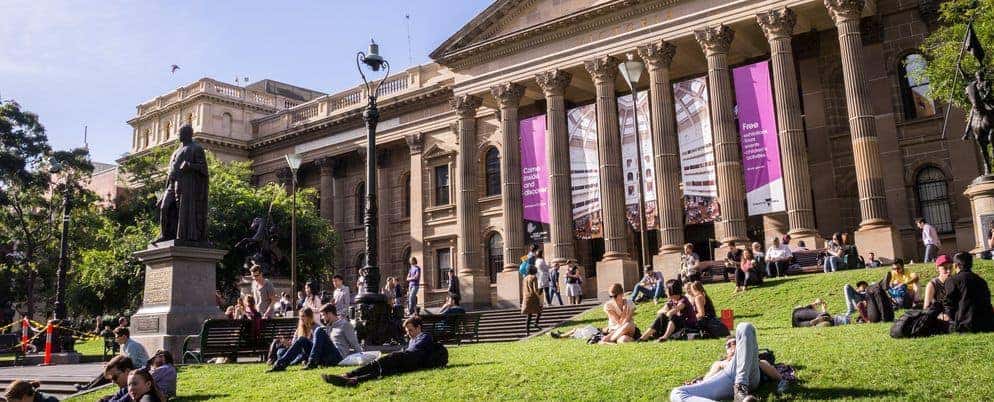 Gold Coast University Hospital