Study Perth: Study in Perth with Go to Australia
Perth Institutes offer nationally recognised training courses which prepare students with necessary skills to take on exciting jobs in the growing tourism and hospitality sectors.
Study in Perth at any High School, English School, TAFE, College or University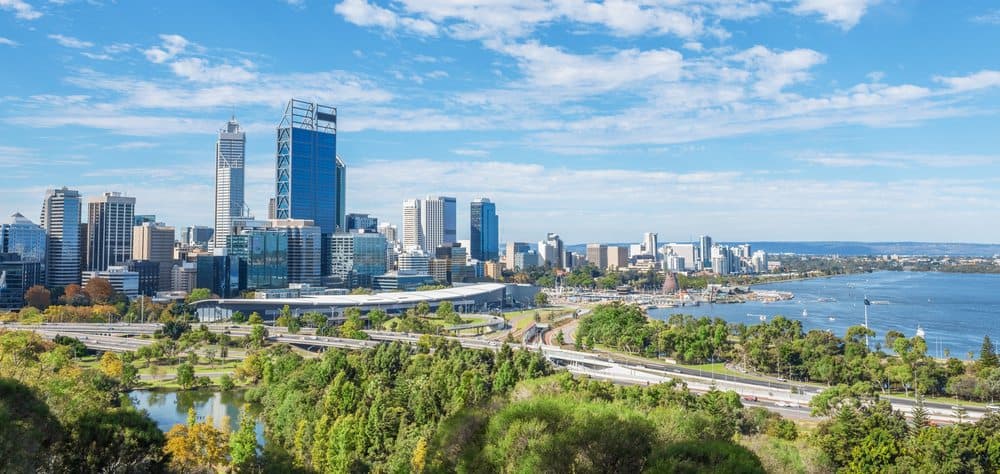 Why Study in Perth
Study in Perth - Western Australia
Perth is a great place to study. This is the claim of past and current international students. Perth's weather is very pleasant. The city compares favorably with other popular study destinations such as Sydney, Brisbane or Melbourne because of its well renowned education sector and the relatively low cost of living.
Perth has 1/3 of the land size of the Australian Continent and only 9 million people. Perth is a vibrant, modern and exciting city. It is located on the banks of the Swan Rive which is named after the Black Swans that live there. Perth also has a rich and intriguing history, friendly locals, a laid back easy going lifestyle, and great nightspots.
Perth has a multicultural population. There are a lot of attractions to be found, from the city of Fremantle only 20 minutes by car from Perth, to the vineyards of the countryside, spectacular white sandy beaches, wonderful exciting and relaxing trip to Rottnest. There is Perth Zoo where you will find native and exotic animals, Underwater World showing the wonders of the deep which will take you breath away.
There is the enchanting Kings Park which has a superb view of the city and mysterious atmosphere. On the artistic and historical side you can visit the Western Australian Maritime Museum and the WA Museum.
You will also find shopping paradise in the centre of the city as well as n the suburb of Subiaco where you will find a variety of great shops and boutiques. In Northbridge there is an exciting and rich nightlife full of pubs and clubs and romantic restaurants.
Where to Study in Perth
Study in Perth - Eduction Providers
Study in Perth at one of the following:
Perth Institutions in the State of Western Australia
Australian Institute of Commerce and Technology
The Australian School of Tourism and Hotel Management.
Kingston International College
Speak to our Education Agents today for more information.
Where can I study in Perth?
Perth has a huge range of study opportunities at colleges, universities and other vocational and technological institutes. Whether you want to do an English course, college study or a university degree – Perth has many education options so that you can find just what you're looking for.
Study in Perth colleges: colleges located in Perth city are well known internationally for vocational courses in hospitality and tourism, business, and IT sectors.Come study with at an Perth college of your choice.
Our Perth Colleges have a very warm atmosphere and a nice mix of students from many different countries. You will make friends with the whole world and learn about different cultures. We have comfortable facilities and are conveniently located in the Perth city central business district.
Perth Universities and International Students
The Western Australian tertiary education system offers many unique opportunities for international students. Western Australia is a multicultural state that benefits from its rich heritage of Indigenous culture and its geographical proximity to Asia. As of 2007, more than 35,000 international students were studying at Western Australian Universities.
Students are not only provided with a quality education that is recognised internationally, but they also gain many perspectives into other cultures and ways of thinking, as well as global networking opportunities.
Western Australian Universities offer a wide range of support services especially designed for international students, including free English language courses and learning support, visa and housing assistance, free counselling services, and International Student Associations that supply representational, advocacy and social support.
Many Western Australian Universities have individual and joint campuses in regional areas, for international students interested in experiencing rural Australia. For those wishing to stay in the beautiful river-side capital of Perth, they will find many large campuses with a wide range of specialised courses and services.
Perth Education System
About the Perth Education System
The education standards in Perth are high, and the courses and facilities offer a rewarding and valuable international study experience. It is an education system which reflects quality, excellence and innovation, education institutions which impart the most modern skills cost-effectively through innovative teaching, a high level of technological advancement, some of the best infrastructure and facilities and a welcoming multicultural society enjoying a quality life-style in a safe environment.
It is a place where students can realize their potential in ways that they planned and perhaps, in ways that they never imagined. Australia offers a dynamic learning environment though which international students experience a unique kind of education - a learning style that encourages innovative, creative and independent thinking.
Australian governments at all levels continually review and reform education and training to address the issues that arise from social and economic change. In many cases, Australian models attract international attention and Australia is involved in cooperating with the development of educational programs in a number of overseas countries.
An Undergraduate Degree
A Bachelor Degree's duration is for a minimum of 3 years study full-time. This degree provides students with the knowledge and expertise for a career or further study. To be accepted, you will require an Australian secondary school certificate (year 11 and 12) or the corresponding certificate completed overseas. Vocational Education and Training Diplomas or Advanced Diplomas can also be counted towards acceptance into an Undergraduate Degree
Bachelor Degree (Honours)
An Honours degree is a one year course that is completed after an Undergraduate degree. If you finished an Undergraduate Degree of 3 years, an extra year of study is needed to obtain an Honours degree. If your degree is 4 – 7 years long you may be eligible to receive an Honours award depending on your academic results.
Postgraduate study
A Graduate Certificate or Diploma builds on what you have learnt during your undergraduate studies and is tailored towards students wishing to enter a specific trade or industry. A graduate certificate lasts for 6 months and a Graduate Certificate for 12 months. Both are full-time.
A student may enrol in a Masters Degree if he or she has completed an undergraduate degree and an honours degree. Master degrees are usually based on a special area of study or field. Coursework masters, research masters and professional masters are available for students to choose depending on the course they have undertaken. A Masters Degree is usually one or two years.
A Doctoral Degree (PhD) is the top university qualification obtainable. Students selected to undertake a PhD are acknowledged as major contributors in their field. There is a choice between a Research PhD which is just research and a Professional PhD which combines coursework and research.
A Master of Business Administration (MBA) is a world renowned qualification in business. An MBA course can take 1 to 2 years and encompasses many areas of business both theoretical and practical, to prepare students for a successful business career after study.