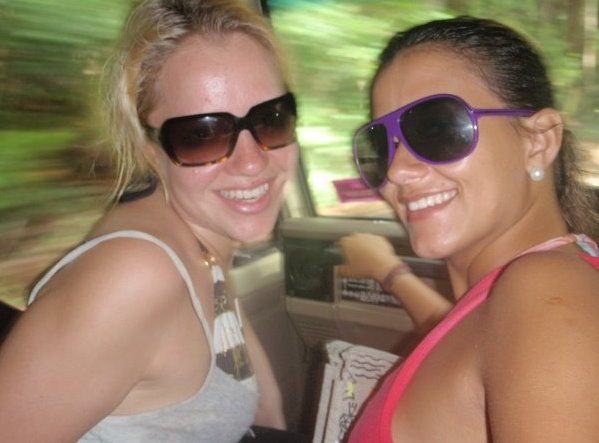 Shafston International College
Shafston International College/CRICOS Provider Code: 01542F

Why study at Shafston International College
Shafston International College seeks to ensure optimum learning outcomes for its students.
Class composition is ethnically and culturally mixed to create a multicultural and vibrant learning atmosphere.
Highly qualified and experienced teachers strive for maximum student satisfaction.
Classes are offered from beginners to advanced.
Student learning is assisted and complemented by a wide range of English language materials.
We offer Intensive English language courses.
The college is academically oriented.
Tests are conducted regularly to monitor student progress.
We offer a wide range of English language programs.
Our support staff come diverse ehtnic and cultural backgrounds and many speak more than one language other than English.

Location
Shafston International College is located at Kangaroo Point in the heart of Brisbane.
 Study Options / Courses
General English / Accelerated General English
IELTS Preparation: Shafston provides full time IELTS exam preparation for students at intermediate level English or above
IELTS Exam Preparation
Cambridge Exam Preparation Programs: Preparation for the Cambridge Business English Certificate.
Shafston offers a very wide range of Cambridge programs including all levels of the main suite exam preparation programs (PET, FCE, CAE and CPE) as well as the full suite of Cambridge Business Certificate (BEC Preliminary, Vantage and Higher) exam preparation programs.
The Business English Certificate (BEC) preparation courses prepare students in BEC test taking strategies and the four skills of reading, writing, listening and speaking through a range of business areas such as; buying and selling, company structures, products and services, using the telephone, business issues and travel.
Preparation for TOEFL – Full Time  

TOEIC Exam Preparation: Shafston provides full time 10 week TOEIC (Test of English for International Communication) exam preparation for students at intermediate level English and Advanced levels of English.

TOEFL Exam Preparation: Shafston provides full time 10 week TOEFL (Test of English as a Foreign Language) exam preparation for students at intermediate level English and Advanced levels of English
Study/Holiday Programs

High School Preparation Programs: Shafston Study Tours offers specially designed itineraries for groups of students. The High School Preparation (HSP) course prepares students for study in an Australian high school.

Private Tuition: Some students wish to supplement their studies with additional private tuition.
 Application
If you are interested to go to study at a college in Australia – contact our free student service to receive help with your application.
Shafston Campus
Kangaroo Point (Main Campus)
The expansive and impressive riverside campus is located in the exclusive riverside suburb of Kangaroo Point. It has beautifully landscaped and maintained lawns and gardens and provides a peaceful inner-city environment for learning. At the centre is the magnificent heritage-listed Shafston House which was built in 1851. Shafston House International College was established as an English Language (ELICOS) school in 1996. It is situated on the beautiful historical Shafston House riverfront estate at Kangaroo Point only minutes from the city centre of Brisbane.

The campus is home to Shafston International College where students engage in English language programs including: General English, IELTS Preparation and Cambridge certificate programs.
Other facilities available to students and staff at this campus include a library and student resource centre, as well as multiple computer labs with free internet. Free wireless internet is also available to students in most areas within the campus.
Superior-quality training Kitchens have been installed over two floors of this Hotel. 
SHAFSTON GOLD COAST
Shafston International College now has a brand new, first class campus on the Gold Coast. Located in the centre of Southport, just minutes from Surfers Paradise and some of the best beaches in the world. Shafston Gold Coast offers the same excellent service and high standards of education we have offered in Brisbane since 1996.
Shafston School of Hospitality
Shafston School of Hospitality
The Shafston School of Hospitality offers contemporary training leading to qualifications which are recognised and valued throughout the world.  The programs are designed to provide an opportunity for students to become highly skilled tradespersons who are work-ready for employment in the Hospitality industry.
Now in its third year of operations, Shafston School of Hospitality has had five cohorts of graduating students. These Shafston alumni now enjoy the opportunity to work in an industry with widespread employment opportunities worldwide.
Training at Shafston includes both theoretical and practical training. Predominately the theory classes are held at the Kangaroo Point, Main Campus. 

WHY CHOOSE SHAFSTON HOSPITALITY
First class training in first class facilities

Training 

Enjoy the opportunity to gain trade qualifications in areas where there are skills in demand and widespread employment opportunities

Gain work placement experience in some of over 40 local restaurants, clubs and hotels who work with Shafston Hospitality

Have the opportunity to package your trade qualification with a University Bachelor degree, which together, can be finished in less than four calendar years.
WORK PLACEMENT

As an important part of the training in the Hospitality and Business programs, Shafston offers students an opportunity to do industry work placement. The Shafston College Work Placement program is designed to assist the hospitality students in making contacts and gaining work within the industry. In addition, the work placement program supports the students in achieving the industry occasions necessary to achieve academic success in their studies. 
EARN AS YOU LEARN
International Students of Shafston School of Hospitality can work in paid employment for up to 20 hours per week during term and unlimited hours during vacations. Students are earning up to AUD$20.00 per hour. Graduates of Cookery and Patisserie can expect to earn approximately AUD$40,000 to AUD$45,000 per year in their first year of full time employment.
PRE-REQUISITES FOR ENTRY (HOSPITALITY PROGRAMS)
Pre-requisites for entry into Hospitality Certificate III and Diploma programs:
English
Successful completion of one year full time secondary or tertiary study, where the language of instruction is English, or an overall IELTS score of 5.0, TOEFL 173/500 or any other relevant English proficiency score.
Academic
* For entry to either of the Certificate III in Hospitality programs, applicants must have successfully completed year 10 or equivalent.
* For direct entry into the 37 week Diploma of Hospitality Management (CRICOS 062417F) applicants must have completed a Certificate III in Hospitality (Commercial Cookery) or Certificate III in Hospitality (Patisserie)
English Language College Brisbane
Prior to your arrival at Shafston, we can send you a test that will accurately assess your current level of English. This is a good way of determining how long you should aim to study. It is also useful for students planning to take exam preparation programs such as the Cambridge Certificates, IELTS, TOEIC or TOEFL. Please ask us to send a pre-entry test to you. Also you may access our on-line English test here: 

On your first day at Shafston you will undertake orientation followed by testing in all core skills to ensure you are placed in the class that matches your level of English.
Brisbane Accommodation
Accommodation
Homestay Family
Homestay Family Accommodation is a great way to be introduced to Australian life and culture.

Every member of the household must hold a Queensland Government issued Blue Card showing that they meet Government standards for suitability to live with students and children.


NEW – GOLD CLASS Homestay Accommodation
These high quality homes are less than 15 minutes walk to the College with family members offering extra personal care and attention to their student guests.
Mansions
Enjoy breathtaking views of the Brisbane River and Brisbane City from your on-campus studio apartment.
This accommodation is located right above your classrooms and offers first class facilities. Each room has its own bathroom with toilet and shower. The kitchen is equipped with all cooking utensils, crockery, hot plate, microwave oven and refrigerator. A student lounge on the fourth
floor has a big screen TV with leather couches and a large outdoor balcony. The fully equipped gym offers running machines, cycling machines and a variety of weights and exercise equipment completely free of charge for all residents 24 hours a day. There really is no better accommodation for a student in Brisbane! Ask us about our Fixed Term Rates and low prices.
Just minutes from Shafston Gold Coast these fully furnished two bedroom apartments offer a huge swimming pool, BBQ area, spa & sauna, tropical gardens, tennis court, gym, wireless broadband and very competitive prices! Twin share or private rooms are available but please book in advance, this is a very popular resort.
Jobs in Australia
Job Ready Program
Are you job ready in Australia?
The week long program is composed of 4 sessions that address basic employability and practical skills in the areas of hospitality and office cleaning. Upon successful completion of the Job Ready Program students receive a Certificate of Participation in additional to valuable knowledge and skills that may assist them in applying for and securing employment in Australia.       
Members of the Job Ready Program will also be given the opportunity to complete an RSA (Responsible Service of Alcohol) course, for an additional cost, with one of The Job Ready Program training partners. The RSA course is valuable when seeking employment in the hospitality industry in Australia and can provide additional opportunities for work in pubs, bars, hotels and restaurants. 
After graduating students may choose to study for Responsible Serving of Alcohol Certificate for an additional cost. This certificate is widely required by employers looking for staff for their cafes, bars or restaurants. The course is being delivered by a third party provider.
Study in Brisbane
Study in Brisbane
Airport Greeting

The Shafston Activities and Travel Centre
Shafston Activities and Travel Centre offer a wide range of services from Phone Cards to Adventure Weekends. Students may book accommodation, holiday packages, or simply receive good ideas for fun and excitement in Brisbane city.
With the Activities and Travel Centre there is something to do everyweekend! Choose from Scuba Diving, Surfing, Animal Parks, Rainforesttours, Skydiving, Camping and much more! Located on-campus they areopen every school day and the activities never stop. Ask us for the latestActivities Schedule. Wide range of social events are being organised by Shafston staff on aregular basis. These events are excellent opportunities to make new friendsand learn about other cultures. Here are some examples:
Monthly Shafston Campus celebrations

Regular Shafston Soccer Tournament 

Student Barbeque – Grill party next to the river

Weekly Open-air Market – new and used goods buy & sell market

Regular student parties

Sport activities throughout the year

Shafston College Birthday Party & Christmas party
Shafston Services and Facilities
We are proud to provide a wide range of services and facilities for the exclusive use of our students.

Some facilities currently available to students:
Tennis court

University Mansions

University Mansions GYM

Library

Multiple cookery and patisserie training kitchens

Shafston Travel Centre

Shafston Job Club

Computer Labs

Landscaped Tropical Gardens

River Terrace

Visitors car park

Free WiFi access (WIFI Zone logo)
Shafston International College
A World Leader in Innovative Education Programs
To provide Excellence and Innovation in Education and Training that is clearly linked to the skills needed globally by Industry, Commerce and the Community.

AQTF Vocational Training Programs for:
Information Technology
Enrolled Endorsed Nursing
Business Marketing
Education, Human Behaviour and Legal Studies
All Shafston Institute of Technology courses are very industry focused with emphasis placed on developing skills for employment or articulation into further degree studies. All lecturers are well known within their respective industries and are still consulting or operating businesses within their industry.
All Diploma courses include work experience placement, which provides each student with the opportunity of gaining and applying practical skills. In the case of nurses each student attends clinical placement once a week in addition to a 4-week block towards the end of their course. All business and IT students also participate in work experience in a 14 week block placement in order to undertake a major project in their chosen field.
All Diploma Programs are 3 Semesters Long
Each Diploma is based on defined Subjects
Each Subject is based on a Field of Study
Each Diploma is nominally 1100 hours in duration
Each Diploma has a Foundation Semester
Specialisation choices after Foundation Semester

Shafston Pathway Package Deals
A student who enrols from their home country into a pathway program that starts with English language studies, followed by a Diploma, will earn some valuable additional benefits

The Job Club Philosophy
At the job Club we are pro-active. Our motto is that we don't get jobs for students; we help students get the jobs themselves. The bottom line is the Job Club can get you an interview but only you can get the job!
It is a joint responsibility-We actively work with students through the process of getting work; helping them to find job ads, write resumes, make phone calls and going to interviews with them.
Through our one-on-one interview process we find out what students need or want and work toward achieving it. If a student needs money we help them find paid work. If a student wants to practice their English skills, or gain work experience, we can help them find voluntary work.

General Employment (Paid)
Earn up to $300/week while you study!
Join our Job Club and we will find paid employment for you for the duration of your study with us. Jobs available include; restaurant work for waiters, cleaners and cooks, bar and pub work, commercial cleaning, tele-marketing, labouring, translating, tour guiding, courier driving etc.
Membership includes job placements, resume writing, tax file number and general taxation advice and on-going support.
Jobs available include: restaurant work for waiters, cleaners and cooks, bar and pub work, commercial cleaning, tele-marketing, labouring, translating, tour guiding, courier driving and a range of other positions. Membership includes unlimited job placements, resume writing, access to the Job Club wardrobe and on-going counselling and support.
Members must hold either a Working Holiday Visa, Student Visa or other appropriate visa.

Farm Work
Whilst on a holiday from study at Shafston, we can place you in farm work outside Brisbane. Students commonly earn up to $80/day and work seven days a week for the duration of their stay on the farm. Members must hold either a Working Holiday Visa, Student Visa or other appropriate visa.

Professional Work Placement / Internship (Unpaid)

Occupational Training Visa Program
This program is available to Shafston graduates. Students must have first completed at least 24 weeks of study at Shafston and have an advanced level of English. For an additional charge we will place you in paid occupational training and help to arrange your Occupational Training Visa; valid for up to 2 years.

Demi Pair (Au Pair) Placement
This study and work option is available to our female students. Generally, we are able to arrange placement with a family prior to or within two weeks of your arrival in Brisbane. Members must hold either a Working Holiday Visa, Student Visa or other appropriate visa.
Option 1:
Option 2:

Shafston Working Holiday Services
This is a free service offered to students of Shafston who are on a Working Holiday Visa.
Helpful Hints for Job Hunting
Play your strengths and go for jobs in areas you have experience.
About 70% of jobs aren't advertised, so don't just apply for advertised jobs! Send your resume to as many businesses as you can and listen out for opportunities. Tell your friends and family or host family that you are looking for work.
Consider volunteer work as a way to improve your English and get a 'foot in the door' in a company or area you want to work in.
When you write your resume keep it brief and include only relevant details.
Try to guess what questions you will be asked in an interview and think about your answers to them

When?
Job Searching Facilities are available at Job Club from Monday to Friday between 8:30 am and 5:00 pm. Job Club members are able to access career websites on the Internet, search for jobs in newspapers, make phone calls to employers and create a curriculum vitae. The Job Club will assist members with telephone and interview techniques and queries about travel timetables to and from work.